Peaches and Cream Cake
A cross between a peach cobbler, cake and even a light cheesecake, this unique and delicious peaches and cream cake is one for the remakes!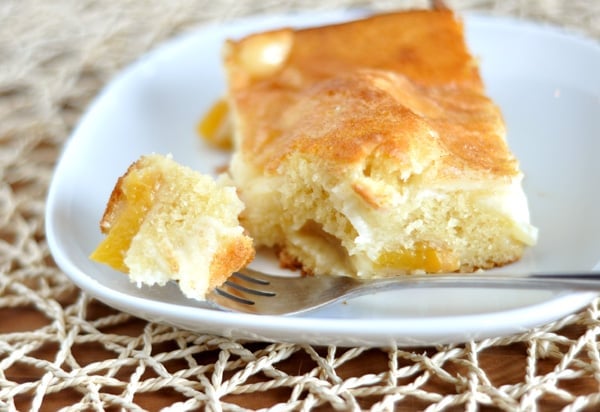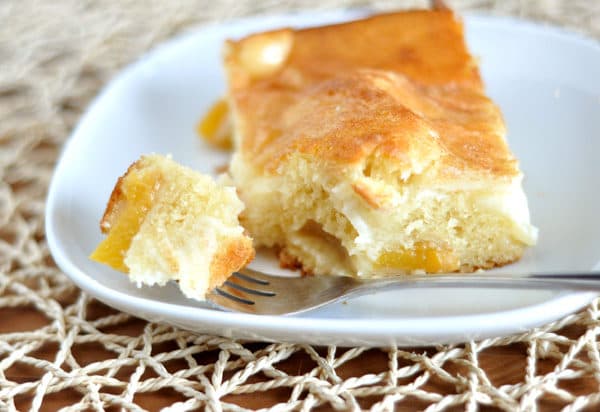 A cross between a peach cobbler, cake and even a light cheesecake, this unique and delicious peaches and cream cake is one for the remakes! Sent to me by Natalie W., a reader, I adapted it heavily in order to swap out the prepackaged pudding mix for my readily available pantry items. And then I crossed my fingers and hoped it would work.
And it did – with flying colors! A buttery, tender cake layer is topped with juicy peaches and layered again with a light, luscious sweet cream cheese layer.
Oh, wait, and don't forget the generous sprinkling of cinnamon and sugar! Because we ate it slightly warm, it reminded me of a peach cobbler revved up by the creaminess on top.
Just in case someone inquires – you could probably use fresh peaches when they are in season (but only the juiciest!) but will have to find a substitute for the reserved peach juice that is mixed in with the cream cheese layer (milk? simple sugar syrup?).
Either way, I can see this cake being perfect for a neighborhood BBQ, church potluck, or an outdoor dinner with the family. Simple and delicious. Just the way we like it!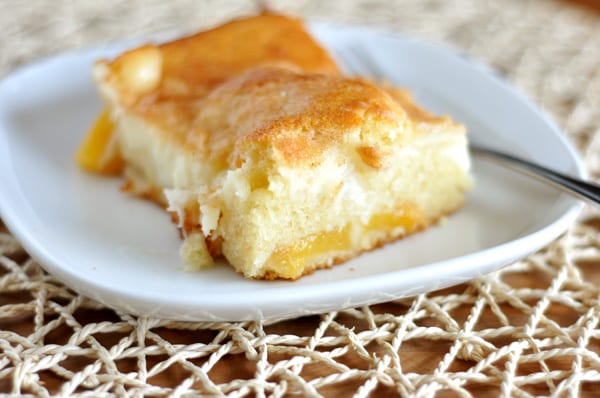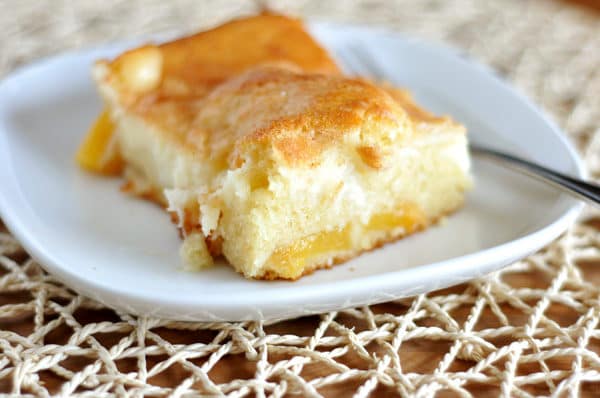 One Year Ago: No-Bake Lemon Cheesecake
Two Years Ago: Glazed Poppy Seed Bundt Cake
Three Years Ago: Frozen Key Lime
Yield: 12 servings

Prep Time: 15 minutes

Cook Time: 1 hour

Total Time: 1 hour 15 minutes
Ingredients
Cake:
1 1/2 cups all-purpose flour
2 teaspoons baking powder
1/2 teaspoon salt
3/4 cup granulated sugar
1 tablespoon cornstarch
1 teaspoon vanilla
2 eggs
1 cup milk
6 tablespoons butter, melted
Peaches and Topping:
29-ounce can sliced peaches or 1 quart home-bottled peaches
16 ounces (2 packages) cream cheese, light or regular, softened to room temperature
1 cup granulated sugar
6 tablespoons reserved peach juice
Cinnamon and sugar for sprinkling
Instructions
Preheat the oven to 350 degrees F. Lightly grease a 9X13-inch baking pan with cooking spray and set aside.
In a medium or large bowl, combine the flour, baking powder, salt, sugar and cornstarch. Blend. Make a well in the center and add the vanilla, eggs, milk and melted butter. Whisk together until well combined. Spread the batter evenly in the prepared pan.
Slice the peaches into bite-sized pieces, scattering them over the top of the batter evenly. In a medium bowl, beat the cream cheese, sugar and reserved peach juice together until light and creamy. Dollop the cream cheese mixture in tablespoon-sized spoonfuls over the top of the batter and peaches and then use a spatula to evenly spread together to form a creamy layer. It doesn't have to be perfect, just try to spread it as evenly over the top as possible (it's ok if peaches are peeking through in spots). Sprinkle the top of the cream cheese layer generously with cinnamon and sugar.
Bake for 45-60 minutes until the edges are puffed and golden and the cream cheese layer has bubbled slightly on top. This is a difficult cake to test for doneness because of the gooey cream cheese layer. If the middle is still jiggly, bake until it no longer jiggles and the cake batter layer is puffed and no longer runny. Serve warm or at room temperature.
Recommended Products
As an Amazon Associate and member of other affiliate programs, I earn from qualifying purchases.

Recipe Source: adapted from Natalie W.
Disclaimer: I am a participant in the Amazon Services LLC Associates Program, an affiliate advertising program designed to provide a means for me to earn fees by linking to Amazon.com and affiliated sites. As an Amazon Associate I earn from qualifying purchases.