This guacamole salad is just one big bowl of fresh, summer yumminess. Add it to your summer salad list. You won't be disappointed!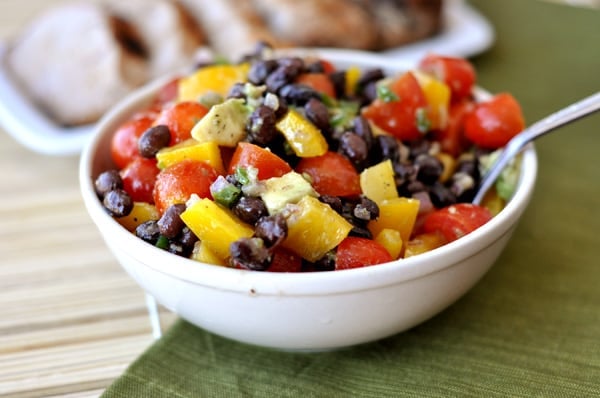 This salad is just one big bowl of fresh, summer yumminess. From the famed pork tenderloin dinner, this guacamole salad (or salsa variation, if you will) has become one of my go-to sides for everything from chicken (grilled or baked) to pork and even quickly thrown together for a simple lunch all on its own.
I love the freshness of the tomatoes, peppers and avocados – and the light, citrus dressing compliments the vegetables and beans perfectly.
This salad is really wonderful with grilled cuts of meat that don't have an accompanying sauce or gravy because the juiciness of the salad pairs with the grilled meat in just the right way. Add this to your summer salad list.
You won't be disappointed!
One Year Ago: Sweet and Spicy Slow Cooker Chicken
Two Years Ago: Hot Hoagies
Three Years Ago: Frozen Key Lime
Yield: 6 servings

Prep Time: 20 minutes

Additional Time: 3 hours

Total Time: 3 hours 20 minutes
Ingredients
1 pint grape tomatoes, halved
1 yellow bell pepper, seeded and chopped (about 1/2-inch pieces)
1 (15-ounce) can black beans, rinsed and drained
1/4 cup small diced red onion
1 jalapeno pepper, seeded and minced
1/2 teaspoon freshly grated lime zest
1/4 cup freshly squeezed lime juice (from about 2 limes)
1/4 cup extra-virgin olive oil
1 teaspoon kosher salt
1/2 teaspoon freshly ground black pepper
1 medium garlic clove, finely minced
1/8 teaspoon ground cayenne pepper
2 ripe Haas avocados, seeded, peeled, and diced (about 1/2-inch pieces)
Instructions
Place the tomatoes, yellow pepper, black beans, red onion, jalapeno peppers, and lime zest in a large bowl. Whisk together the lime juice, olive oil, salt, black pepper, garlic, and cayenne pepper and pour over the vegetables. Toss well. This mixture can be refrigerated for 3-4 hours before serving.
Just before you're ready to serve the salad, fold the avocados into the salad. Check the seasoning, adding salt and pepper to taste if needed, and serve at room temperature.
Recommended Products
As an Amazon Associate and member of other affiliate programs, I earn from qualifying purchases.

Recipe Source: adapted slightly from Ina Garten/Food Network