Quick and Easy Foolproof Pizza Dough
This simple recipe for quick and easy homemade pizza dough is amazing! It comes together in minutes, rises quickly, and makes incredible homemade pizza!
I'm really, really, really (like, really) excited for this week.
We're talking pizza. Homemade pizza. Perfect homemade pizza.
Since we make homemade pizza every single week, I've known for a while it was high time to update my old homemade pizza posts.
The time is now!
Lucky you, happy me (happy because I have a crazy obsession of love for crossing things off my list).
Today, I'm giving you my favorite (like, I've been using it for 10 years) recipe for pizza dough when I haven't planned ahead. It comes together in just minutes, doesn't need a long rising time and makes fabulous pizza.
It is fabulous!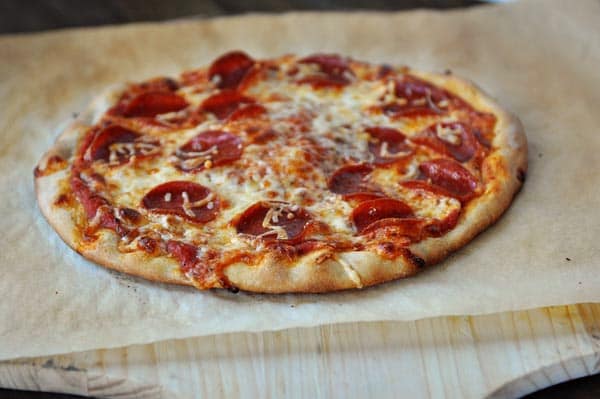 This quick and easy pizza dough is fantastic with part whole wheat flour or all white flour; it's up to you.
And it doubles, triples and even quadruples beautifully (see the notes in the recipe) and rolls out like a dream.
If you are wondering how this is different than the fast and easy recipe I posted way back when, I've changed just a few minor things and updated the recipe with whole wheat flour info and details on making larger batches.
A few simple variations to make it even more foolproof.
Tomorrow I'll be sharing my favorite 100% whole wheat overnight pizza dough (equally delicious, it just requires a bit of planning ahead) and later this week plan on lots of step-by-step pictures and tutorials for several ways to get that pizza rolled out and baked to glorious perfection.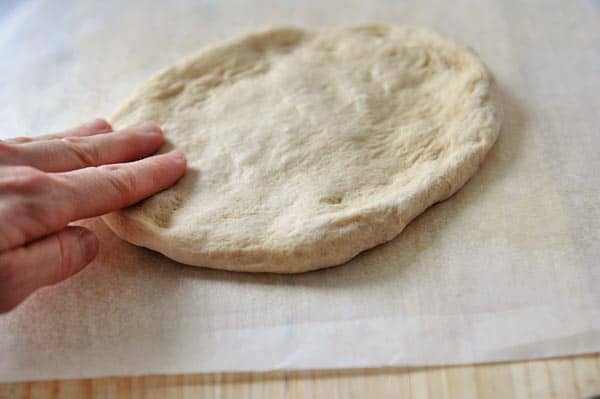 One Year Ago: 10 Tips to Raise and Encourage Adventurous Eaters
Two Years Ago: Simple Barley Pilaf
Three Years Ago: Whole Wheat Dinner Muffins
Quick and Easy Foolproof Pizza Dough
Yield: 1 large or 2 medium pizzas

Prep Time: 10 minutes

Cook Time: 10 minutes

Total Time: 20 minutes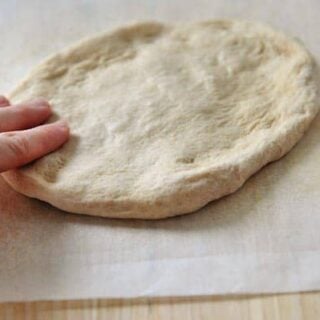 Ingredients
1 cup warm water
1 tablespoon honey
1 tablespoon oil
1 tablespoon instant yeast
1 teaspoon salt
2-3 cups flour (see note)
Instructions
In a large bowl or in the bowl of an electric stand mixer fitted with the dough hook, mix the water, honey, oil, yeast and salt. Add the flour gradually until a soft dough forms and pulls away from the sides of the bowl. The exact flour amount will vary so go by the touch and feel of the dough versus the exact cup measurements in the recipe. The dough should be soft and smooth (not leaving a residue on your fingers but not super stiff, either).
Knead the dough for 2-3 minutes (more like 5-6 minutes if kneading by hand or if using whole wheat flour).
Let the dough rest, covered, for 10 minutes. Shape the dough into pizza(s), spread with sauce and toppings, and bake at 475 or 500 degrees on a preheated pizza stone or on a lightly greased baking sheet for 8-10 minutes (for an in-depth look at baking methods, here is a great tutorial).
Notes
I almost always use 1/2 or up to 3/4 whole wheat flour with good results - I let it knead for a few minutes longer.

Also, this recipe doubles, triples and quadruples really well. If doubling, use double the amount for all the ingredients. For triple and quadruple batches, increase all the ingredients accordingly except the yeast - only use 2 tablespoons yeast for a tripled batch and 2 1/2 tablespoons yeast for a quadrupled batch. Keep an eye on the flour if increasing the recipe. You want a soft, smooth dough - not too sticky and definitely not overfloured.
Recommended Products
As an Amazon Associate and member of other affiliate programs, I earn from qualifying purchases.

Recipe Source: slightly adapted and updated from a recipe I posted several years ago
Disclaimer: I am a participant in the Amazon Services LLC Associates Program, an affiliate advertising program designed to provide a means for me to earn fees by linking to Amazon.com and affiliated sites. As an Amazon Associate I earn from qualifying purchases.