The Best Pressure Cooker Mac and Cheese
Tested, tested, and tested again, this pressure cooker mac and cheese is perfect! Super easy and fast, it is creamy, cheesy, and amazing.
I guess, right now, all I should really be doing is apologizing that it has taken me this long to get the best pressure cooker mac and cheese recipe in front of your face.
It took distance learning. That's what it took.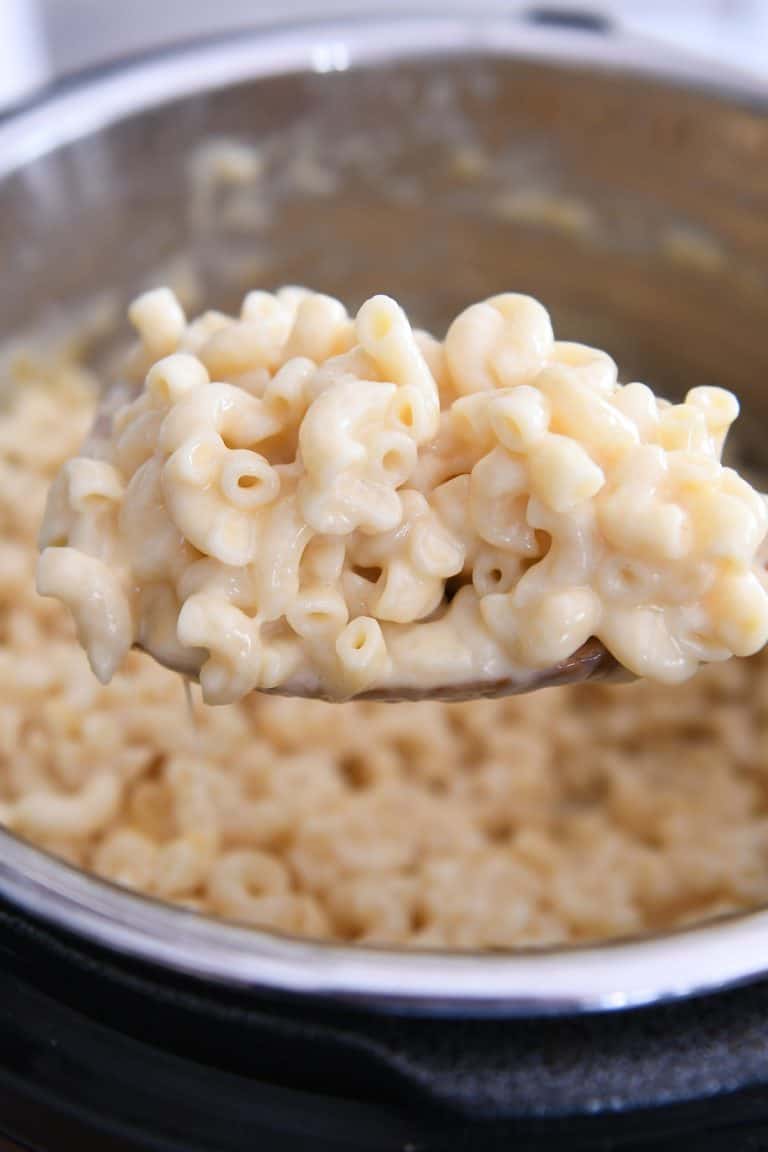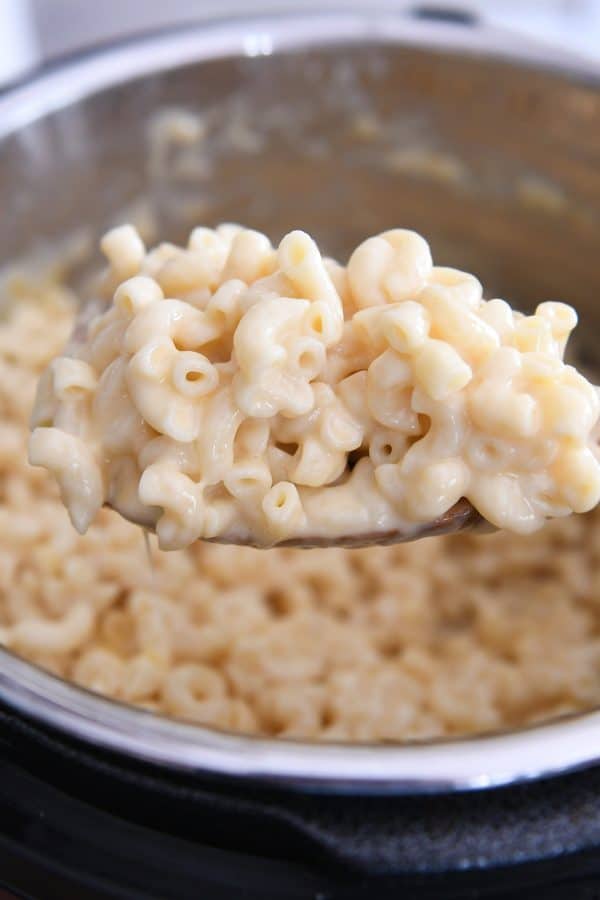 Because, as if five months of quarantine weren't enough to make me realize that the people residing in my house like to eat all.the.time, distance learning has solidified that fact.
One can only pull out the bread, peanut butter, and jam so many times before everyone gets grumpy and wants to run far, far away from lunch.
Enter this mac and cheese. It's quick, it's easy, and it's absolutely delicious.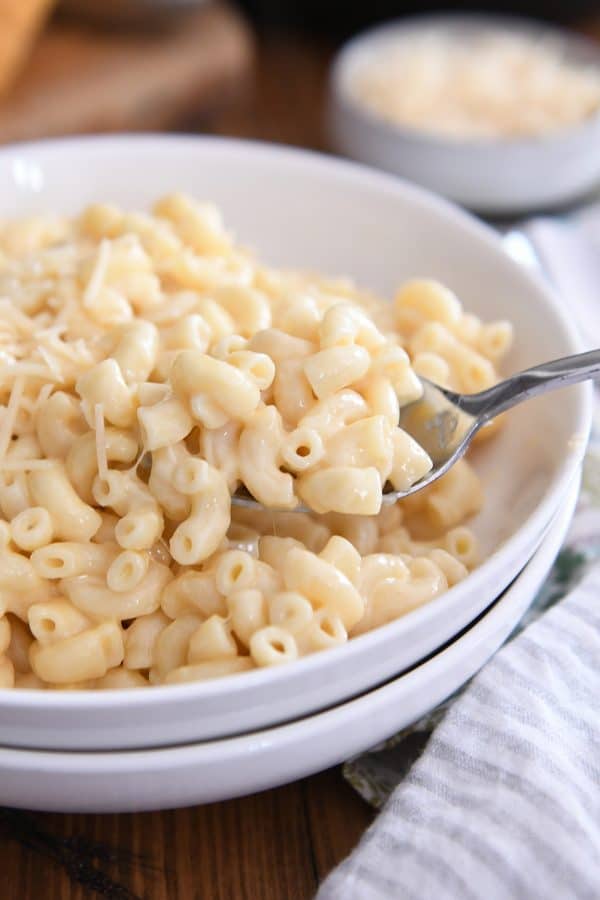 Tried-and-True Mac and Cheese
I really can claim this as "the best" because we made it every day last week. Every.Single.Day.
I wanted to get a pressure cooker mac and cheese recipe just right, and in my naivete, I started in the wrong place (dumb google) instead of going straight to where I should have: my own favorite recipes.
Rookie mistake! What was I thinking?
In the end I turned to this delicious skillet macaroni and cheese for the inspiration. A few extra tweaks (and tries), and the pressure cooker version is perfect!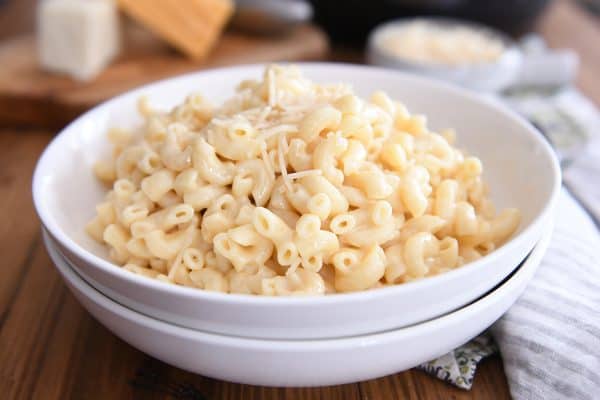 So Easy to Make!
This is a two-step macaroni and cheese.
First a few key ingredients need to go into the pressure cooker:
water
butter (this helps the noodles not stick while they cook)
salt
elbow macaroni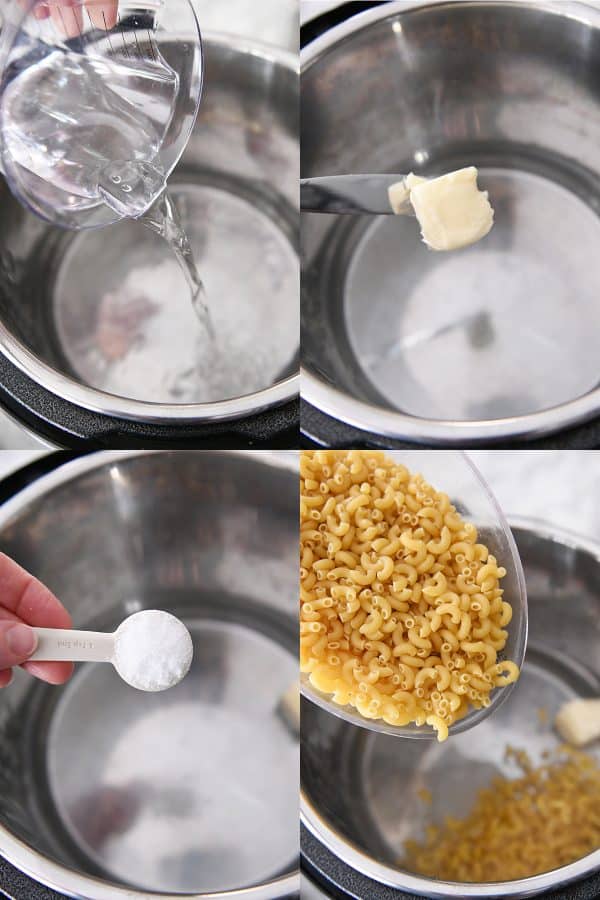 After the noodles go in, stir them just a bit to even them out.
Then, pour in the milk. But DO NOT STIR. Just pour it in and walk away. This will help eliminate the risk of getting the burn warning.
You can use regular milk or evaporated milk. I've made it with both. If using regular milk, I highly recommend 1% or higher (as in, leave the skim milk for other nefarious purposes).
Set the cook time to THREE minutes. After the cooking time is finished, let the pressure cooker rest/naturally release pressure for about five minutes.
If you try to release the pressure right away, liquid will spurt out of the valve and into your hair. And I haven't yet read anywhere that milky noodle liquid is good for the roots, so don't do that, ok?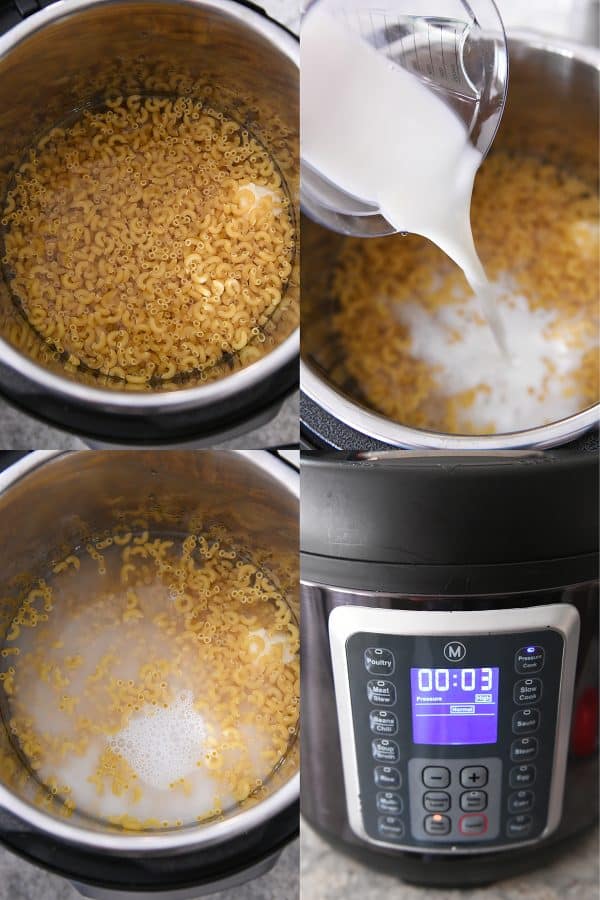 Once you release the remaining pressure and remove the lid, the noodles might seem a little clumpy. Never fear! We're going to resolve that.

A simple mixture of milk/evaporated milk + cornstarch + pinch of dry mustard + hot sauce (don't be skeered, adds flavor!) goes into the hot, cooked noodles.

As you stir in the secret sauce, the noodles will break apart.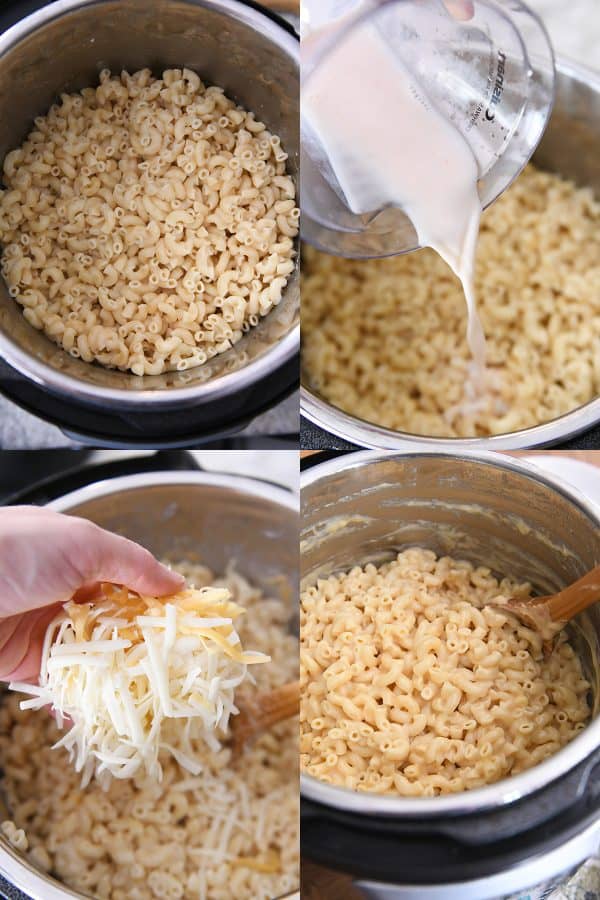 My Soapbox of Shredded Cheese
Yes, if you haven't gathered this from past posts, shredded cheese is the hill I'm going to die on. You really, really should use freshly grated cheese for this recipe. I promise, you'll be glad you did.

Pre-shredded cheese is coated with a powdery substance that keeps the cheese from clumping – but it also keeps your precious cheese from melting into creaminess.

Since this is mac and cheese after all, I'd say taking particular care with the cheese is paramount to the success of this recipe.

Add that very lovingly, freshly grated cheese one handful at a time, stirring to melt completely before adding the next handful.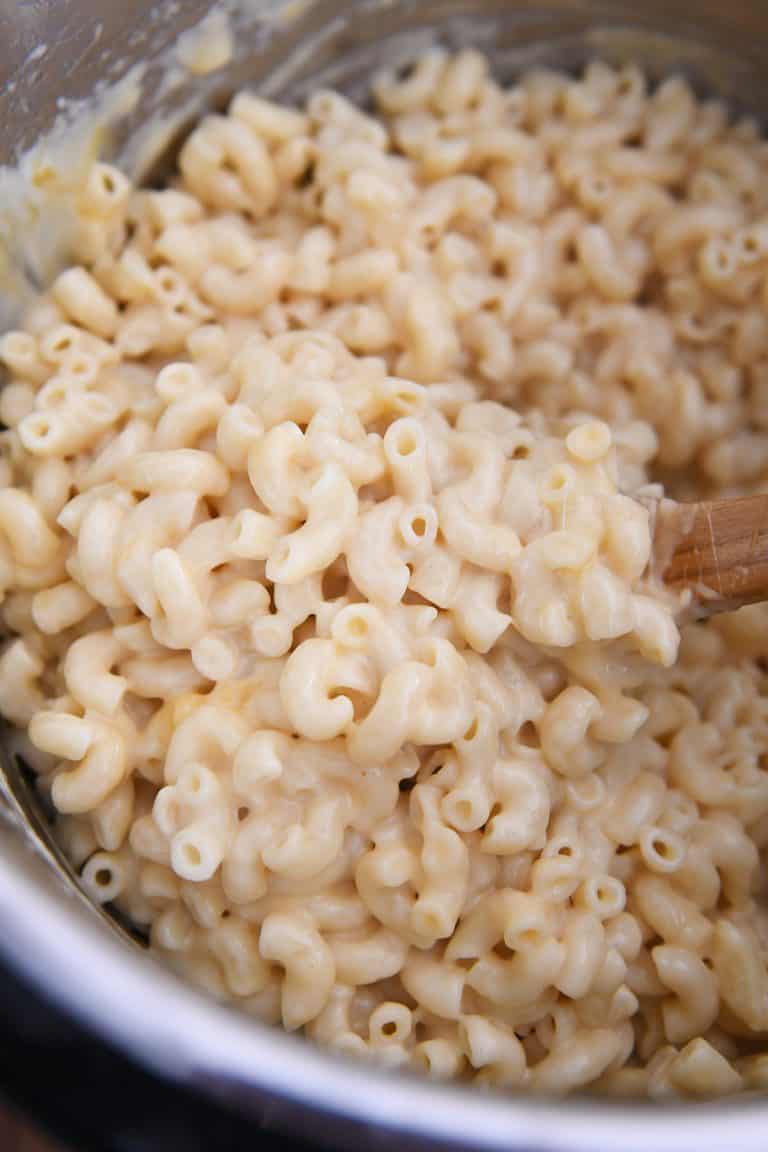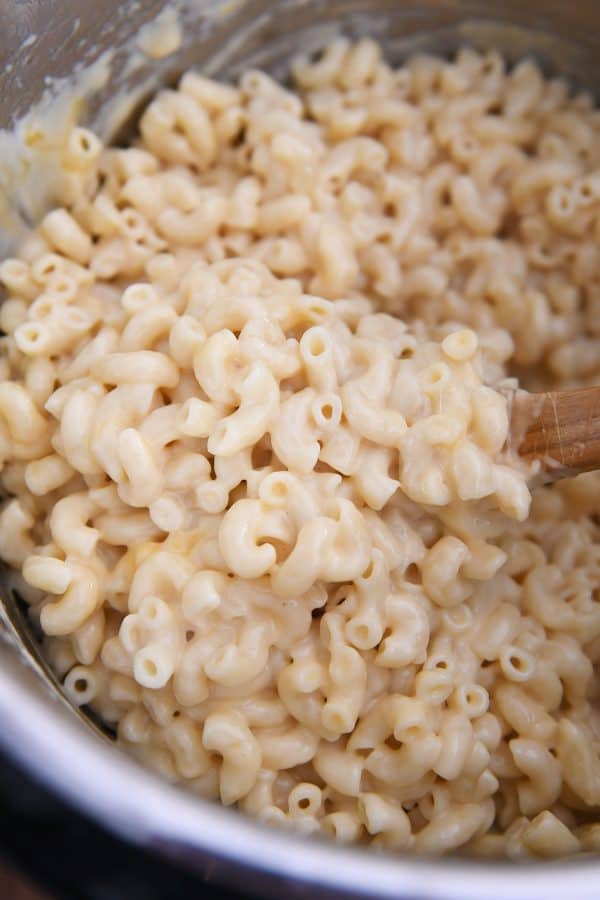 Rule Follower
If you follow all the rules, you'll end up with the creamiest, cheesiest, easiest pressure cooker mac and cheese on the planet.

It's quick enough for an easy lunch and plentiful enough for a weeknight dinner.

My kids, after seeing me agonize over the tried-and-true possibilities of this recipe, have happily volunteered to make it themselves.

I'm not sure if this is in an all-out effort to really help me as much as it is to make sure they have a palatable lunch on home-learning days.

I can't blame them. My tragic flaw is that I'm such a sucker for really good food, and I've clearly passed that on to my progeny.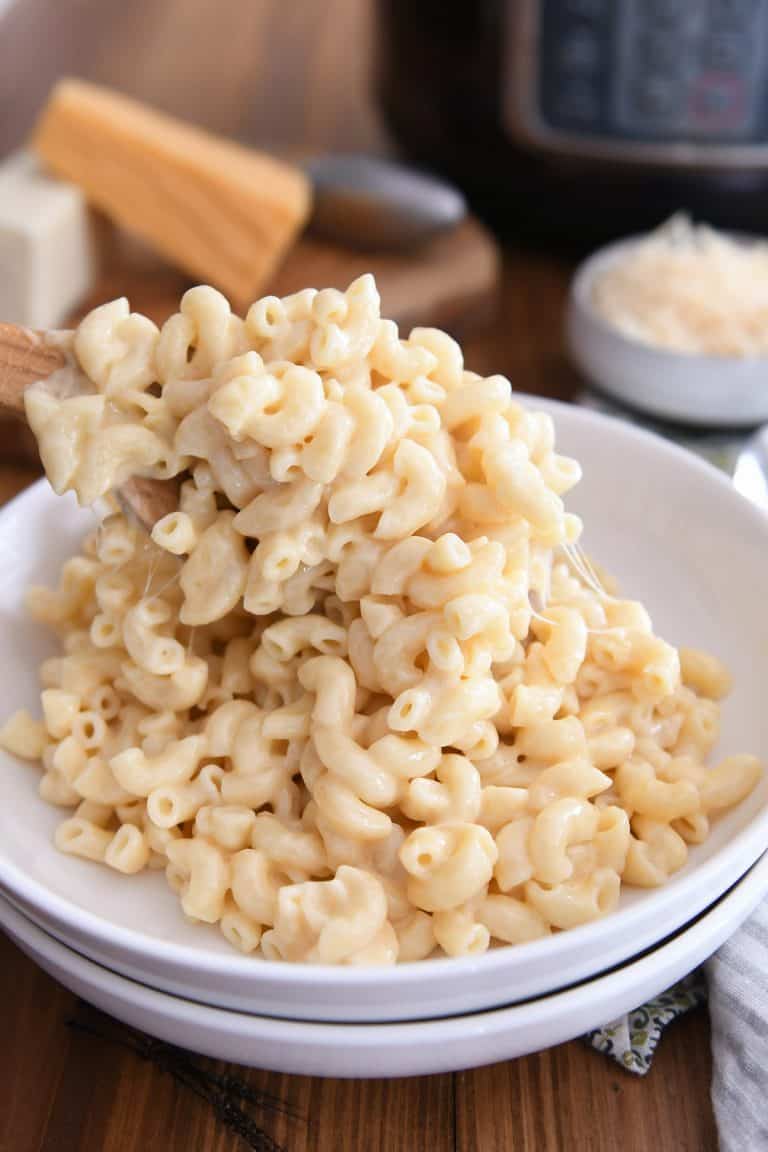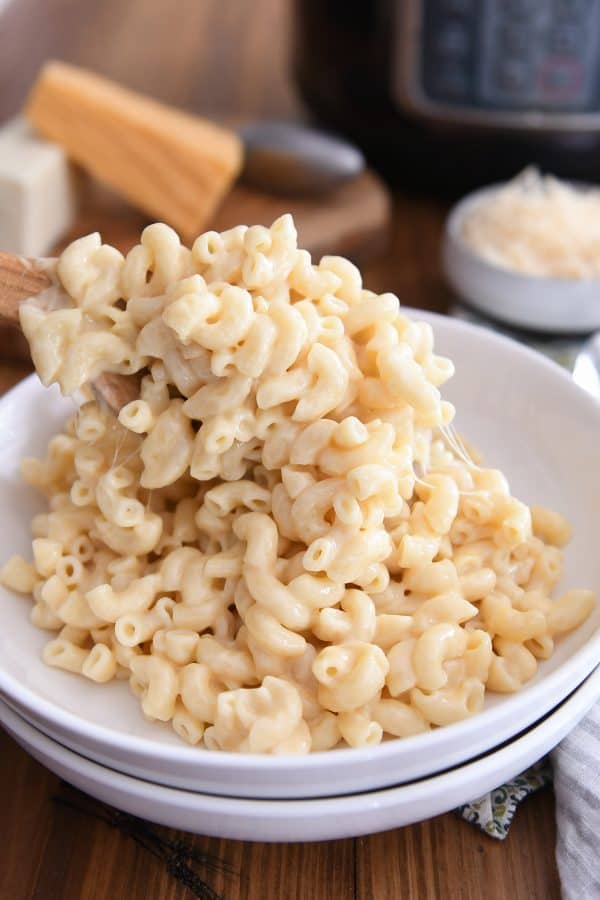 FAQ's For Pressure Cooker Mac and Cheese
Can I use different types of cheese?
You can definitely experiment. You'll want a creamy, melty cheese (like the Monterey Jack in the recipe) as well as a punchy cheddar cheese (like medium or sharp cheddar – you can use white or yellow).
How can I make this gluten free?
Several people in the comments have made this mac and cheese gluten free with good results. Read through their comments (I haven't tried it myself).
Can I use another type of noodle?
The best rule of thumb for pasta in the pressure cooker is to divide the package cooking time in half and then subtract another 1-2 minutes. Based on that, you could experiment with a variety of other noodle shapes and sizes.
One Year Ago: Buttery Pull Apart Bundt Bread
Two Years Ago: Chocolate Texas Sheet Cake
Three Years Ago: Creamy Green Chile Chicken Enchiladas
Four Years Ago: Slow Cooker Sweet Tomatillo Chipotle Pork
Five Years Ago: Cinnamon & Sugar Dusted Whole Grain Applesauce Muffins
Six Years Ago: Soft Batch Iced Pumpkin Sugar Cookies
Seven Years Ago: Healthy Applesauce Oat Muffins
Eight Years Ago: Peaches and Cream Sensation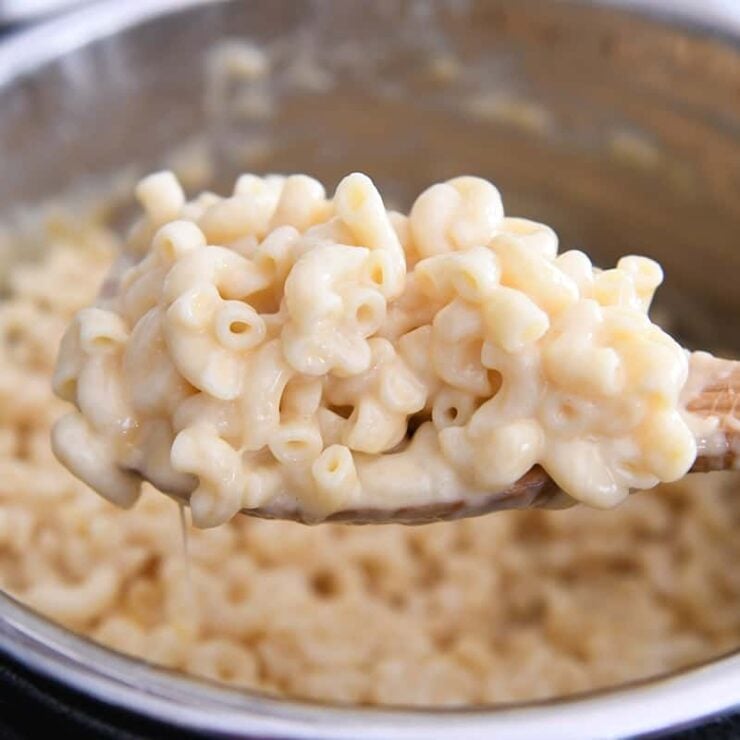 The Best Pressure Cooker Mac and Cheese
Ingredients
Noodles:
3 ¾

cups

water (see note)

2

tablespoons

salted butter

1

teaspoon

salt

1

pound

(

454

g

)

elbow macaroni

,

about 3 cups

1

cup

milk or evaporated milk (not skim milk)
Cheese + Sauce:
½

cup

milk or evaporated milk (not skim milk)

1

teaspoon

cornstarch

Pinch

dry mustard

½ to 1

teaspoon

hot sauce

,

optional but delicious for flavor boost

1 ½

cups

(

171

g

)

freshly shredded cheddar cheese (see note)

1 ½

cups

(

171

g

)

freshly shredded Monterey Jack cheese
Instructions
Add the water to the insert of a 6-quart electric pressure cooker. Add the butter, salt and macaroni. Stir to even out the noodles.

Pour in the milk. DO NOT STIR.

Set the cook time for 3 minutes. Let the pressure naturally release for 5 minutes and then quick release the remaining pressure. If liquid spurts out of the valve, close it and wait 1-2 minutes and try again. Keep the pressure cooker on the warm/hold setting (don't hit cancel).

Whisk together the sauce ingredients: 1/2 cup milk, cornstarch, dry mustard, and hot sauce. Add the mixture to the cooked noodles, breaking up clumps of noodles as you stir to combine well.

Add the cheese, one handful at a time, and stir until each addition is melted before adding more.

Once all the cheese is melted, season to taste with additional salt, if needed. At this point, you can also drizzle in warm milk, a tablespoon at a time, for extra creamy mac and cheese. Serve immediately.
Notes
Cheese: I like to use medium or sharp cheddar cheese. Note: the sharper the cheddar, the less creamy it will be as it melts. You can sub in other types of cheese, too. White cheddar, havarti, Swiss. This recipe works best if half the cheese is a variety of cheddar and half the cheese is a creamy, good-melting cheese. Adaptation: I adapted this recipe from a skillet recipe using 12 ounces of noodles and 3 cups of cheese. I use 16 ounces for this recipe, but I kept the amount of cheese the same from that original recipe. It's plenty cheesy for us, but if you want to amp up the cheesiness, increase both types of cheese to 2 cups/8 ounces each. Liquid:the amount of liquid left over in the pot after the noodles have cooked will be variable depending on brand/type of pasta, brand of pressure cooker, how quickly pressure was released, etc. There should be liquid in the bottom of the pot after cooking, but not so much that the noodles are still swimming in it. If there seems to be a ton of extra liquid, drain off all but about 1/2 cup or so. Hot Sauce: the hot sauce may seem unusual; it doesn't add spiciness. It adds a flavor boost that is super yummy. Just a small drizzle helps, but you can leave it out.
Calories:
572
kcal
,
Carbohydrates:
60
g
,
Protein:
26
g
,
Fat:
25
g
,
Saturated Fat:
15
g
,
Cholesterol:
71
mg
,
Sodium:
795
mg
,
Fiber:
2
g
,
Sugar:
5
g
Recommended Products
Follow @MelsKitchenCafe on Instagram and show me the recipes you are making from my blog using the hashtag #melskitchencafe. I love seeing all the goodness you are whipping up in your kitchens!
Recipe Source: adapted from this favorite skillet mac and cheese recipe
Disclaimer: I am a participant in the Amazon Services LLC Associates Program, an affiliate advertising program designed to provide a means for me to earn fees by linking to Amazon.com and affiliated sites. As an Amazon Associate I earn from qualifying purchases.