Pumpkin Scones with Ginger Glaze
Tender and melt-in-your-mouth, these pumpkin-flavored scones are studded with white chocolate chips and drizzled with a sweet ginger glaze.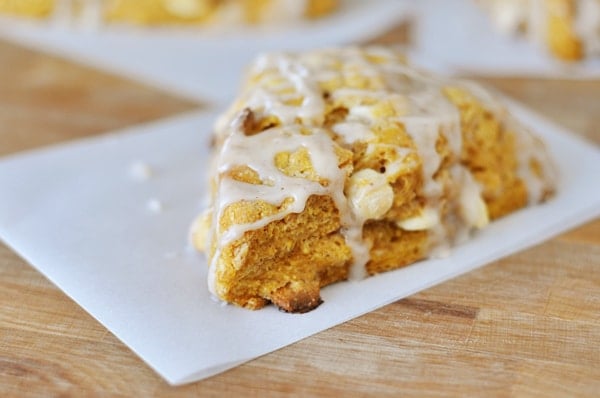 Did I miss the memo? Is it totally uncool to be baking with pumpkin still since fall/autumn is officially over?
Ah, what the heck. Throw convention to the wind because these pumpkin scones deserve to be highlighted, no matter the season. In fact, it was a toss up whether to serve these or the Giant Cinnamon Rolls on Christmas morning. The cinnamon rolls won out. But just barely.
This is my first foray into scone making. I've always been leary – the whole cutting butter into flour thing makes me nervous because I don't want a tough, dry baked good. However, I must say, these pumpkin scones, and these pumpkin scones alone, have converted me into a big-time scone lover. If you haven't made traditional scones yourself, please do. And start with this recipe. It is killer.
Beyond tender and nearly melt-in-your-mouth, the pumpkin-flavored scones are studded with white chocolate chips and drizzled with a delightfully sweet and spicy ginger glaze. Really quick to pull together, the key is to be gentle with the dough. Don't overwork it, man, and you'll get soft, completely perfect scones.
My cousin Tami, who I adore, sent this recipe to me because her friend made it for her after she brought her seventh child into the world and Tami was so besotted with the scones, she actually found the super-human strength to make them herself before her new baby was even weeks old.
That's what I call a tried-and-true recipe (and a really ambitious new momma). They are worth it. I promise! Although I'm pretty sure I'll just be begging friends and neighbors to make these for me come April when I have a new baby of my own. My just-had-a-baby ambition only goes so far.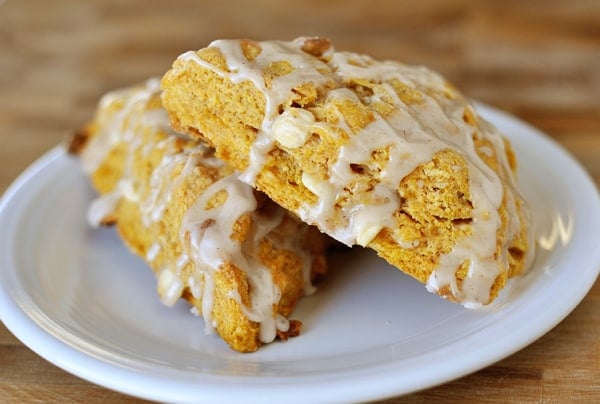 Pumpkin Scones with Ginger Glaze
Yield: 6-8 scones

Prep Time: 25 minutes

Cook Time: 20 minutes

Total Time: 45 minutes
Ingredients
Scones:
2 cups all-purpose flour
1/2 cup packed light brown sugar
1/4 teaspoon ground ginger
1/2 teaspoon nutmeg
1/4 teaspoon allspice
1/2 teaspoon cinnamon
1 teaspoon baking powder
1/4 teaspoon baking soda
1/4 teaspoon salt
1/2 cup cold butter, cut into pieces
1/3 cup buttermilk
1/2 cup canned pumpkin puree (no added spices or sugar)
1 teaspoon vanilla extract
1/2 cup white chocolate chips
Glaze:
2 cups powdered sugar
1/4 teaspoon ginger or pumpkin pie spice
3 tablespoons milk
1 teaspoon vanilla
Instructions
Preheat the oven to 350 degrees F.
For the scones, in a large bowl, mix together the flour, sugar, spices, baking powder, baking soda and salt. Toss the cold butter pieces in with the flour mixture and cut in the butter with a pastry blender, two knives, or your fingers (careful not to melt the butter with the heat from your fingers) until the mixture looks like coarse crumbs. In a separate bowl, mix together the buttermilk, pumpkin and vanilla. Add the wet mixture to the dry flour mixture and mix until the dough just barely comes together. If the mixture is too crumbly to come together, add 1-2 tablespoons more buttermilk. Don't overwork the dough or the scones will be tough and dry. Gently mix in the white chocolate chips. The mixture may be on the crumbly side but when you turn it out, it should come together.
Transfer the dough to a very lightly floured surface and knead gently 3-4 times. Pat the dough into a thick circle, about 1 1/2-inches thick. Cut into six or eight pie-shaped wedges. Transfer the scones to a parchment- or silpat-lined baking sheet, placing about 2 inches apart. Bake for 18-20 minutes, just until a toothpick inserted comes out clean. Don't overbake.
While the scones are baking, mix together the ingredients for the glaze. When the scones come out of the oven, transfer them to a cooling rack set over a baking sheet or waxed/parchment paper. Drizzle the hot scones with the glaze. Serve warm or at room temperature.
Recommended Products
As an Amazon Associate and member of other affiliate programs, I earn from qualifying purchases.

Recipe Source: from my cousin-in-law, Tami
Disclaimer: I am a participant in the Amazon Services LLC Associates Program, an affiliate advertising program designed to provide a means for me to earn fees by linking to Amazon.com and affiliated sites. As an Amazon Associate I earn from qualifying purchases.