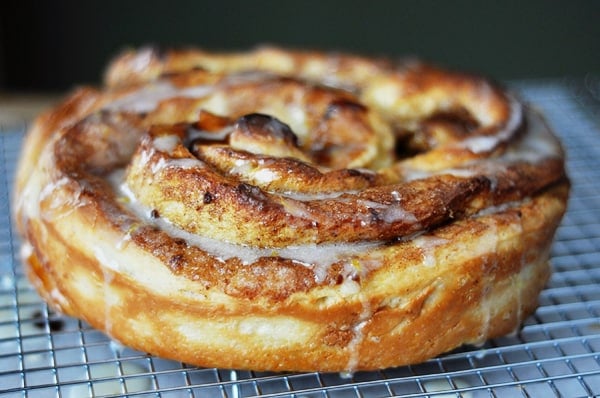 I've stumbled onto something big. Pun completely intended.
Giant cinnamon rolls. The process is a bit more unique than simply doubling the size of the cinnamon roll and I've fallen in love with the method because it is quirky, fun and results in a fabulously delicious cinnamon roll (think: lots of buttery, gooey, cinnamon goodness).
I've made these mammoth cinnamon rolls five or six times in the last couple of weeks and they are going to be the star of our upcoming Christmas morning. They fair beautifully well shaped in the pan and refrigerated overnight to be baked the next morning (with a little rising time in there) and the orange-infused cinnamon version? Oh my. Heavenly. Beyond.
I'm just hoping this newfound giant cinnamon roll creativity will still allow me to be satisfied with the average cinnamon roll. For now, these humongous cinnamon rolls are making a definite appearance in my past, present and future (hopefully not taking up permanent residence in my already growing thighs, but that is yet to be scientifically verified since I currently have a baby excuse to ride on).
Oh, and P.S….Merry Christmas! I hope you have a wonderful. merry weekend and I'll see you back here next week with a few laid back recipes to be happy about (and for those of you caring enough to show interest, I'll also have some really fun baby gender news to share which we'll be opening Christmas morning).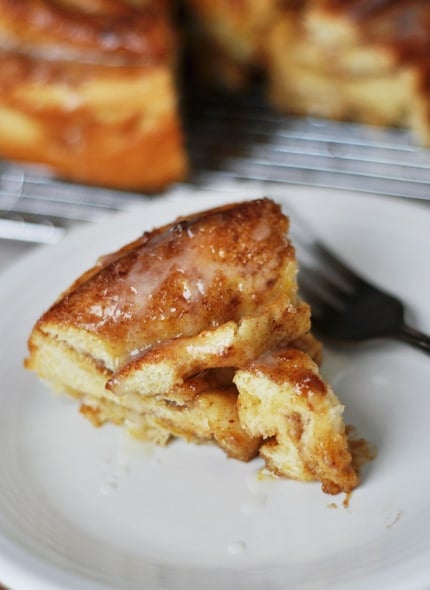 Notes: I often use half to 3/4 finely ground white whole wheat flour with good results - and sometimes I get crazy and use 100% whole wheat flour (always finely ground white wheat) but the bread is a bit more dense with 100% whole wheat flour. If using part or all whole wheat flour, add a few minutes to the kneading time to help develop the gluten.
Also, the rolls below are for an orange-infused cinnamon roll. Beyond delicious. If you prefer traditional cinnamon without the orange flavor, simply leave out the orange zest in the filling and omit the orange zest and juice from the glaze, adding more milk for perfect consistency. You can also use the buttermilk cream cheese glaze from this recipe.
Ingredients
3/4 cup buttermilk, warm (here is a guide for making your own buttermilk)
6 tablespoons butter, melted and cooled
3 large eggs
4 1/4 cups (21 ¼ ounces) flour (see note)
1/4 cup (1 3/4 ounces) sugar
2 1/4 teaspoons instant yeast
1 1/4 teaspoons salt
8 tablespoons butter (1 stick), softened to room temperature
1 cup brown sugar
2 teaspoons cinnamon
Zest of 1 large orange (about 1 tablespoon zest)
1 cup powdered sugar
1 teaspoon freshly grated orange zest
1 tablespoon orange juice
1 tablespoon milk
Directions
For the dough, whisk the warmed buttermilk and butter together in a large liquid measuring cup. Combine 3 1/2 cups of flour, sugar, yeast and salt together in a standing mixer fitted with dough hook (or you can use a large bowl and mix with a wooden spoon or electric handheld mixer). With the mixer on low speed, add the buttermilk mixture and eggs and mix until the dough comes together, about 2 minutes. Increase the mixer to medium speed and knead the dough until it is smooth and elastic, about 10 minutes (knead for 15-18 minutes by hand). If after 5 minutes of kneading, the dough is still overly sticky, add a tablespoon or two of flour at a time until the dough clears the sides of the bowl but has a slight tacky feel when pressed between your fingertips. (See this tutorial for a visual.)
Place the dough in a large, lightly oiled bowl and cover the top tightly with plastic wrap. Let the dough rise in a warm place until doubled, around 2 to 2 ½ hours, depending on the warmth of your kitchen.
Meanwhile, combine the brown sugar, cinnamon and orange zest in a small bowl until well mixed and set aside. Spray 2 round 8-inch baking pans with cooking spray and set aside.
When the dough has risen, gently punch down and roll into a 16X12-inch rectangle. Spread evenly with the softened butter. Top with the cinnamon sugar mixture, evenly pressing the cinnamon/sugar gently into the butter. Starting with one of the long edges, roll the dough tightly into classic cinnamon roll form, pinching the edge to seal.
Using a serrated knife (see pictures below for a visual), slice the dough in half lengthwise. Gently take one length of dough and coil it around in one of the prepared baking pans. The layers will want to fall apart a bit, but don't stress too much, when it bakes to perfection, you won't notice if it was a little messy going into the pan. I put my baking pan very close to the length of dough and gently lift about four or five inches of the dough into the pan and then coil the rest around itself. Repeat with remaining length of dough (placing it inside the other prepared pan).
Lightly cover the cinnamon rolls with greased plastic wrap and let them rise until doubled. Preheat the oven to 350 degrees F and bake the rolls for 18-22 minutes, until lightly golden on top and cooked through. While the rolls are baking, whisk together the glaze ingredients until smooth. Remove the cinnamon rolls from the oven and using a spatula, nudge them out of the pan onto a cooling rack set over waxed or parchment paper or onto a serving plate. Drizzle the glaze over the cinnamon rolls. Slice the cinnamon rolls into pie-shaped wedges and serve warm.
Notes
Make-Ahead Note: Each time I've made these, I've shaped them in the pan, covered them with greased plastic wrap and refrigerated them overnight. I pull them out 3-4 hours before baking and then bake them as directed once they have doubled in size.
https://www.melskitchencafe.com/giant-cinnamon-rolls-with-step-by-step-photos/
Printed from Mel\'s Kitchen Cafe (www.melskitchencafe.com)
Recipe Source: method inspired from this post, dough, filling and glaze adapted from my favorite Buttermilk Cinnamon roll recipe