Chicken Shepherd's Pie with Garlic-Kale Mash
Change up classic shepherd's pie with this amazing and delicious chicken shepherd's pie topped with a simple garlic and kale potato mash.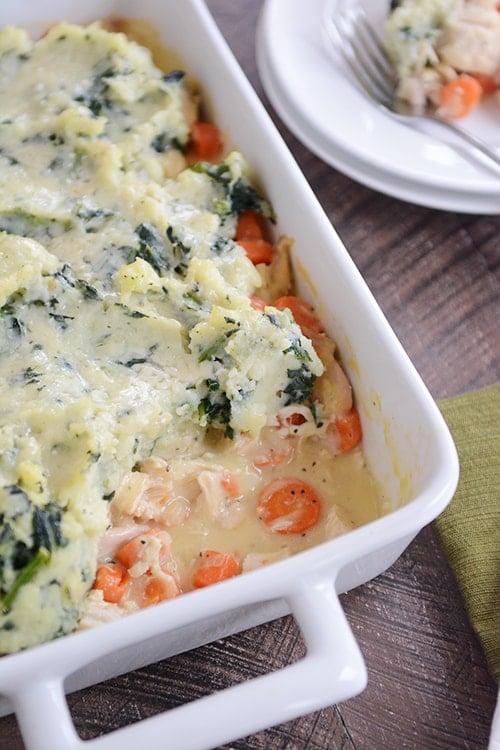 Since I've never been able to convince Brian that we should disregard his few food dislikes (really only cabbage, corned beef, sauerkraut, capers and horseradish) and do an all-out corned beef and cabbage St. Patrick's Day meal, I'm declaring shepherd's pie a totally appropriate substitute for the holiday.
And not really even because I think one should cook an official St. Patrick's Day meal. It's on our menu plan simply because this chicken shepherd's pie version is so incredibly amazing.
As you know, it took me a while to convert to shepherd's pie.
I was a hater for a long, long time until this version came along. It is wonderful and a very solid family favorite.
If it can convert me into a shepherd's pie fan, you know it has to be good. I credit it for allowing me to comfortably enter the shepherd's pie world again.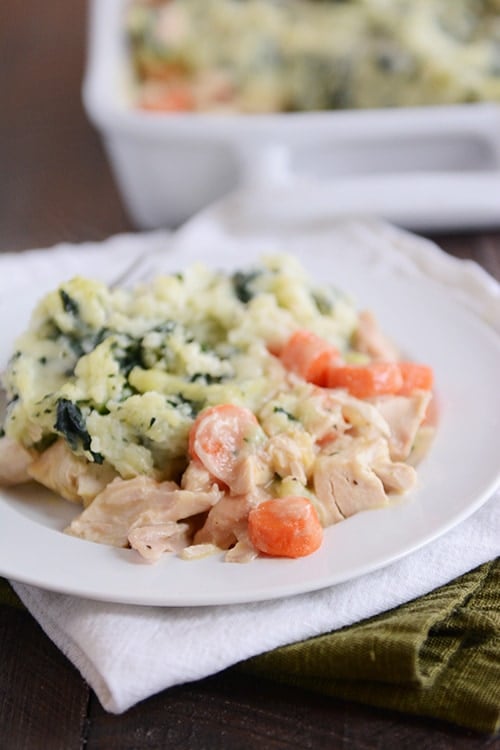 But right now, if I had to choose a shepherd's pie that I wanted to eat for the rest of forever, I'm afraid I'd have to shun the classic version in favor of this tasty chicken shepherd's pie.
It's totally my style (if one actually had a shepherd's pie style), and I love everything about it.
The Parmesan-topped creamy garlic and kale mashed potatoes, the tender chicken and carrots, the simple, delicious sauce that pulls everything together and makes one big happy pan of shepherd's pie.
It really is divine.
I've included a make-ahead note below the recipe title (although I haven't tried freezing it yet). This might come in handy if you want to serve it for a comforting Sunday dinner but you don't get out of church until 4:30 and are positively starving (and maybe a little grumpy) by the time you set foot in the door.
It would also make a perfect take-in meal.

Fluffy Whole Wheat Dinner Rolls
Roasted Broccoli or Skillet Green Beans
One Year Ago: Green Chile Chicken Enchilada Stack
Two Years Ago: Layered Peanut Butter and Milk Chocolate Puddings
Three Years Ago: Overnight Maple & Brown Sugar Oatmeal
Chicken Shepherd's Pie with Garlic-Kale Mash
Yield: 6 servings

Prep Time: 25 minutes

Cook Time: 25 minutes

Total Time: 50 minutes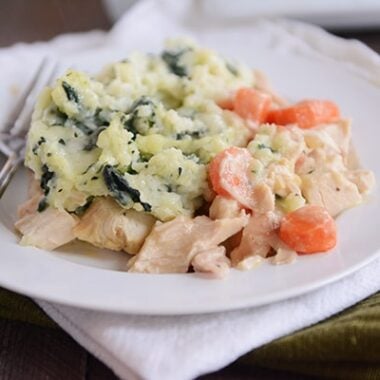 Ingredients
Potato Topping:
2 pound Yukon gold potatoes, peeled and cut into 1-inch pieces
3 to 4 cups chopped kale (2-3 ounces)
1 teaspoon garlic powder
2 tablespoons butter
1/4 cup sour cream
Milk, for consistency (start with 3-4 tablespoons)
Chicken Mixture:
3 tablespoons butter
2 shallots, finely minced or 1/2 cup finely chopped yellow onion
2 cloves garlic, finely minced or pressed through a garlic press
1 to 2 cups chopped carrots (pretty hefty dice; don't chop them too finely)
1/3 cup all-purpose flour
2 cups low-sodium chicken broth
1/2 cup milk
3 to 4 cups cooked, chopped chicken (rotisserie chicken works great here as well as this simple stovetop shredded chicken)
1/3 cup freshly grated Parmesan cheese, for topping
Instructions
In a large pot of lightly salted water (I add a hearty pinch of coarse kosher salt to the pot), boil the potatoes until slightly tender but still firm, 7-9 minutes, depending on the size of the potatoes. Add the kale to the pot and simmer for 5-6 minutes. Drain into a colander and return to the pot. Add the garlic powder, butter and sour cream. Lightly mash, adding milk, a tablespoon or two at a time, until the potato-kale mixture is mashed and creamy (you can leave it as chunky or smooth as you want depending on your texture preference) - it should be spreadable without being too thin.
While the potatoes are boiling, get started on the filling. In another 3 or 4-quart pot, melt the 3 tablespoons butter over medium heat and add the shallots (or onions), garlic, and carrots. Stir well. Cover the pot and cook the vegetable mixture, stirring occasionally and moderating the heat to prevent sticking, for 8-10 minutes, until the carrots are slightly tender (they'll cook more in the next couple of steps).
Sprinkle the flour over the vegetable mixture and cook for 1-2 minutes, stirring often. Slowly add the chicken broth, whisking vigorously as it is added to prevent clumping - it helps to add 1/2 cup at at time, slowly, and let it bubble and thicken before adding more broth. Once all the broth is added and the sauce is smooth, whisk in the milk. Stirring constantly, bring the mixture to a simmer, and cook until the sauce is slightly thickened, 2-3 minutes.
Stir in the cooked chicken. Add salt and pepper to taste; I add about 1/2 teaspoon of each.
Preheat the oven to 400 degrees F. Lightly grease a 9X13-inch or slightly smaller baking pan. Pour the chicken filling into the pan evenly.
Dollop the mashed potato mixture over the top of the chicken mixture and using the back of a spoon or an offset spatula, spread it into a somewhat even layer; it's ok if it looks a bit rustic and uneven. I don't spread mine all the way to the edges - I leave about a 1/2-inch border all the way around but you can spread it into a thinner layer if desired.
Sprinkle the Parmesan cheese on top. Bake the casserole for 20-25 minutes until the edges are bubbling. Let rest 5-10 minutes before serving.
Notes
Make Ahead: this dish can be made, assembled, covered and refrigerated for up to 24 hours before baking and serving (you may want to add 5-7 minutes onto the baking time). I have not tried freezing it yet.

Filling: to be super efficient, you can start making the filling while the potatoes are boiling.

Chicken Mixture: if you tend to shy away from recipes where you have to whisk in liquid like your life depends on it to prevent lumps, you might consider blending the 1/3 cup flour with the liquid and adding it to the carrot/onion mixture - then bring the mixture to a simmer, stirring, and cook until slightly thickened. It will alter the flavor just a bit (since the flour won't brown with the vegetables as it absorbs the butter and other flavors) but it's a viable option if it is more your style.
Recommended Products
As an Amazon Associate and member of other affiliate programs, I earn from qualifying purchases.

Recipe Source: adapted quite a bit from the Food Network Magazine March 2016 (changed the potatoes mixture, streamlined the cooking and assembling process to be much easier and used different proportions and ingredients)
Disclaimer: I am a participant in the Amazon Services LLC Associates Program, an affiliate advertising program designed to provide a means for me to earn fees by linking to Amazon.com and affiliated sites. As an Amazon Associate I earn from qualifying purchases.