Red, White and Blue Ice Cream Granola Parfaits
Perfect for the 4th of July these red, white and blue ice cream granola parfaits are easy, pretty, refreshing, cool, and tasty.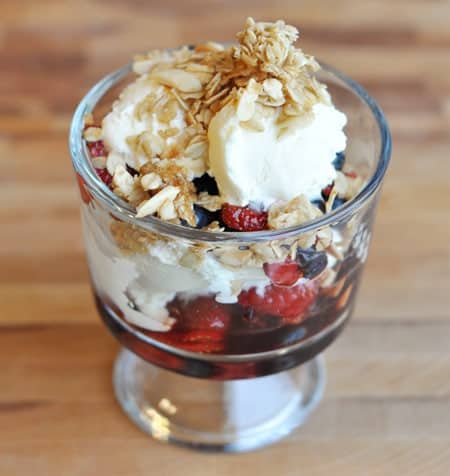 You might be taken aback by the secret ingredient in this recipe – wondering what on earth balsamic vinegar is doing in the line-up, but trust me, it works. Magically.
The red and blue fresh berries macerate (basically that scary word means to release their juices and soak up the flavors of the other ingredients) in a simple mixture of sugar and balsamic vinegar. The result? A sweet and tart berry syrup that has a complexity of flavor that pairs incredibly with the simple, creamy vanilla ice cream and the texturally perfect, crunchy granola.
Oh, these were divine. And so, so easy. Not to mention refreshing, cool, and mighty tasty.
And just in case you are wondering, my husband and our dinner guest had heaping seconds of these yummy parfaits, which caused my children to beg for heaping seconds, which peer-pressured me into having heaping seconds. In the end, we all had heaping seconds and were all the merrier for it.
Is it any wonder I lay awake at night wondering how my pants got so tight? It's all because of peer-pressure.
One Year Ago: Shrimp Stir-Fry with Coconut Curry Sauce
Two Years Ago: Fabulous Orange Chicken
Red, White and Blue Ice Cream Granola Parfaits
Yield: 8 parfaits

Prep Time: 10 minutes

Additional Time: 30 minutes

Total Time: 40 minutes
Ingredients
4 cups fresh berries (I used a combination of blueberries, strawberries and raspberries, but blackberries would work great, too)
2 tablespoons balsamic vinegar
2 tablespoons sugar
1 quart good-quality vanilla ice cream
1-2 cups granola (I used this recipe subbing slivered almonds for all of the cashews and leaving out the raisins)
Instructions
Wash and gently dry the berries. Place them in a medium bowl. Add the balsamic vinegar and sugar and toss well. Let the berries sit at room temperature for at least 30 minutes so the berries can macerate and release their juices.
When ready to serve, scoop a spoonful of the berries and syrup in the bottom of a dessert or parfait glass. Top with one scoop ice cream. Repeat the layers. Top with granola and serve immediately.
Recommended Products
As an Amazon Associate and member of other affiliate programs, I earn from qualifying purchases.

Recipe Source: My Kitchen Cafe
Disclaimer: I am a participant in the Amazon Services LLC Associates Program, an affiliate advertising program designed to provide a means for me to earn fees by linking to Amazon.com and affiliated sites. As an Amazon Associate I earn from qualifying purchases.