Shredded Chicken Pitas with Sun-dried Tomato Vinaigrette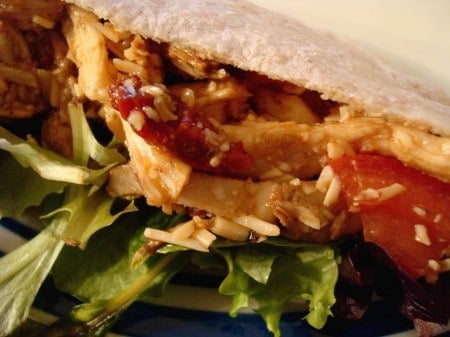 I snagged this recipe from Celeste's blog, Sugar and Spice, and these little pitas were so, so delicious.
They made for a light but very fulfilling dinner. This would be perfect to serve to company because it is unique and more than just an ordinary stuffed pita.
The balsamic and sun-dried tomato vinaigrette is tangy but not overwhelming and the lettuce and tomatoes add a great, fresh touch. We loved this – thanks Celeste!
Shredded Chicken Pitas with Sun-dried Tomato Vinaigrette
Ingredients
2 tablespoons balsamic vinegar
1 1/2 tablespoons sun-dried tomato oil
1 tablespoon chopped drained oil-packed sun-dried tomatoes
1/4 teaspoon freshly ground black pepper
1 garlic clove, minced
4 cups shredded cooked chicken breast (2-3 chicken breasts)
1 cup chopped tomato (about 1 medium)
1/2 cup (2 ounces) grated Parmesan cheese
1/4 cup thinly sliced fresh basil (I left this out b/c I didn't have any on hand)
6 (6-inch) pitas, cut in half
3 cups mixed baby greens
Instructions
Combine first 5 ingredients in a large bowl. Stir in chicken, tomato, cheese, and basil.

Line each pita half with 1/4 cup greens. Divide chicken mixture evenly among pita halves.
Recipe Source: Sugar and Spice
Disclaimer: I am a participant in the Amazon Services LLC Associates Program, an affiliate advertising program designed to provide a means for me to earn fees by linking to Amazon.com and affiliated sites. As an Amazon Associate I earn from qualifying purchases.