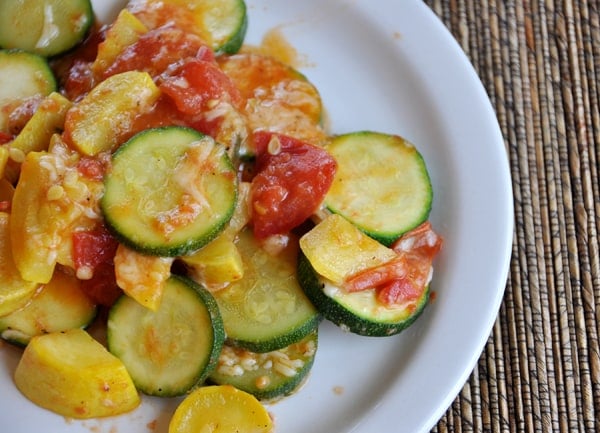 I'm not sure this recipe really deserves a post of it's own since it is garden simplicity at it's best, but this is absolutely my favorite way to serve up my garden veggies alongside whatever else we may be eating (last week we ate it with this and this and this!).
Ready in a flash and filled with flavor, this skillet medley gets gobbled up in seconds around here, even by the kids (the sprinkling of Parmesan cheese definitely helps sweeten the deal).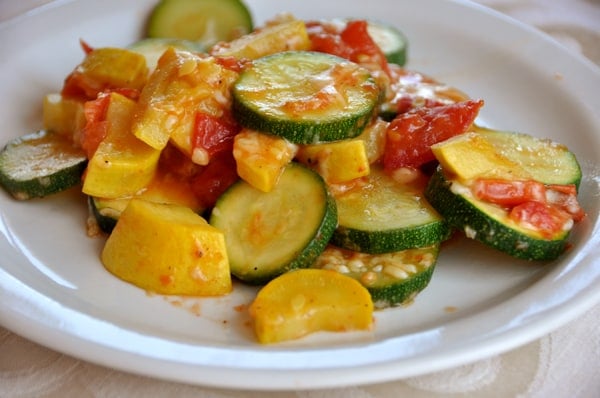 One Year Ago: Caramel Crunch Bars
Two Years Ago: Fusilli alla Caprese
Yield: 4 servings

Prep Time: 10 minutes

Cook Time: 10 minutes

Total Time: 20 minutes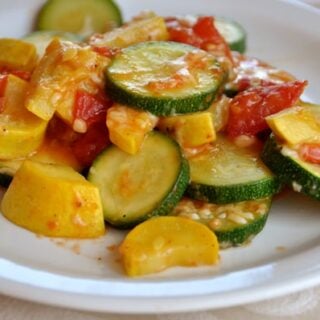 Ingredients
1 tablespoon olive oil
½ cup chopped onion, yellow or red
3 cloves garlic, finely minced
3 medium zucchini, sliced about 1/8 to 1/4-inch thick, in rounds or half moons
3 medium yellow squash, sliced about 1/8 to 1/4-inch thick, in rounds or half moons
2-3 ripe tomatoes, chopped
1/4 cup freshly grated parmesan cheese
Instructions
In a large nonstick skillet over medium heat, sauté the garlic and onion in the olive oil until the onions being to turn translucent, stirring constantly so the garlic doesn't burn, about 3-4 minutes. Add the zucchini and squash, tossing well with the olive oil mixture. Sauté over medium heat for 3-4 minutes. Add the chopped tomatoes. Continue cooking and stirring until the zucchini and squash are tender and the tomatoes have broken down, about another 2 minutes.
Toss the hot mixture with the parmesan cheese. Serve immediately.
Recommended Products
As an Amazon Associate and member of other affiliate programs, I earn from qualifying purchases.

Recipe Source: My Kitchen Cafe