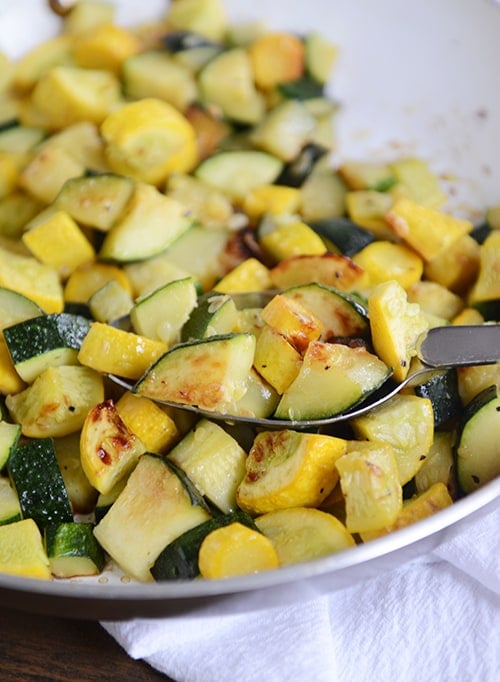 Considering this is the side dish we eat four out of five times during the late summer months, I feel like it's time to share my feelings about the gloriousness of sautéed zucchini and squash and then leave you to get on with your day and life.
Basically, it's easy (10-15 minutes max). It literally can be served with anything (and I mean anything). And it's so yummy, I can't be trusted alone with the skillet (no really, I'll eat the whole thing). It's my favorite summer side dish and I love that there aren't any frills or secret ingredients or squash pretending to be gourmet here.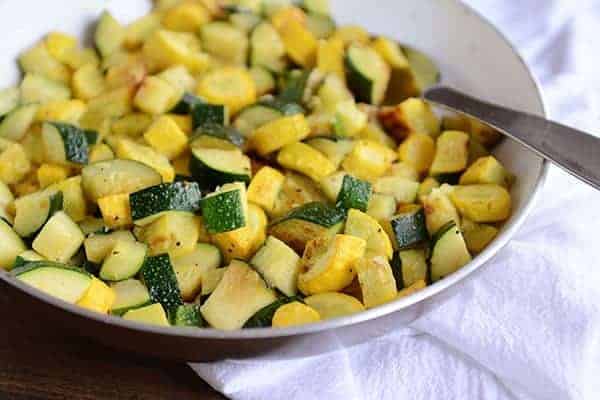 For those of you that have already been doing this for, like, 100 years already, I'm happy we've been on the same page for so long. You know, great minds and all that. But if you haven't, you should definitely be hopping on board while the squash lasts. Whatever you do, remember to let the skillet get piping hot before adding that squash. The delicious brown caramelization on the tender outsides of the squash is exactly what you are going for. Flavor, flavor, flavor.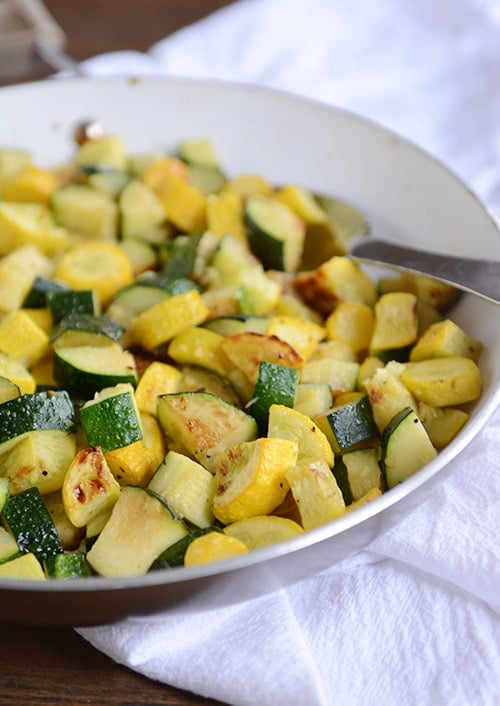 Simple Skillet Zucchini and Yellow Squash
Infinitely adaptable, this dish can be dressed up with chopped tomatoes, fresh herbs, and a million other tasty ingredients so feel free to experiment and add-on wherever your heart leads. 99% of the time, I make it just like it's written and keep it quick and simple.
I prefer using the little zucchini but if you have some the size of baseball bats, they work fine, too. Halve them the long way and scoop out all the seeds/innards before dicing. Try to cut all the squash into similar-sized pieces for more even cooking. All in all, I usually use about 4-6 cups diced squash (combination of zucchini and yellow squash).
Ingredients
1/2 tablespoon butter
1/2 tablespoon olive oil
2 small zucchini, ends trimmed and diced
2 small to medium yellow crookneck squash, ends trimmed and diced
Salt and pepper to taste
Sprinkle of freshly grated Parmesan cheese (optional but yummy)
Directions
In a 10- or 12-inch nonstick skillet, heat the butter and olive oil over medium heat until hot and rippling.
Add the zucchini and yellow squash in as even a layer as possible (it should sizzle as it hits the skillet) and sprinkle with salt and pepper. Let it sit without stirring or moving for 2-3 minutes so it can get nice and golden. Give it a good stir, add a touch more salt and pepper to taste if needed, and let it continue to cook, stirring only every now and then, until the squash is browning here and there and tender to your liking, about 5-7 more minutes.
Season with salt and pepper to taste and top with freshly grated Parmesan, if desired. Serve immediately.
https://www.melskitchencafe.com/skillet-zucchini-and-yellow-squash/
Printed from Mel\'s Kitchen Cafe (www.melskitchencafe.com)
Recipe Source: from Mel's Kitchen Cafe