Vegetable Sauté with Simple Cream Sauce
No reason to expound eloquently on this simple vegetable medley except to say:
a) it has the serious potential to expand your side-dish collection and/or
b) would make a perfect last-minute addition to your Thanksgiving table.
Taking literally minutes to prepare, the crisp, fresh vegetables get a fabulous boost from a no-fuss cream sauce.
Love this dish. Love that it makes my dinner table look that much more put together.
Stay tuned tomorrow for the top 10 ways to use those turkey leftovers!
*Click HERE for any last minute Thanksgiving menu ideas…happy cooking and baking!*
One Year Ago: BBQ Turkey Quesadillas
Two Years Ago: Tutorial: Working With Yeast
Three Years Ago: Cornbread Muffins
Vegetable Sauté with Simple Cream Sauce
Yield: 4-6 servings

Prep Time: 20 minutes

Cook Time: 10 minutes

Total Time: 30 minutes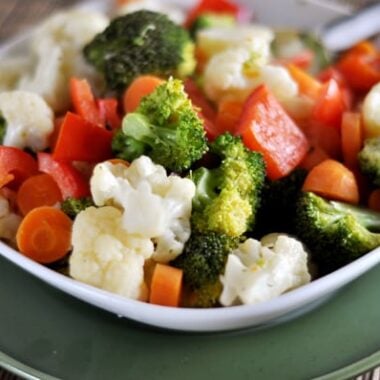 Ingredients
2 tablespoons heavy cream
1 ounce (2 tablespoons) cream cheese
2 tablespoons minced fresh chives or 1/2 teaspoon dried thyme
2 teaspoons lemon juice
1/8 teaspoon red pepper flakes
2 tablespoons olive oil
1/2 pound broccoli, florets cut into 1-inch pieces
1/2 pound cauliflower florets cut into 1-inch pieces
1/2 pound carrots, peeled and sliced 1/4-inch thick
1 red bell pepper, stemmed, seeded and cut into 1/2-inch wide strips or chunks
1/4 cup low-sodium chicken broth
Salt and pepper, to taste
Instructions
In a small bowl, combine cream, cream cheese, chives (or thyme), lemon juice, and pepper flakes. Whisk until well combined. Set aside.
In a large 12-inch nonstick skillet, heat the oil over medium heat until rippling and hot. Add broccoli, cauliflower, carrots, and bell pepper and cook, stirring occasionally, until the vegetables are slightly tender, 4 to 6 minutes. Stir in the broth, cover and reduce heat to medium low. Cook until the vegetables are crisp tender, about 2 minutes.
Remove the lid and cook until the liquid evaporates and the vegetables are tender, about 1 minute. Stir in the cream mixture. Season with salt and pepper to taste. Serve immediately.
Recommended Products
As an Amazon Associate and member of other affiliate programs, I earn from qualifying purchases.

Recipe Source: adapted from Cook's Country Oct/Nov 2011