Turkey Burgers with Romaine and Carrot Slaw
These perfect skillet turkey burgers with romaine and carrot slaw are so glorious they need nothing more than a good bun.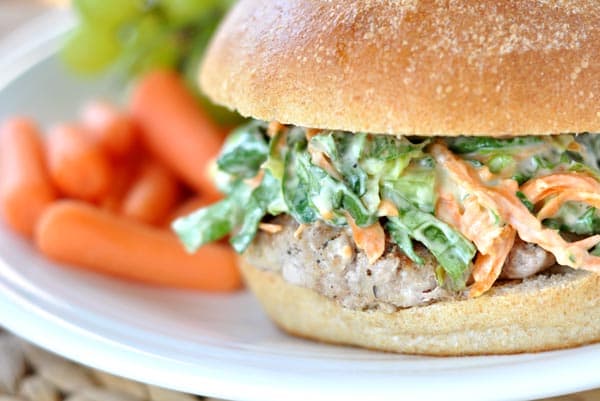 I am in L-O-V-E with these turkey burgers. Turkey burgers, you say? What's so special about a turkey burger?
Well, let me tell you. For starters, these turkey burgers are deliciously tender seasoned with a simple mixture of Dijon mustard, thyme and green onions. The magic happens when the hot, juicy turkey burgers are topped with the simple romaine slaw.
The only reason I even made this recipe is because the "slaw" base was romaine lettuce not cabbage. Brian hates cabbage with a vengeance, and that is putting it mildly. While I happen to love a good old fashioned cabbage slaw, I have to say that this romaine slaw really works.
I thought the romaine lettuce would get slimy and wilted in the light mayo/vinegar dressing but because the slaw is made right before serving, the lettuce stays fresh-tasting.

These glorious turkey burgers need no other adornment than a good bun and the tasty romaine and carrot slaw. My tummy is rumbling just thinking about these babies. Must make again soon!
One Year Ago: Cherry Tomato Caprese Salad
Two Years Ago: Hot Fudge Sauce
Three Years Ago: Angel Hair Pasta Salad
Perfect Turkey Burgers with Romaine and Carrot Slaw
Yield: 4 turkey burgers

Prep Time: 15 minutes

Cook Time: 16 minutes

Total Time: 31 minutes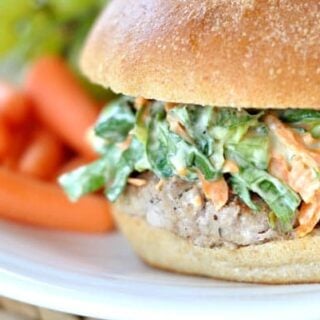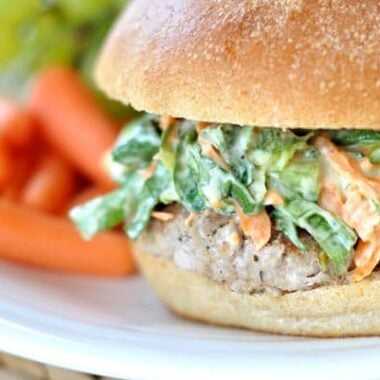 Ingredients
1 pound ground turkey
1 tablespoon Dijon mustard
1 tablespoon fresh thyme leaves
2 scallions (green onions), finely chopped
1/2 teaspoon salt
1/4 teaspoon pepper
1 tablespoon olive oil
2 tablespoons mayonnaise
1 tablespoon white wine vinegar
2 leaves romaine lettuce, thinly sliced crosswise (about 2 cups)
1 medium carrot, coarsely grated
4 soft rolls, split and toasted (I used this French bread roll recipe with whole wheat flour)
Instructions
In a medium bowl, gently combine the turkey, mustard, thyme, scallions, salt and pepper. Don't overmix. Form the meat into four ¾-inch-thick patties. Heat the oil in a large 12-inch nonstick skillet over medium heat. Cook the patties until completely cooked through, 6 to 8 minutes per side.
Meanwhile, in a medium bowl, whisk together the mayonnaise, vinegar, and ¼ teaspoon each salt and pepper. Toss with the lettuce and carrot.
Serve the burgers on the rolls, topped with the slaw.
Notes
Ground Turkey: these turkey burgers turn out more moist and tender if you use ground turkey that is 85 to 93 percent lean.

Cooking Method: I cooked the turkey burgers in a skillet but you could try grilling them. Turkey tends to stick to the grill more than beef so make sure your grill is cleaned and well-oiled.
Recommended Products
As an Amazon Associate and member of other affiliate programs, I earn from qualifying purchases.

Recipe Source: adapted slightly from my friend, Reyna M.
Disclaimer: I am a participant in the Amazon Services LLC Associates Program, an affiliate advertising program designed to provide a means for me to earn fees by linking to Amazon.com and affiliated sites. As an Amazon Associate I earn from qualifying purchases.