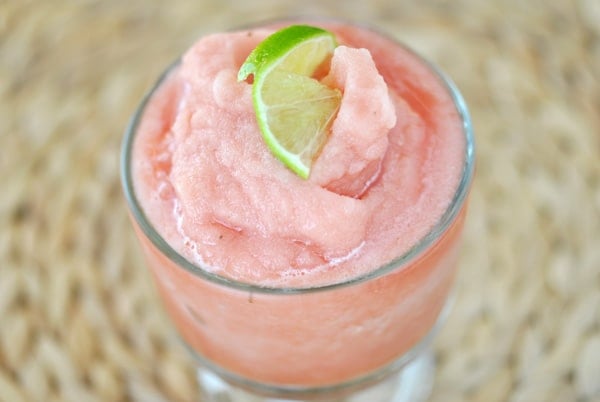 Simple and just out-of-this-world refreshing, a watermelon frosty is a sure way to find solace in the sweltering heat of the summer. This light and chilly treat is so easy to make and healthy, to boot, that I don't feel guilty serving it to my children at all hours of the day as they are toodling around outside in the warm summer morning and afternoons.
I've started keeping chunks of watermelon and bananas in the freezer for just this purpose and I instantly become Mom-Of-The-Year when I shout to the charges that watermelon frosties are ready and waiting!
As a little bonus, see below the recipe for the easiest way to cut a watermelon. I saw it done years ago like this by a friend of my mom's and basically, it's brilliant. And the only way I prefer to cut my watermelon these days. Peace out.
Ingredients
2 cups frozen watermelon cubes
1/2 frozen banana
1/2 cup water (plus more, if needed)
Juice of 1/2 lemon or 1 lime
1-2 tablespoons maple syrup or other sweetener (like honey)
Directions
Put all the ingredients in a blender or food processor and process until the mixture is smooth and frosty. You may need to add a bit more water at a time to loosen up the mixture. I found it liked to get stuck in my not-so-powerful blender. Try not to over water it or it will lose some flavor.
Serve immediately (in frosted glasses, if desired!).
https://www.melskitchencafe.com/watermelon-frosty-and-how-to-cut-a-watermelon/
Printed from Mel\'s Kitchen Cafe (www.melskitchencafe.com)
Recipe Source: from Mel's Kitchen Cafe (seen all over the internet and created at home)