Jalapeno Cheddar Turkey Burgers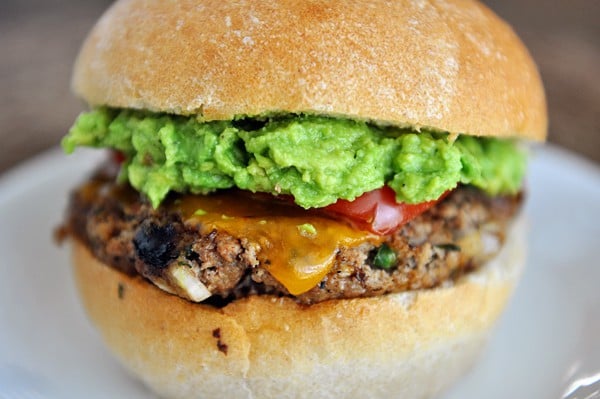 At the risk of sounding totally redundant, I could start and end this post with Brian's words after devouring this burger:
"No kidding, Mel, that's the best burger I've ever eaten in my life."
Not that his recommendation has to be the only recommendation to go by. How about my 9-year old's?
"Dude, mom, that was sick." (Thank you Mr. 10-year old neighbor for imparting new slang words to the children.)
Or the 6-year old's?
"How come you didn't make enough for all of us to have three? No fair!"
The 4-year old's?
"It would be even more awesomer with ketchup."
Or the 7-year old's? (I promise, we're almost done here)
"That was good enough to be on Chopped, mom."
Or how about mine?
"If any of you even think about touching the leftover burger and bun, you better sleep with one eye open."
As you can tell, these burgers are incredible. Don't let jalapeno in the title scare you. Seeded and without the membrane, there's no spice (but feel free to leave some of those seeds in for a bit of a kick!). Just flavor. Lots and lots of flavor infused into the juiciest, most delicious burger known in these Northern Minnesota parts.
Plus, I can't understate the importance of real, live guacamole on this burger. It takes a fantastic burger and completely elevates it to something not of this world. Totally amazing. (Thanks, Fran, for directing me to this recipe!)

Sweet Potato Fries or Jo Jo Wedges
Chips and Guacamole Salad
Sliced fruit
One Year Ago: The Best Broccoli Salad
Two Years Ago: BLT Pita Pockets
Three Years Ago: Creamy Banana Pudding Trifle
Jalapeno Cheddar Turkey Burgers
Yield: 6 burgers

Prep Time: 10 minutes

Cook Time: 12 minutes

Total Time: 22 minutes
Ingredients
Burgers:
2 pounds ground turkey
1/2 cup finely diced onion (white, red or yellow)
1/4 cup finely chopped fresh cilantro
2 garlic cloves, finely minced
1 small jalapeño, seeded and finely chopped
1 teaspoon ground cumin
1 teaspoon paprika
Juice of 1/2 lime (about 1/2 tablespoon or so)
1/2 cup shredded sharp cheddar cheese
1 teaspoon salt
1/2 teaspoon black pepper
For Serving:
6 soft hamburger buns (I made buns out of this favorite recipe)
Guacamole
Extra cheddar slices
Tomatoes
Lettuce
Whatever else your heart desires to put on these babies
Instructions
Heat a charcoal or gas grill to medium-high heat (about 400 degrees if you have a temperature gauge on the grill). If needed, oil the grates to keep the burgers from sticking.
In a large bowl, mix all of the burger ingredients together until well combined. I just dig in with my hands and mix it all up.
Shape the meat mixture into 6 patties (I judge the size by how big the buns are and make the meat mixture slightly larger since they'll shrink a bit while cooking).
Grill the meat patties for 5 to 6 minutes per side, more or less, depending on how thick the turkey burgers are. Tent with foil after removing from the grill and let rest for 3-5 minutes before serving. Serve with desired toppings - I highly encourage the use of guacamole because it makes the burgers absolutely out of this world.
Notes
If you want more heat, leave the seeds and membrane in the jalapeno while chopping and add it to the meat mixture. Without the seeds and membranes, the jalapeno imparts great flavor but very little heat (my kids ate these with no problem).

I love whipping up homemade guacamole - it's so simple; I dump about 2 diced avocados (obviously without the peel and huge seed) in a bowl and mash with the juice of half a lime, salt and pepper and a dash of garlic powder or a minced clove of fresh garlic, all of which can be adjusted to taste.
Recommended Products
As an Amazon Associate and member of other affiliate programs, I earn from qualifying purchases.

Recipe Source: adapted from a recipe that Fran from Fran's Favs directed me to (by way of Smells Like Home who got it from What's Gaby Cooking…phew!)