Mummy-Dogs and Bug Cookies
Look no further for fun Halloween, kid-friendly food than this post with adorable mummy-dogs, mummy cookies, and bug cookies!
Chances are, if you've perused any kind of Halloween cuisine on the internet, these mummy-dogs look very familiar. They are all over the place! So I decided it was about time we devoured some mummy-dogs in our house.
I'm thinking it must be a rite of passage somewhere that one must make and eat one or more mummy-dogs in their lifetime. Check that off my list. Phew!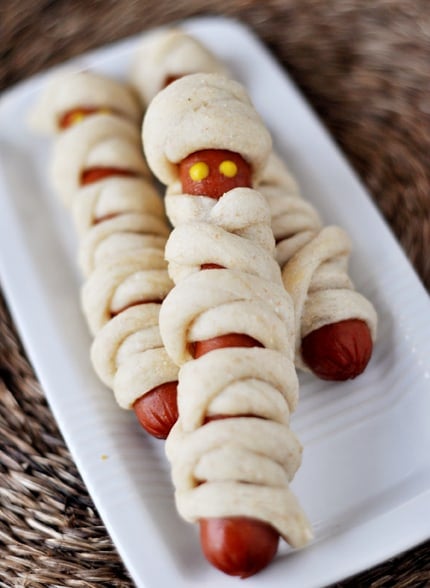 The premise is simple – a hot dog, wrapped with breadstick dough, and baked. Then dotted with eyes, dipped in more ketchup and/or mustard and devoured.
I used half a batch of homemade breadsticks and our preference on hot dogs is Hebrew National, but use what you like. And so what if my mummy-dogs slightly resemble mummies wearing turbans? My kids didn't know the difference (thankfully).
Looks like I need to work on my food art a bit. And just for the record, my husband is doing a repetition of fist-pumps right now because he always swore he'd do 100 fist-pumps in a row the day I posted a recipe with a hot dog in it. The man loves hot dogs. What can I say.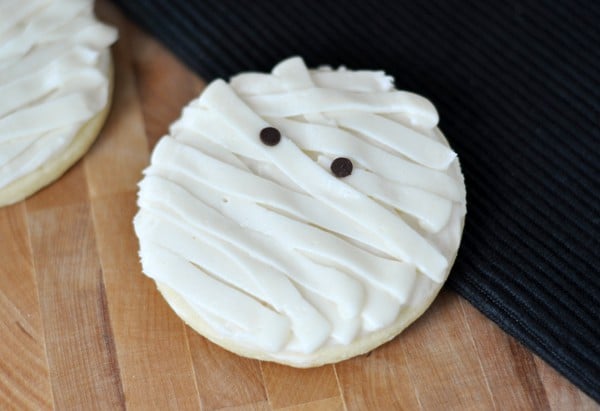 The mummy cookies? Well, they are more of a basic idea than anything. Circle sugar cookies, piped with the flat side of a basket weave tip and punctured with mini M&M's for the eyes. Did I just say puncture? Sorry, that was a little gory. But this is Spooky Eats week, after all.
Seriously easy and some of my favorite decorated sugar cookies I have to say. I don't know what it is about a mummy sugar cookie, but they are stinking cute.
So if you are looking for a mummy-inspired menu theme – add these two creations to your list! The kids (er, and the adults) will be sure to be pleased and if we are speaking from the experience in our house, there was nary a mummy leftover, sweet or savory, to fight over.
P.S. As a little bonus, the bug cookies, below, make an excellent addition to Halloween-inspired cookies. I've used these bug designs (on cupcakes and cookies) no less than 10 times after spying them in Hello, Cupcake years ago. Because the designs are copyrighted in the book, I can't share the specific templates with you but the premise is simple – using melted candy discs to pipe an outline of a bug on wax paper and top with a design in large and small M&M's. Let them dry and harden, then peel them off the wax paper and place them on the cookie. I don't know if it is because I happen to have four little bug-loving boys, but these bugs are always the hit of the century.
Recipe Source: Mel's Kitchen Cafe, as seen all over the internet
Mummy Sugar Cookies
Printable Version with Picture
Printable Version
INGREDIENTS:
One batch of your favorite sugar cookie dough
One batch of frosting that is stiff enough to pipe
Mini M&M's
DIRECTIONS:
Make sugar cookies according to the recipe. Roll out and cut into thick circles, about 2- to 3-inches in diameter. Bake and cool.
When cooled, fit a piping bag with the basket weave tip (or another similar tip with a flat side), and fill the bag with frosting. Turn the tip flat side up and pipe strips across the cookie in varying directions, until the cookie is covered with mummy stripes. Place two mini M&M's for eyes.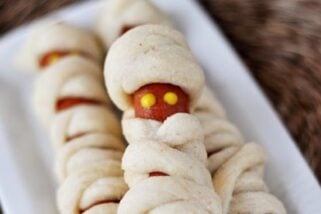 Mummy Dogs
Instructions
Make the breadstick dough according to the recipe (letting it rest or rise as needed before shaping into breadsticks). Divide dough in half. Freeze half or make it into regular breadsticks.

Preheat the oven to 375 degrees F.

Press the other half of the dough into a thin rectangle, probably about 6 by 9-inches or something like that. It doesn't have to be precise. Cut thin strips of dough, about 1/8- to 1/4-inch wide. Starting at the top of the hot dog, wrap one strip of dough around the hot dog all the way to the bottom. Place on a lightly greased baking sheet (or a baking sheet lined with parchment paper or a silpat liner). Place each mummy-dog about an inch apart. Once all the hot dogs have been covered with breadstick dough, bake them for 10-12 minutes until the dough is slightly puffed and cooked through.

Dot eyes on the mummy-dogs with mustard or ketchup and serve with additional mustard and ketchup, if desired.
Notes
Hot Dogs: I prefer Hebrew National hot dogs. They come seven to a pack and I usually use two packages. Breadstick Dough: I only use half the breadstick dough and freeze the other half or make regular breadsticks.
Follow @MelsKitchenCafe on Instagram and show me the recipes you are making from my blog using the hashtag #melskitchencafe. I love seeing all the goodness you are whipping up in your kitchens!
Recipe Source: cookie recipe from Mel's Kitchen Cafe, idea inspired by many seen across the internet
Disclaimer: I am a participant in the Amazon Services LLC Associates Program, an affiliate advertising program designed to provide a means for me to earn fees by linking to Amazon.com and affiliated sites. As an Amazon Associate I earn from qualifying purchases.