Strawberry Ice Cream Brownie Cupcakes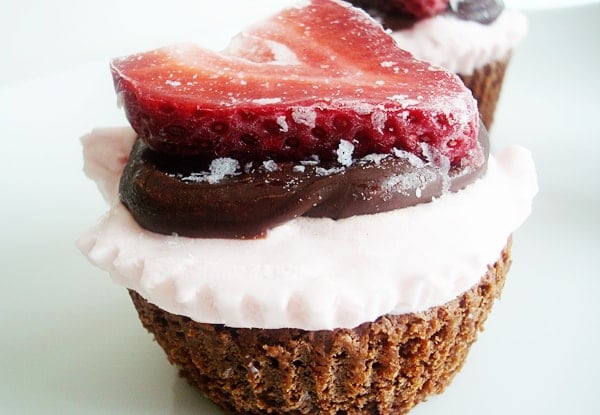 What is there to say about these mini decadent treats except that the brownie/ice cream combo has never looked so cute (and tasty, I might add!).
Truly a brilliant idea, since brownies and ice cream rank right up there with my favorite desserts of all time, this cupcake form is both classy and kid-friendly.
Absolutely perfect for the warm summer weather and great to serve at a BBQ, this chilly, chocolately concoction will get rave reviews, I assure you!
You've probably already tuned into this fact – but these brownie ice cream cupcakes could be deliciously tailored to the flavors you love:
brownie base with cookie dough ice cream and a mini chocolate chip cookie nestled in the ganache,
brownie base with mint chocolate chip ice cream and mint leaf on top of the ganache,
brownie base with chocolate ice cream and a shard of dark chocolate on top…
You get my drift…the possibilities are endless.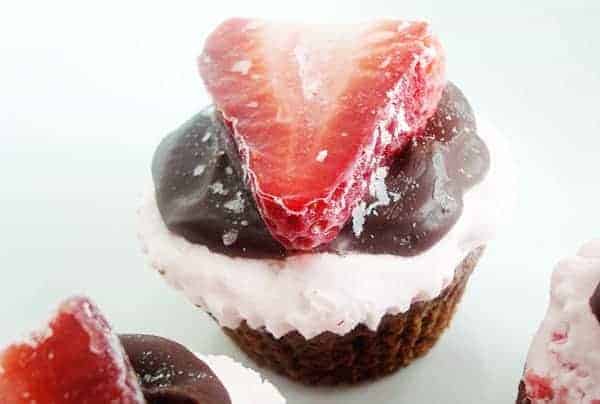 One Year Ago: Chocolate Chip Cake
Strawberry Ice Cream Brownie Cupcakes
Yield: 24 cupcakes

Prep Time: 20 minutes

Cook Time: 10 minutes

Additional Time: 1 hour 30 minutes

Total Time: 2 hours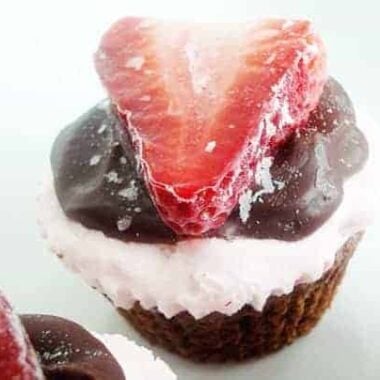 Ingredients
For the brownies:
3/4 cup all-purpose flour
1 teaspoon baking powder
1/2 teaspoon salt
8 tablespoons butter, cut into 8 pieces
3 ounces unsweetened chocolate, coarsely chopped
2 large eggs plus 1 egg yolk
1 1/8 cups sugar
1 teaspoon vanilla extract
For the ice cream:
1 quart strawberry ice cream, slightly softened
For the ganache:
1 cup mini semisweet chocolate chips
1/3 cup heavy cream
To garnish:
Instructions
To make the brownie bottoms, preheat the oven to 350 degrees F. Line two cupcake pans with foil liners. Combine the flour, baking powder and salt in a small bowl; stir together and set aside. In a heatproof bowl combine the butter and chocolate. Microwave on 50% power for one minute. Stir. Repeat until the chocolate and butter are melted and well combined (be careful not to overheat). Alternately, you can melt the chocolate and butter in a heatproof bowl over a pan of simmering water. In a large mixing bowl combine the eggs, egg yolk, sugar and vanilla extract. Whisk to blend. Stir in the warm chocolate mixture, and then the dry ingredients, mixing just until incorporated.
Scoop 1 tablespoon of batter into each cupcake liner. Bake until a toothpick inserted in the center comes out with moist crumbs attached, 6-8 minutes. Don't overbake or the brownies will be dry. Leaving the brownies in the cupcake pans, cool on a wire rack to room temperature. Freeze for at least 30 minutes. Top with strawberry ice cream until the cupcake liner is full. Return the cupcake pans to the freezer for 45 minutes to 1 hour.
To make the ganache, place the chocolate chips in a small bowl. Bring the cream to a simmer in a small saucepan. Pour the cream evenly over the chocolate, let stand for 1 minute. Stir until smooth with a rubber spatula. If the ganache is too thin, allow it to stand at room temperature to cool and become more easily spreadable. Once the ganache is thick but still pourable, scoop it by the teaspoonful on top of the ice cream cupcakes and spread over the tops. Garnish with fresh strawberry slices, if desired. Return to the freezer.
Remove the cupcakes from the freezer about 10 minutes before serving. (I removed the liners for the pictures and for our own purposes but you can leave the liners on if serving to guests.)
Notes
I overfilled my cupcake liners with batter, probably about 2-3 tablespoons of batter as compared to the 1 tablespoon recommended by the recipe. This meant I didn't get as many cupcakes out of the batch but I did have a higher proportion of brownie to ice cream. I think either way would be delicious.

Recipe Source: adapted slightly from Annie's Eats