Fudgy Brownie Cupcakes with The Best Peanut Butter Frosting
These fudgy brownie cupcakes are amazing, no doubt about that, but what really takes the cake is that frosting! It is creamy, fluffy, and the best peanut butter frosting ever!
Well hey there!
It's 11:06 on your average Wednesday night, and although my soul would rather be sleeping with my trusty earplugs in (thanks to my freight train snoring husband who never quite realizes how narrowly he missed a pillow over his face in the middle of the night), I couldn't hightail it to bed without giving you at least one recipe this week!
I've definitely been a little MIA since the kids got out of school last Friday.
We're getting into the swing of a summer routine, but I'm not going to lie, today I have a huge dose of the who-am-I-and-how-did-I-get-here brain fog of readjusting to new schedules for summer (and also helping my 14-year old finish up his Eagle Scout project + spending Memorial Day up and away hiking in the mountains).
Anyway. None of that really matters in the face of these fudgy brownie cupcakes.
With THE BEST PEANUT BUTTER FROSTING ON THE FACE OF THE PLANET!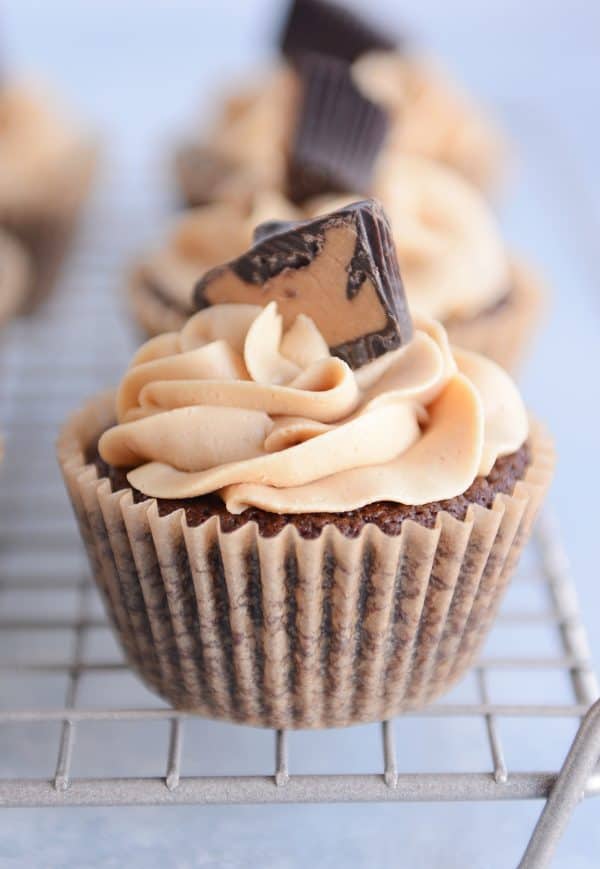 Because, seriously, as delicious as the brownie cupcakes are, that peanut butter frosting is what I've been searching for my whole life.
I've made too many peanut butter frosting recipes over the years to really keep track of, but this version is perfection.
So light and fluffy and creamy.
Talk about the perfect compliment to those decadent, fudgy, brownie cupcakes. And even though it's super soft, it's also pipeable if you want the pretty swirls.
Although, listen, I'm not going to judge if you just slather some of that frosting on top of a cupcake with the back of a spoon and call it good. Especially if it means you're a few seconds closer to brownie + peanut butter heaven.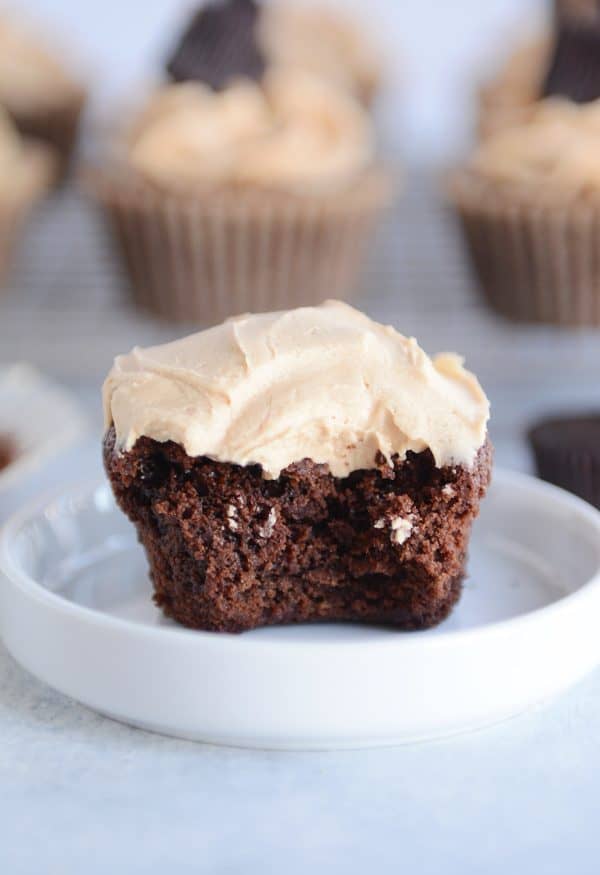 Plop a mini peanut butter cup on top of that peanut buttery cloud of frosting, and you have one heck of a delicious cupcake.
Brownie cupcakes are kind of where it's at.
Instead of worrying about achieving a tender crumb and perfectly domed top and light and fluffy texture as one might do (who me?) with your typical cakey cupcake, you just throw all that criteria out the window, because in this case, you really are after dense and fudgy and decadent.
They are so easy to make! Like, dangerously easy.
P.S. those peanut butter cups you see on top are probably my favorite storebought treat in the history of ever. EVER. Trader Joe's dark chocolate peanut butter cups (TJDCPBC for short). I cannot be trusted when a tub of those babies are in my house. So it's no surprise that my selflessness only extends so far – you better believe I wasn't going to put a WHOLE peanut butter cup on each cupcake when they were not destined for my enjoyment. #honesty #halfisbetterthannone #yougetwhatyougetandyoudontthrowafit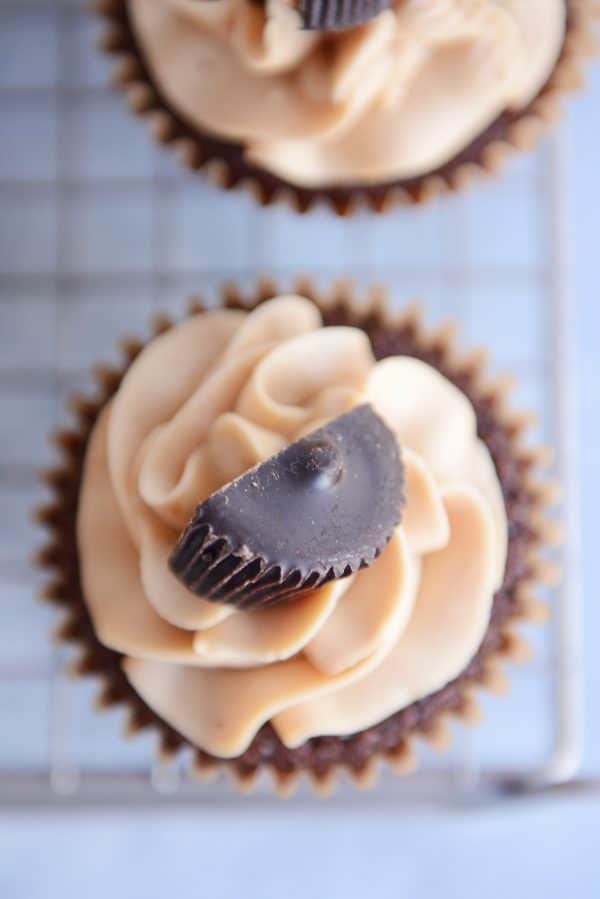 If you are thinking that I really DO have a serious case of brain fog posting these brownie cupcakes late tonight when I already have a pretty great brownie cupcake recipe in the archives already, you probably aren't alone.
Jeez, Mel, go get some sleep and come back refreshed and aware of your life and recipes, for Pete's sake (!!).
But I promise I was fully aware of those older brownie cupcakes when I decided to post this one.
In all honestly, these brownie cupcakes are better. It pains me to admit that, but they are. I messed around with the recipe using melted chocolate in the batter in addition to cocoa powder, among other things, and that was not the worst decision ever.
They are fudgier. Softer. And really just better. Although you can't go wrong with either cupcake recipe (the peacemaker and confrontation-avoider in me has to at least say that).
But the main reason for this recipe post? That peanut butter frosting.
It is the stuff dreams are made of. And it's not meant for brownie cupcakes alone. I can't wait to hear what you dream up to slather it on! Cakes, cookies, cinnamon rolls. The options are endless. Enjoy!
See How to Make the Cupcakes Here
Fudgy Brownie Cupcakes with The Best Peanut Butter Frosting
Ingredients:
Brownie Cupcakes:
1 cup butter (2 sticks, 8 ounces)
1/2 cup (3 ounces) semisweet chocolate chips
1 1/2 cups (11.25 ounces) lightly packed brown sugar
1 tablespoon vanilla extract
3 large eggs
1 cup (5 ounces) all-purpose flour
3/4 cup (2.25 ounces) unsweetened cocoa powder
1 teaspoon baking powder
1/2 teaspoon salt
Peanut Butter Frosting:
6 tablespoons (3 ounces) butter, softened
3/4 cup (6.75 ounces) creamy peanut butter
2 cups (8 ounces) powdered sugar
Pinch of salt
1/2 teaspoon vanilla extract
1/4 cup heavy cream, plus more if needed for consistency
Mini peanut butter cups for garnish (optional)
Directions:
Preheat the oven to 350 degrees F. Line two 12-cup muffin tins with paper liners and set aside (if you only have one muffin tin, you can halve the recipe or bake in two separate batches).
For the cupcakes, in a large microwave-safe bowl, add the butter and chocolate chips. Microwave for one minute intervals, stirring in between, until the mixture is melted and smooth. Add the brown sugar and vanilla and mix (it will appear grainy; that's ok!). Add the eggs and mix until well-combined.
In a medium bowl, whisk together the flour, cocoa powder, baking powder, and salt. Add to the wet ingredients and mix until just incorporated and no dry streaks remain.
Divide the batter evenly among the prepared muffin tins, filling the cups about 2/3 full. Bake for 10-12 minutes until they are no longer jiggly in the center (don't overbake or the texture might be crumbly).
Let the cupcakes cool for a few minutes in the pan before removing them to a wire rack to cool completely.
For the frosting, in a stand mixer fitted with the paddle or whisk attachment or in a large bowl using a handheld electric mixer, whip together the butter and peanut butter until creamy and smooth, 1-2 minutes. Add the powdered sugar and mix on low speed until it is mostly incorporated. Add the salt, vanilla and heavy cream and mix until light and fluffy, 1-2 minutes, scraping down the sides of the bowl as needed. Add additional heavy cream and whip thoroughly if needed for a softer frosting.
Frost the cooled cupcakes and garnish with a peanut butter cup, if desired. Store the frosted (or unfrosted) cupcakes in the refrigerator until serving.
Notes:
I almost always use Ghirardelli or Guittard semisweet chocolate chips; bittersweet chocolate chips work great in this recipe, too, for a slightly darker chocolate cupcake. These cupcakes can be frosted and made ahead up to 24 hours. I store them in the refrigerator and take them out about an hour before serving (they are pretty delicious eaten chilled, as well). 
All images and text ©
.
Follow @melskitchencafe on Instagram and show me the recipes you are making from my blog using the hashtag #melskitchencafe. I love seeing all the goodness you are whipping up in your kitchens!
Recipe Source: from Mel's Kitchen Cafe
One Year Ago: The Best Ground Beef or Turkey Tacos {20-Minute Meal}
Two Years Ago: {Pressure Cooker or Stovetop} Chicken Coconut Curry
Three Years Ago: Grilled Honey Mustard Rosemary Chicken
Four Years Ago: Grilled Asian Chicken with Peanut Noodles and Cucumber Sambal
Five Years Ago: Tex-Mex Enchilada Casserole