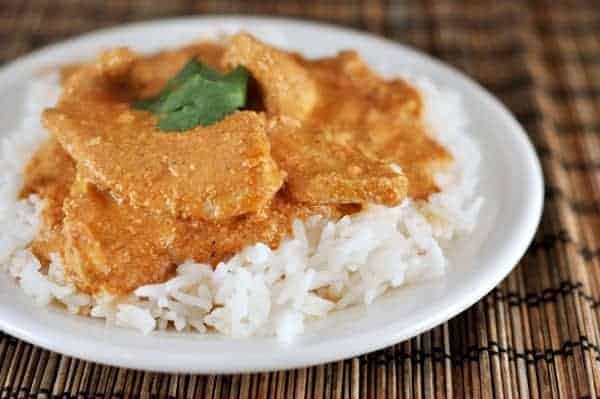 If you've been around this site looking for Indian cuisine, you'll know that I have posted and raved before about a tikka masala recipe. But in the name of branching out and changing things up, I tried a new version that my cousin Merianne sent me from her friend Stacy.
When someone who has impeccable taste buds and food judgment raves about a recipe, like my cousin, I know I'll be trying it, no matter if I've tried 15 versions in the past.
This masala recipe is incredible. Different from the first recipe I posted, this version has a more tomato-based sauce and employs a really unique ingredient to thicken and round out the sauce – toasted ground almonds.
The end result doesn't scream "ALMONDS are in here!!" but it does make you sit back and kind of go, "hmmm…what is that??"
Both recipes marinate the chicken in a deliciously spiced yogurt mixture that adds flavor and tenderness and include fresh cilantro as a must-have for freshness and pop.
I'm not an expert on Indian food so I can't vouch for which recipe is the most authentic but I'll tell you this, there were no leftovers from this meal…and trust me, I made plenty to go around.
We just absolutely could not stop eating it. Which is probably more a testament to our lack of self-control than anything. Either way, take it as a testimonial that this stuff is goooood.

Baked Brown Rice
Steamed peas or broccoli, or this Curried Cauliflower Popcorn
Fresh fruit
Chicken Tikka Masala
Ingredients:
Masala Marinade:
1 cup plain low-fat yogurt
2 garlic cloves, minced (garlic tutorial here)
1 tablespoon finely grated fresh ginger
1 1/2 teaspoons ground cumin
1 1/2 teaspoons ground coriander
1/4 teaspoon ground cardamom
1/4 teaspoon cayenne pepper
1/4 teaspoon ground turmeric
Salt and freshly ground pepper
Chicken:
2 pounds chicken breasts (about 3-4 chicken breasts)
Salt and freshly ground pepper
2 tablespoons plus 1 teaspoon vegetable oil
1/4 cup blanched whole almonds
1 large onion, finely chopped
2 garlic cloves, minced
1 teaspoon minced fresh ginger
1 1/2 tablespoons garam masala
1 1/2 teaspoons chili powder
1/2 teaspoon cayenne pepper
28-ounce can crushed tomatoes
16-ounce can tomato sauce
Pinch of sugar
1 cup heavy cream
Garnish:
Directions:
In a large glass or stainless steel bowl, combine the yogurt, garlic, ginger, cumin, coriander, cardamom, cayenne and turmeric. Season with salt and pepper (about 1/4 teaspoon each). Using a sharp knife, make a few shallow slashes in each piece of chicken. Add the chicken to the marinade, turn to coat and refrigerate covered overnight.
In a small skillet, heat 1 teaspoon of the oil. Add the almonds and cook over moderate heat, stirring constantly, until golden, about 5 minutes. Transfer the almonds to a plate and let cool completely. In a food processor, pulse the almonds until finely ground.
In a large enameled cast-iron dutch oven or a large pot, heat the remaining 2 tablespoons of oil until shimmering. Add the onion, garlic and ginger and cook over moderate heat, stirring occasionally, until tender and golden, about 6-8 minutes. Add the garam masala, chili powder and cayenne and cook, stirring, for 1 minute. Add the tomatoes with their juices, the tomato sauce and the sugar. Season with salt and pepper. Cover partially and cook over moderate heat, stirring occasionally, for about 5-10 minutes. While the mixture begins to simmer, remove the chicken from the marinade and cut into bite-sized pieces. Throw the chicken into the pot of simmering tomato sauce. Continue simmering/cooking the chicken, partially covered, for an additional 10-20 minutes until the chicken is cooked through and the sauce has reduced and thickened just slightly. Add the cream and ground almonds and cook over low heat, stirring occasionally, until thickened, about 10 minutes longer. Serve with lots of fresh cilantro over hot, steamed rice.
Notes:
Plan Ahead: This recipe requires the chicken to be marinaded overnight.
Variation: The marinade and sauce are also delicious with shrimp, lamb and vegetables.
Make Ahead: The masala can be made and refrigerated for up to 3 days. Reheat gently before serving.
All images and text ©
.
Follow @melskitchencafe on Instagram and show me the recipes you are making from my blog using the hashtag #melskitchencafe. I love seeing all the goodness you are whipping up in your kitchens!
Recipe Source: from Stacy D. via Merianne J.