Cherry Cheesecake Cookies
These cherry cheesecake cookies are absolutely phenomenal. Basically, the easy description is cherry cheesecake in cookie form. Yum!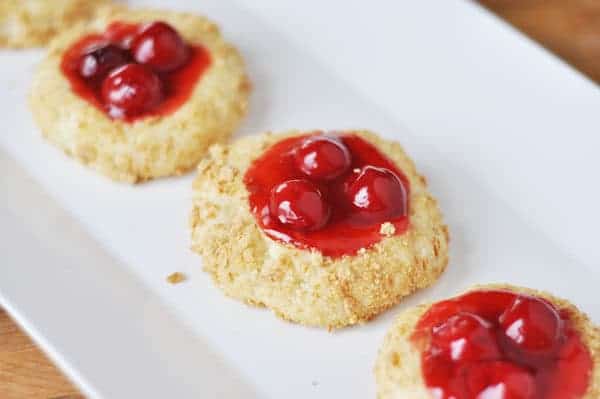 I just have to say, these cherry cheesecake cookies are absolutely phenomenal.
Basically, the easy description is cherry cheesecake in cookie form.
The sweet cream cheese dough is encased in a layer of crushed graham crackers and the center is filled with tart cherries. The combination is spectacular.
Talk about a crowd-pleaser, these cookies have been raved and raved and raved about everytime I have made them.
If you don't have the time and energy to fuss with a cheesecake, these cookies are the answer!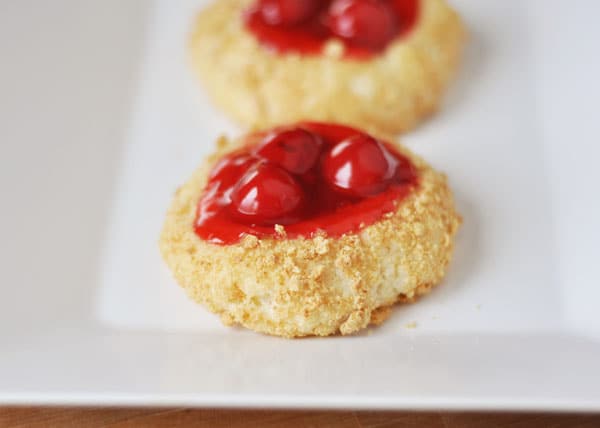 Cherry Cheesecake Cookies
Yield: 2 dozen cookies

Prep Time: 15 minutes

Cook Time: 14 minutes

Additional Time: 41 minutes

Total Time: 1 hour 10 minutes
Ingredients
3 1/2 cups all-purpose flour
2 teaspoons baking powder
1 teaspoon salt
2 (8-ounce) packages cream cheese, softened
2 1/2 sticks butter, softened
1 1/2 cups sugar
2 large eggs
2 teaspoons vanilla extract
1 cup graham cracker crumbs
2 cans (20-ounce) cherry pie filling
Instructions
Combine the flour, baking powder and salt in a bowl. In another bowl with an electric mixer, beat cream cheese, butter and sugar until smooth and creamy, about 2 minutes. Add eggs and vanilla and mix until incorporated. Reduce speed to low and add the flour mixture and mix until just combined. Refrigerate dough until firm, at least 30 minutes.
Preheat oven to 350 degrees. Line 2 baking sheets with parchment paper or silpat liners. Place graham cracker crumbs in a shallow dish.
Roll the dough into 1 1/2-inch balls, then roll the balls in graham cracker crumbs. Place balls 2 inches apart on prepared baking sheets. Using a tablespoon measure, make an indentation in the center of each ball. Place 3 cherries in the dimple. Bake until golden brown around the edges, 12 to 14 minutes. Cool for five minutes on the sheet and then transfer to a wire rack to cool completely.
Recommended Products
As an Amazon Associate and member of other affiliate programs, I earn from qualifying purchases.

Recipe Source: adapted from Cook's Country