Pomegranate Cheesecake
This pomegranate cheesecake screams Christmas. It has a brilliant presentation and the entire cheesecake is so original and delicious.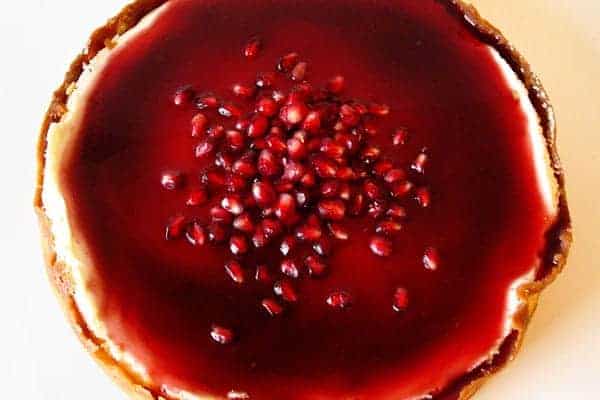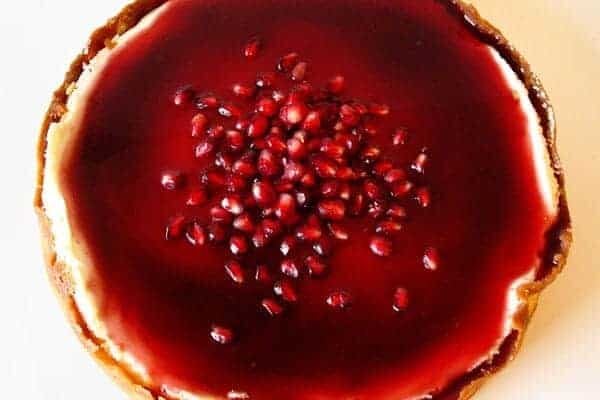 I'll admit I was scared of this recipe when my cousin, Tami, first sent it to me nearly a year ago.
But then I got the guts up to try it, and it was unspeakably phenomenal.
Just look at it. The colors and texture of the pomegranates scream Christmas to me.
This will definitely be served at our Christmas Eve feast – not only does it make a brilliant presentation, but the entire cheesecake is so original and delicious, it is bound to be a hit.
The crust is unlike any I've ever made for a cheesecake. No crushed grahams here, instead, a brown sugar cookie dough is used to form the crust. And it's good, people. Really good.
As for the filling, it is smooth and creamy and everything a cheesecake should be, especially with a light hint of lemon to compliment the tartness of the pomegranates studded here and there.
A sugary, sour cream layer tops off the cheesecake (and hides any cracks – hooray!) and the entire cheesecake is then glazed with a syrupy pomegranate sauce that is out of this world.
I've always loved pomegranates. Now I really love them. Who knew that pomegranates and cheesecake were meant to be together?
P.S. If you are nervous about how to get those dang seeds out of the pomegranate, check out this little tutorial I put together on how to easily seed a pomegranate.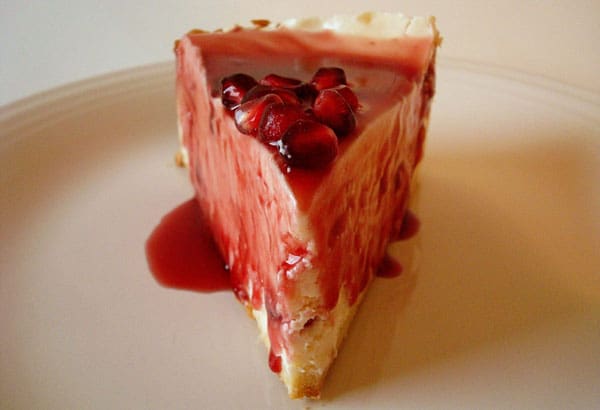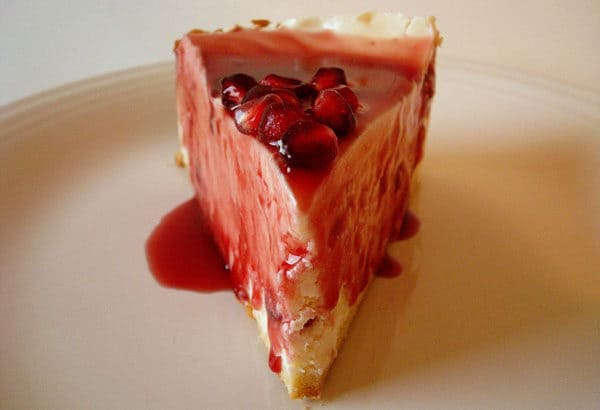 Yield: 16 servings

Prep Time: 25 minutes

Cook Time: 1 hour 40 minutes

Additional Time: 4 hours 20 minutes

Total Time: 6 hours 25 minutes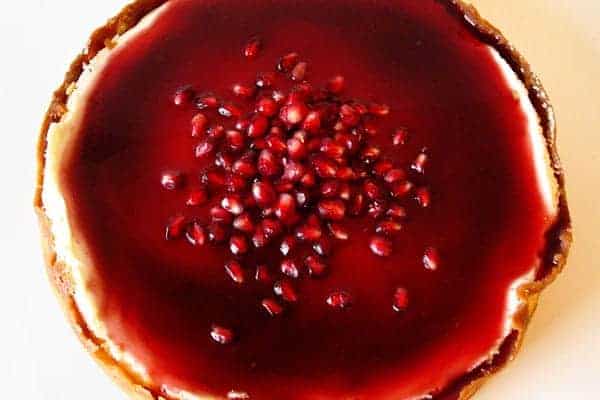 Ingredients
Crust:
1/2 cup butter, softened
1/4 cup packed brown sugar
1 egg
1 1/4 cups all purpose flour
Filling:
4 8-oz. packages cream cheese, softened
1 1/4 cups granulated sugar
1/4 cup all purpose flour
3 eggs
1 tablespoon vanilla
1/2 cup sour cream (reduced fat worked great)
1 teaspoon finely shredded lemon peel
3/4 cup pomegranate seeds
Topping:
1 1/2 cups sour cream (again, reduced fat worked great)
1/4 cup sugar
1 teaspoon vanilla
Pomegranate Glaze:
1-16-ounce bottle pomegranate juice (usually found in the refrigerated section of juices)
1/4 cup brown sugar
1 1/2 tablespoons cornstarch
1/2 cup pomegranate seeds (tutorial on de-seeding here)
Instructions
For the crust: preheat oven to 350 degrees. In a mixing bowl beat butter on medium high speed for 30 seconds. Add brown sugar. Beat until combined. Add egg; beat well. Beat in flour until combined. Divide dough in half. Cover one portion and set it aside.
Remove the sides from a 10-inch springform pan and set aside. Spread first portion of dough on just the bottom of ungreased springform pan base, spreading dough to edges. Place on baking sheet. Bake for 10 minutes. Cool completely. When cool, attach sides of pan. Press chilled dough onto the sides of the springform pan to a height of 1-3/4 inches, using a thin metal spatula, like an offset spatula, to spread dough.
For the filling: reduce oven temperature to 325 degrees. In an extra-large mixing bowl beat cream cheese and sugar until fluffy. Beat in the flour on low speed until smooth. Add eggs and vanilla all at once, beating on low speed just until combined. Mix in sour cream and lemon peel. Then, using a wooden spoon or a spatula, gently fold in pomegranate seeds (if you use the electric mixer for this part, the seeds will burst and stain the filling with the juice – and it won't look as pretty).
Pour filling into crust-lined pan. Place on baking sheet. Bake for 65 minutes or until edges are puffed and center jiggles slightly when gently shaken. Remove from oven. (It doesn't matter if the cheesecake cracks on top since it will have a sour cream topping.)
For the topping: stir together sour cream, sugar, and vanilla. Spread sour cream mixture over top of baked cheesecake, spreading gently to the edges. Return to oven; bake for 10 minutes. Remove from oven. Cool on wire rack for 15 minutes. Loosen crust from sides of pan. Cool for 30 minutes more. Remove sides of pan; cool completely. Cover; chill 4 hours or overnight.
For pomegranate glaze: in a medium saucepan bring pomegranate juice to boiling; reduce heat and boil gently, uncovered, until reduced to 1 cup (12 to 15 minutes). In a separate bowl, stir together brown sugar and cornstarch. Add to juice. Cook and stir until thickened and bubbly. Cook and stir 2 minutes more. Transfer to a medium bowl; cover surface with clear plastic wrap. Cool to room temperature. Store, covered, in refrigerator until serving time.
When ready to serve, remove cheesecake and pomegranate glaze from refrigerator 15 minutes before serving. Spoon some sauce over top of cheesecake; pile remaining pomegranate seeds in center of cheesecake. To serve, slice cheesecake. Pass remaining sauce.
Notes
Plan Ahead: the cheesecake needs to be chilled for at least 4 hours or up to overnight.
Recommended Products
As an Amazon Associate and member of other affiliate programs, I earn from qualifying purchases.

Recipe Source: adapted from Better Homes and Gardens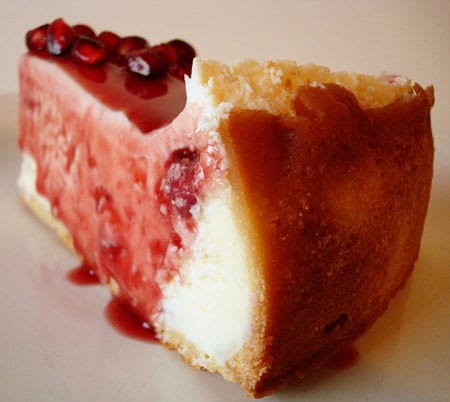 Disclaimer: I am a participant in the Amazon Services LLC Associates Program, an affiliate advertising program designed to provide a means for me to earn fees by linking to Amazon.com and affiliated sites. As an Amazon Associate I earn from qualifying purchases.