Caramel Shortbread Cookies
Pecan Sandies? Meet your upgraded, revamped competition. These caramel shortbread cookies blow pecan sandies out of the water!
Even if you think you don't like pecan sandie cookies, I know you'll like these. How do I know? Because I don't really care for pecan sandies myself.
They might possibly be my last cookie of choice, but these homemade caramel-filled pecan cookies are heads and tails above the store-bought version I've tasted before.
Toasted coconut and pecans are ground together and added to the shortbread cookie dough. Rolled out and baked, the cookies turn out delightfully crisp but still buttery and tender.
Filled with chewy, creamy caramel and drizzled with caramel and chocolate, these cookies were a huge hit with my family. I can't lie – I was kind of surprised. I thought they would be just average, but instead they were phenomenal.
To top it off, they are beautiful and have a cute yet elegant presentation. Perfect for a holiday platter or goodie plate!
Make Ahead: Cookies can be made 1 day ahead and kept in an airtight container at room temperature before filling. Once filled, they will store, covered for up to three days.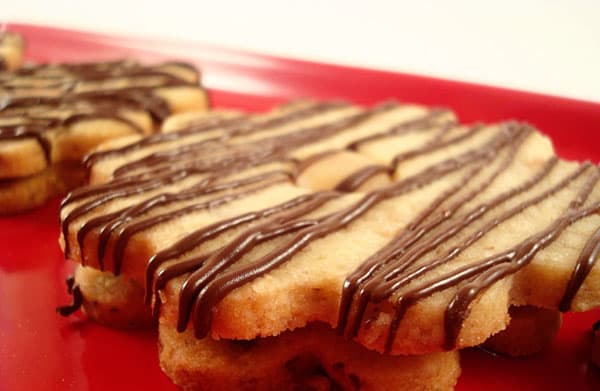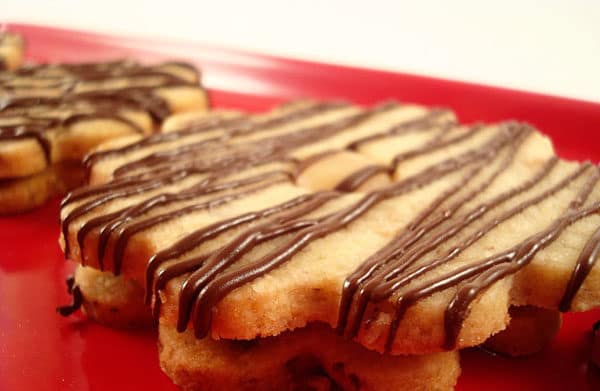 Caramel Shortbread Cookies
Yield: about 24-30 cookies

Prep Time: 36 minutes

Cook Time: 24 minutes

Additional Time: 2 hours

Total Time: 3 hours
Ingredients
Cookies:
1/4 cup sweetened shredded coconut
1/2 cup pecans
2 sticks butter, room temperature
1/2 cup sugar
1 teaspoon pure vanilla extract
2 cups all purpose flour
1/2 teaspoon salt
Caramel Filling:
1 1/3 cups sugar
1/4 cup plus 2 tablespoons water
1/2 cup heavy cream
4 tablespoons butter, cut into small pieces
Instructions
For the cookies: Preheat the oven to 350 degrees. Spread the coconut in an even layer on one half of a rimmed baking sheet and the pecans on the other. Toast, stirring coconut halfway through, until nuts are fragrant and coconut is light golden, 5 to 7 minutes. Place coconut and pecans in a food processor and pulse until finely chopped (alternately you can chop very finely by hand).
In a large bowl beat the butter and sugar together until light and fluffy. Beat in vanilla. Add flour and salt; beat until combined. Beat in chopped coconut and pecans. Turn out the dough onto a piece of plastic wrap and shape into a flattened disk. Wrap in plastic. Chill the dough until firm, about 30 minutes.
Line two large baking sheets with parchment paper or slipat liners. Set aside. On a lightly floured surface, roll out the dough to about 1/8-inch thickness. Using a 2-inch flower (or round) cookie cutter, cut out shapes and place 1 inch apart on baking sheets. Chill until firm, about 10 minutes.
Remove from fridge or freezer and using a smaller (about 3/4-inch) round cookie cutter or wide end of a pastry tip cut out and remove the centers from half the cookies.
Bake the cookies until golden brown, about 12 minutes. Transfer cookies to a wire rack to cool completely. Cookies can be made 1 day ahead and kept in an airtight container at room temperature.
For the caramel filling: Place the sugar and 1/4 cup plus 2 tablespoons water in a medium heavy-bottom saucepan. Set over medium-high heat and stir to combine. Without stirring, bring the mixture to a boil, and cook until dark amber in color, about 5 minutes, washing down the sides of the pan with a wet pastry brush to prevent crystals from forming (click here and scroll down about halfway for a good visual image of this process).
Remove from heat. Carefully pour the cream down the sides of the pan (it will spatter), stirring constantly, until fully combined. Add the butter and stir to combine. Transfer to a heatproof bowl and let cool slightly before filling the cookies.
When cookies have cooled (don't start the caramel until they are cool), spoon or pipe about 1 teaspoon caramel filling onto the flat side of each of the whole cookies. Top with cut cookies, keeping flat sides down. Drizzle the remaining caramel over the tops. Let caramel set for at least 2 hours. The cookies can also be drizzled with melted chocolate, if desired. Cookies can be kept, layered between sheets of parchment paper in an airtight container at room temperature for up to three days.
Recommended Products
As an Amazon Associate and member of other affiliate programs, I earn from qualifying purchases.

Recipe Source: adapted from Martha Stewart's Baking Handbook
Disclaimer: I am a participant in the Amazon Services LLC Associates Program, an affiliate advertising program designed to provide a means for me to earn fees by linking to Amazon.com and affiliated sites. As an Amazon Associate I earn from qualifying purchases.