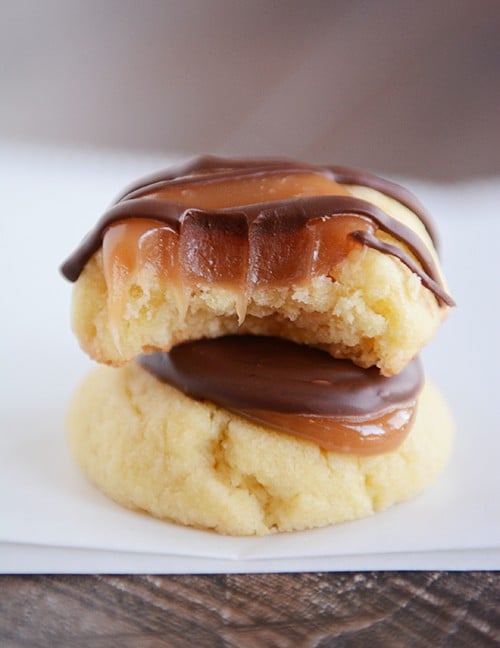 I had no intentions of posting this recipe anytime soon. Really.
As crazy delicious as these cookies are, I thought you would all be cookied out to the max by this time in December.
However, after teasing you with these cookies on Instagram, you obviously had other opinions bordering on rebellion if I didn't share the recipe.
So. Here you go.
At the risk of sounding dramatic, these Twix-like cookies are definitely in my top favorite cookies of all time. I've made four batches this week already and am giving them away right and left (and not just to be nice, if they stay in this house, I am in serious, serious trouble).
That combination is just too much.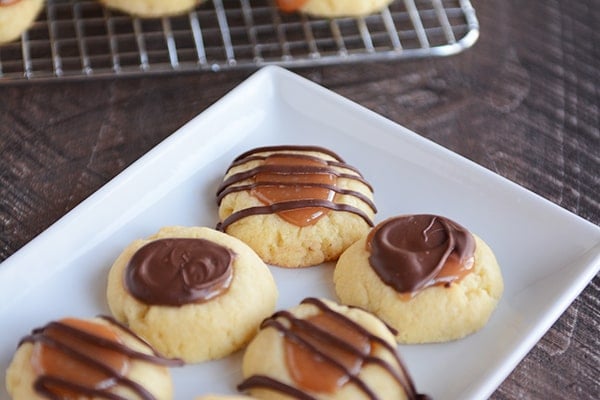 A short week ago, these cookies didn't exist in my reality.
They came about when a longtime reader, Laudan (mamalala in the comments), emailed me about her favorite cookie at a little bakery called Stacey Cakes in McCall, Idaho – a beautiful mountainous resort town a few hours from where I live.
She had successfully made a pretty similar knockoff and thought I might be interested. Clearly she knows me (am I so transparent?).
I felt the timing was somewhat divine considering I had a bowl full of homemade caramel sitting in the refrigerator waiting for the perfect recipe and at risk of just getting eaten out of the bowl when the kids aren't looking (leftover from making gourmet caramel apples for the kids' teachers – it's become a bit of a tradition now).
Honestly, these cookies are amazing.
That buttery, tender, melt-in-your-mouth shortbread layer + soft and chewy caramel + chocolate (drizzled or slathered, your choice) is other-worldly.
Now that you've forced me to post about them, I'm forcing you (nicely) to make them. But remember, the quicker they leave your presence, the better. Consider yourself warned.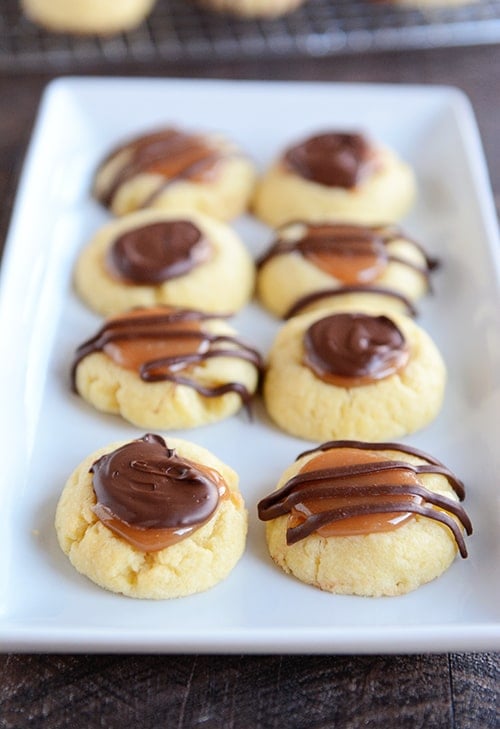 For the caramels, you'll need about 1 cup of melted caramel (not caramel sauce, it needs to be soft and chewy caramels that have been melted until smooth and creamy). I used homemade - if doing so, you don't need to add the tablespoon or so of cream or milk when melting. If using storebought (like Kraft brand), use that tablespoon of cream or milk when melting the caramels. UPDATE: several commenters have reported back that Kraft caramels were too firm in these cookies (after melting and using them in the cookie). Others have had good success using Kraft - I think the key is not overheating the caramel when melting. Either way, you may explore other storebought options (Trader Joe's has wonderful soft caramels that may work).
Ingredients
1 cup (8 ounces, 2 sticks) butter, softened
2/3 cup (5 ounces) granulated sugar
3 egg yolks (1.8 - 2 ounces)
1 1/2 teaspoons vanilla extract
2 1/4 cups (11.25 ounces) flour
1/2 teaspoon salt
9 ounces soft caramels for about 1 cup melted (see note above)
A tablespoon or so of cream or milk
6 ounces semisweet or milk chocolate for drizzling
Directions
In a large bowl with an electric handheld mixer (or in the bowl of a stand mixer), mix the butter and sugar until light and creamy, 1-2 minutes. Add the egg yolks and vanilla and mix until combined, scraping the bowl as needed.
Add the flour and salt and mix until it comes together. Once it forms pea-size crumbs, I abandon the mixer and get in there with my hands to mush it together into a uniform ball.
Shape the soft dough into small balls. I use my #60 small cookie scoop - about 2 teaspoons of dough or .65 ounces for each cookie. Place the balls close together on a parchment-lined baking sheet. Press a small indentation in each cookie ball - don't make it too wide. I use my thumb and press down - it's ok if the sides crack a bit, just press them together. They'll look like little nests (see the picture below for a visual). Refrigerate for an hour (or longer).
Preheat the oven to 375 degrees F. Space the cookies about an inch or so apart on several parchment-lined baking sheets. They'll puff and spread just slightly but not very much. Bake for 10-11 minutes until set and lightly browned on the edges - the longer they bake (without burning, of course) the more like shortbread they'll be in texture (versus being too soft). The centers may puff up while baking, just press them back down lightly after they come out of the oven. Let the cookies cool completely.
For the caramel, if using storebought caramels, unwrap and melt the caramels with a tablespoon or so of milk or cream over low heat in the microwave or on the stovetop until creamy and smooth. Homemade caramel can usually be melted over low heat as well without the need for extra cream or milk. Dollop a bit of caramel into the center of each cooled cookie.
Let the cookies sit until the caramel cools and sets. Melt the chocolate over low heat in the microwave (or in a double boiler on the stove) and either drizzle chocolate over the cookies or spread a circle of chocolate over each caramel center. Let the chocolate set until hardened (can speed this up by refrigerating the cookies).
https://www.melskitchencafe.com/twixster-cookies/
Printed from Mel\'s Kitchen Cafe (www.melskitchencafe.com)
Recipe Source: inspired by this recipe after a reader, Laudan, emailed me with the idea, telling me about her favorite cookie, the Twixster, at Stacey Cakes in McCall, Idaho
This is how my cookies look before I pop them in the fridge to chill before baking: