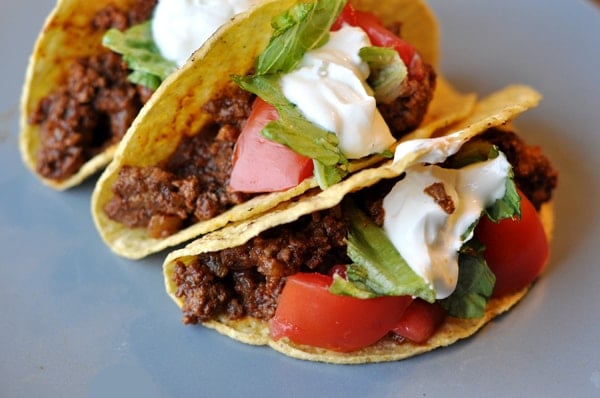 Tacos are a family favorite around here.
I can always tell when I've been experimenting with too many new recipes. My family will turn their long faces toward me and plead "can we please just have tacos tonight?"
That's my cue that we need to go back to the basics for a while.
These homemade tacos really are the best-ever.
Ditch the prepackaged taco seasoning, because you won't need it here. The meat is flavorful and perfectly spiced!
We love these. Best tacos ever, really.

Fresh fruit, or this Honey Lime Fruit Salad
Mexican Rice
The Best Ground Beef Tacos
Ingredients
2 tablespoons canola oil
3/4 cup chopped onion
1 pound ground beef or ground turkey
1 to 3 garlic cloves
1 tablespoon chili powder
2 teaspoons ground cumin
2 teaspoons ground coriander
1/2 teaspoon salt
1/2 teaspoon pepper
1 (8-ounce) can tomato sauce
1 jalapeno, seeded and minced fine (alternately, you can add hot pepper sauce to taste or canned jalapenos OR just leave out the heat altogether, although I think the meat really needs a little kick and adding the jalapeno without seeds didn't make the dish overly spicy)
Taco shells
Additional taco garnishes
Directions
In a large skillet over medium heat, add the oil and chopped onion. Cook, stirring often, until the onion is softened, about 4-5 minutes. Add the ground beef and cook, breaking up the meat into smaller chunks, until it is cooked through, about 5 minutes. Off the heat, drain the grease from the meat.
Return the skillet to the heat and stir in the garlic, chili powder, cumin, coriander, salt and pepper. Cook for about 30 seconds and then add the tomato sauce and jalapeno. Turn the heat to low and simmer the meat mixture for about 10 minutes, stirring occasionally. Serve in taco shells with your choice of toppings.
https://www.melskitchencafe.com/tacos-supreme/
Printed from Mel\'s Kitchen Cafe (www.melskitchencafe.com)
Recipe Source: adapted from the Joy of Cooking