Tender Pork Chops with Caramelized Apples and Onions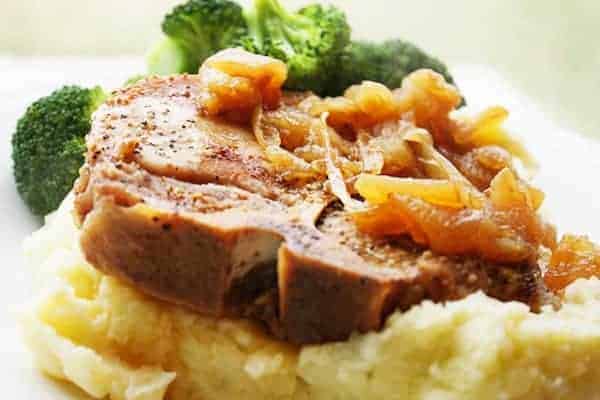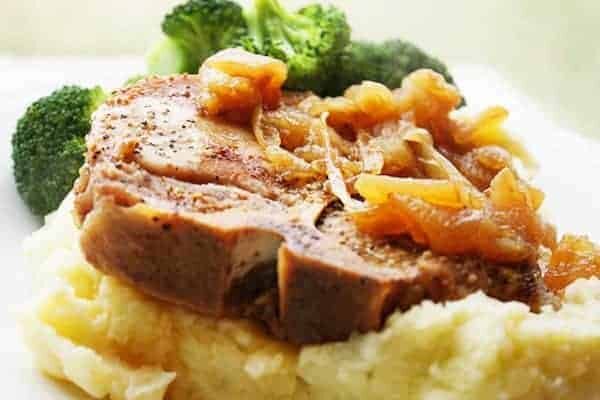 I've barely been able to contain my excitement about sharing this meal with you! Classy, simple, perfect for entertaining, simple, beyond delicious, simple, healthy, and did I mention, simple?
This dish takes minutes to throw together before it bakes in the oven for three hours. The result is a melt-in-your-mouth tender pork chop basking in caramelized apples and onions swimming in a sweet and savory sauce.
Sent to me by a reader of this here blog, Melanie (there are a lot of us floating out there!), this dish is her signature pork chop recipe and I can see why!

I served this for our Easter dinner over Parmesan smashed potatoes and everyone at the table was singing the praises of these chops as we ate mouthful after mouthful.
Seriously. You must try this. The sweet onions, tart apples and savory pork combines to make a meal you won't soon forget! (Uh, I happen to have not forgotten it simply because I've made it every Sunday since!) Thanks, Melanie!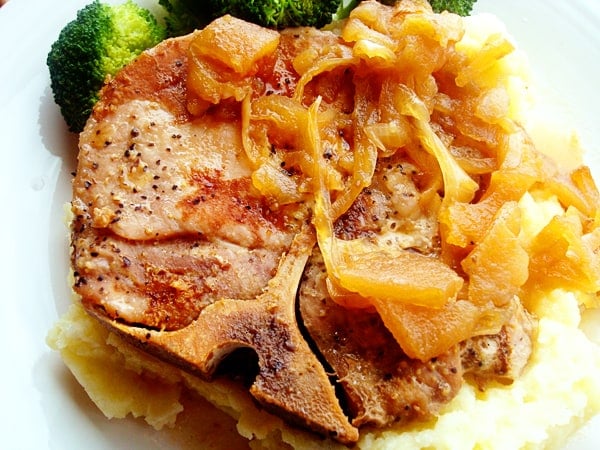 One Year Ago: Baby, Baby Cupcakes
Two Years Ago: Tacos Supreme
Tender Pork Chops with Caramelized Apples and Onions
Yield: 4 servings

Prep Time: 10 minutes

Cook Time: 3 hours

Total Time: 3 hours 10 minutes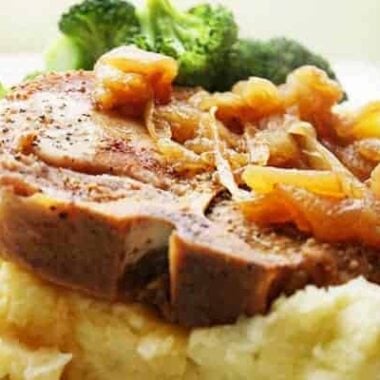 Ingredients
4 bone-in pork loin chops (at least 1/2-inch thick)
2-3 granny smith apples, peeled and sliced about 1/4-inch thick
1-2 yellow onions, sliced
1/3 cup brown sugar
Kosher salt and freshly ground black pepper
Instructions
Preheat the oven to 325 degrees. Lightly grease a 9×13-inch baking dish. Place the onion slices in an even layer over the bottom of the dish. Top the onion slices with the apples. Sprinkle the brown sugar evenly over the apples and onions. Season the pork chops generously on both sides with salt and pepper. Arrange the pork chops in a single layer on top of the apples and onions. Cover the dish tightly with foil and bake in the preheated oven for three hours. Do not open the oven and lift the foil – the pork chops, apples and onions need to be tightly covered the whole time to work their magic (and not dry out).
Serve each pork chop with Parmesan smashed potatoes and topped with the apples and onions.
Recommended Products
As an Amazon Associate and member of other affiliate programs, I earn from qualifying purchases.

Recipe Source: pork chops adapted slightly from Melanie, a reader of MKC