Lemon Poppy Seed Sugar Cookies
These delightful lemon poppy seed sugar cookies are deliciously soft, perfectly lemony, and there is no rolling required.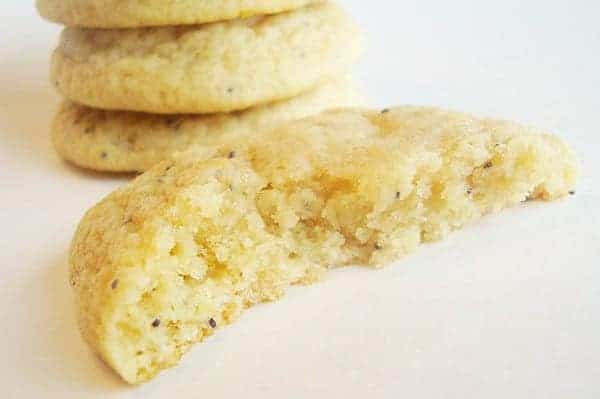 These cookies just scream: "Make me! It's Spring!" Lightly lemon and deliciously soft, these simple sugar cookies (no rolling required!) are absolutely delightful.
A few months ago, I tried a recipe for soft and chewy lemon poppyseed sugar cookies but they were a disaster. Flat and overly buttery, they were definitely the opposite of their soft and chewy description. I was really disappointed.
So when I got the hankering for the same type of cookie a few weeks ago, I knew I had to try again and come up with my own version.
An adaptation on a very simple drop sugar cookie, these cookies were born and I was thrilled with the results.
These fantastic little cookies are perfect for a spring snack, any type of baby or bridal shower, or to take to someone as a small gift. I hope you enjoy them as much as I did (since I was hard pressed not to eat twenty!).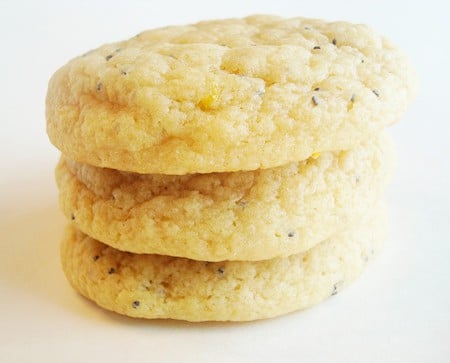 One Year Ago: Perfect Potato Salad
Two Years Ago: Chocolate Chip Treasure Cookies
Lemon Poppy Seed Sugar Cookies
Ingredients
2 cups all-purpose flour
1 teaspoon baking powder
1/4 teaspoon salt
1/4 teaspoon baking soda
1 tablespoon poppy seeds
1/2 cup butter, softened
1/2 cup sugar
1/2 cup brown sugar
1 large egg
1/4 cup buttermilk
1/2 teaspoon vanilla
Zest of one lemon
Instructions
Preheat the oven to 375 degrees. In a medium bowl, combine the flour, baking powder, salt, baking soda and poppy seeds. Set aside.
In a large bowl, cream the butter and sugars together until light and fluffy, about 3 minutes. Add the egg, vanilla and lemon zest and mix well. Add the dry ingredients and buttermilk. Mix well.
Drop the dough by small tablespoonfuls onto a greased or lined baking sheet. Bake for 10-12 minutes, until the edges are set. The cookies should be puffy and fairly light in color when they are finished baking. Remove from the oven and let cool for 1-2 minutes on the baking sheet. Move the cookies to a wire rack to cool completely.
Recommended Products
As an Amazon Associate and member of other affiliate programs, I earn from qualifying purchases.
Recipe Source: My Kitchen Cafe
Disclaimer: I am a participant in the Amazon Services LLC Associates Program, an affiliate advertising program designed to provide a means for me to earn fees by linking to Amazon.com and affiliated sites. As an Amazon Associate I earn from qualifying purchases.