Black Bean and Sweet Corn Quinoa Salad
This black bean and sweet corn quinoa salad is simple and delicious, not to mention a refreshingly light and healthy side dish.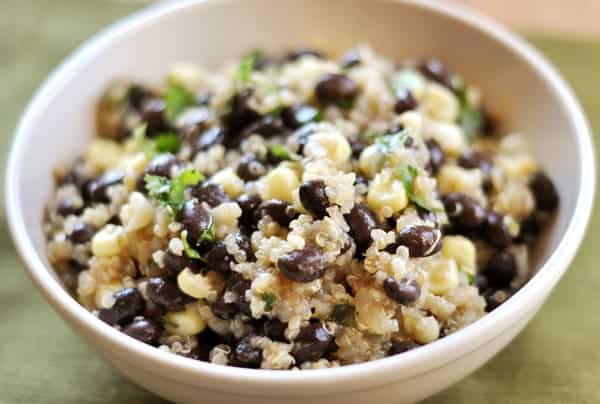 Have you jumped on the quinoa train yet? This salad just might be your ticket to climb aboard and love the ride.
It is so absolutely simple and delicious, not to mention refreshingly light and healthy. The hearty black beans, sweet corn and fresh cilantro compliment the delicate nature of the quinoa perfectly.
As I found out after doing a bit of looking online, quinoa is not technically a grain but can be substituted for many grains, like rice and couscous.
It is high in protein, iron, potassium and other vitamins and minerals and is a good source of fiber. There's a lot to love about quinoa, I'm telling you!
Health benefits aside, these little tender morsels cook up to be fluffy and light but still hold a bite to their texture. This was one of my first forays into quinoa and I know I'll be using it over and over again based on the success of this salad.
My husband, the ultimate skeptic about any food that starts with the letter "Q", gave this two thumbs up.
Served with grilled chicken or pork, this would make a tasty and easy summer meal, not to mention a great take-along to your next BBQ.
As a note, quinoa can be found at most grocery stores and health food stores near the other grains, usually (I found it reasonably priced at Trader Joe's).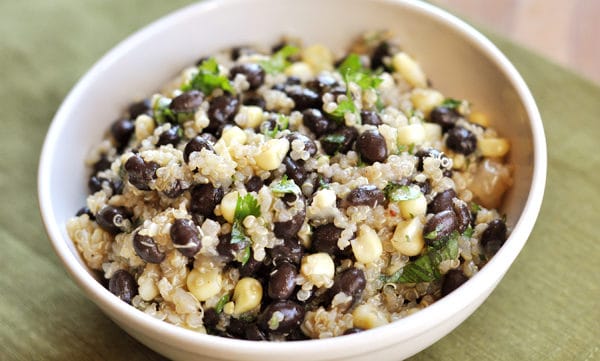 One Year Ago: Simple Skillet Lasagna
Two Years Ago: Chopped Cobb Salad with Blue Cheese
Black Bean and Sweet Corn Quinoa Salad
Yield: 4-6 servings

Prep Time: 5 minutes

Cook Time: 36 minutes

Total Time: 41 minutes
Ingredients
1 tablespoon olive oil
1 medium yellow onion, chopped
2 cloves garlic, minced
3/4 cup uncooked quinoa
1 1/2 cups chicken or vegetable broth
1 teaspoon ground cumin
1/4 teaspoon cayenne pepper
1/2 teaspoon salt
1/2 teaspoon freshly ground black pepper
1 cup frozen sweet white corn
2 (15-ounce) cans black beans, drained and rinsed
1/2 cup cilantro, chopped
Instructions
In a medium pot, heat the olive oil over medium heat. When shimmering and hot, add the onions and saute for 4-5 minutes, stirring often. Add the garlic and stir for a minute or two until the garlic is fragrant, being careful not to burn the garlic.
Add the quinoa and cover with broth. Stir in cumin, cayenne pepper, salt and pepper. Bring the mixture to a boil. Cover, reduce heat and let simmer for 20 minutes (or until all the liquid is absorbed).
Stir in the frozen corn and black beans. Cover and let the pot sit off the heat until the corn and beans are heated through, about 5-6 minutes. Stir in the cilantro. Serve warm or chilled – it is delicious both ways!
Recommended Products
As an Amazon Associate and member of other affiliate programs, I earn from qualifying purchases.

Recipe Source: slightly adapted from The Dish on Delish
Disclaimer: I am a participant in the Amazon Services LLC Associates Program, an affiliate advertising program designed to provide a means for me to earn fees by linking to Amazon.com and affiliated sites. As an Amazon Associate I earn from qualifying purchases.