It shouldn't really be a surprise that my bonus recipe for Thanksgiving 101 Week is a dessert recipe. Not any dessert recipe, I should add, but it is perhaps the most decadent, delicious pie I've ever had.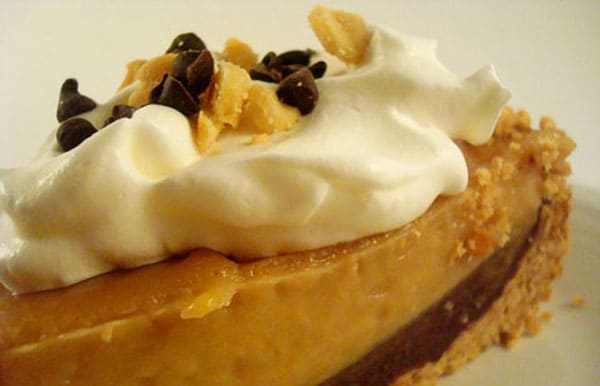 Sent to me by a reader (thanks, Cara!), this pie graces her family's table every Thanksgiving. They've been making it for years, which speaks to it's tried-and-true nature.
The only way I can describe this piece of heaven is to have you envision a gigantic, over-the-top Reese's peanut butter cup made with pure ingredients that results in a creamy, dense, peanut buttery, chocolate combination that is completely blissful.
A perfect ending to our Thanksgiving 101 Week…and a perfect ending to a Thanksgiving meal!
Make Ahead Tip: This pie can be completely prepared up through the mousse layer the day before and chilled in the refrigerator. Before serving, top with whipped cream and garnishes.
Click HERE for all of the Thanksgiving 101 Recipes.
Yield: 8 servings

Prep Time: 15 minutes

Cook Time: 8 minutes

Additional Time: 1 hour 37 minutes

Total Time: 2 hours
Ingredients
Graham Cracker Crust:
12 to 14 whole graham crackers, crushed (about 1 1/2 to 2 cups crumbs)
6 tablespoons butter, melted
Dark Chocolate Layer:
¾ cup heavy cream
4 oz. semisweet chocolate, coarsely chopped
Peanut Butter Mousse Filling:
½ cup sugar
1 ½ tablespoons cornstarch
1/8 teaspoon salt
1 ½ cups milk
2 large egg yolks
1 teaspoon pure vanilla extract
¾ cup creamy or chunky peanut butter
Topping and Decoration:
Sweetened whipped cream
2 tablespoons crushed peanuts
3 tablespoons mini chocolate chips
Instructions
Prepare the crust: Preheat the oven to 350. In a small bowl, combine the graham cracker crumbs and butter, stir until well blended. Using the palm of your hand, press the moistened crumbs into the bottom and up the sides of an ungreased 9- or 10-inch pie plate. Bake in the center of the oven for 7 to 8 minutes, or until the crust turns lightly golden. Set the pie crust on a wire rack to cool completely.
Prepare the chocolate layer: In a small saucepan, heat the cream over medium heat until it just comes to a simmer. Remove the pan from the heat, add the chocolate, and stir until melted and smooth. Pour the mixture into the cooled pie crust, smoothing it over the bottom and slightly up the sides. Freeze for 30 to 40 minutes, or until the chocolate layer is firm.
Prepare the mousse: In a heavy medium-size saucepan, combine the sugar, cornstarch, and salt. Add ½ cup milk and whisk until smooth. Add the remaining milk and the egg yolks and whisk until smooth. Set the saucepan over medium-high heat and whisk constantly until the custard comes to a boil. Still whisking, boil for 1 minute until very thick. Remove the pan from the heat and stir in the vanilla and peanut butter. Pour the mousse into the baked pie crust. Chill for 1 hour, or until firm. Before serving, decorate the pie with whipped cream and sprinkle with the chopped peanuts and mini chocolate chips, if desired.
Recommended Products
As an Amazon Associate and member of other affiliate programs, I earn from qualifying purchases.

Recipe Source: a reader, Cara D.