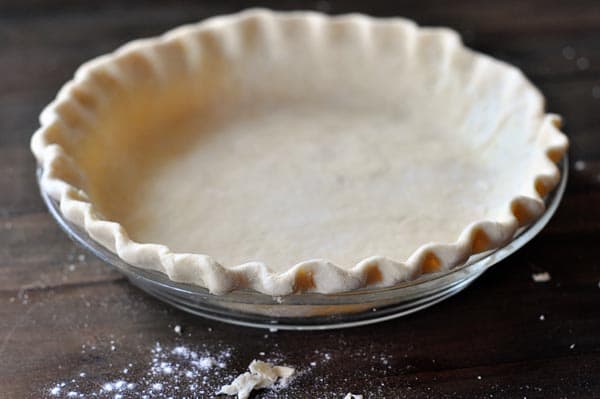 UPDATE: Since originally posting this recipe and after a lot of requests, I've added a video tutorial below the recipe – right above the step-by-step pictures – for those that want/need an even more visual approach to making this pie dough. It really is the best.
If making the perfect, flaky pie crust is the one thing holding you back from rockstar status in the kitchen, I totally have your back today.
Today I'm sharing with you the most perfect, amazing pie crust I've ever made. I've been perfecting this recipe for the last few months in order to share it with you. It is simple (no food processor or special tools required) and I truly believe it is fail-proof.
I've made it dozens of times and it never ceases to amaze me. In fact, I am 99.9% sure I'll never use another pie crust recipe again because this one has truly changed my life. Dramatic? Oh just you wait. Your life is about to be changed, too.
The secret? Throw all you know and love about traditional pie crusts out the window because instead of that classic ice water drizzled in at the end, this recipe uses sour cream. I know. I know! Pie crusts made with sour cream are not a new thing; they've been around forever (but the concept is new-ish to me).
And before you ask, I have no idea what the chemistry is behind the perfection, but it works. Not only is the dough extremely easy to work with but the crust is buttery and flaky and simply the best in the entire universe.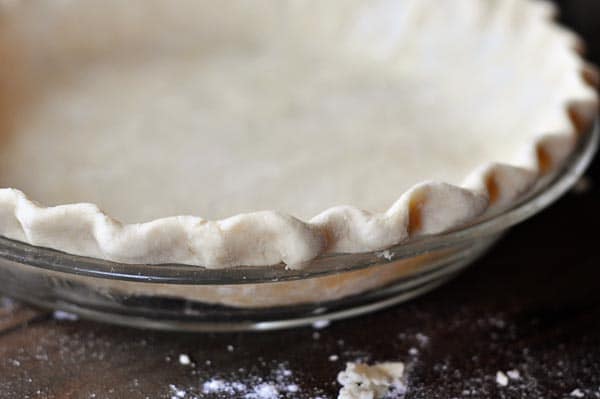 Below, I have a handy-dandy tutorial for you. I've separated the tutorial out into main sections (i.e. Rolling, Crimping, etc.). You can click on the separate links to take you to a specific section.
Already have mixing the dough handled and need a little guide on crimping the edges? Don't worry, I have a link for that. Pretty sure you know how to roll it out just right but don't know how to get it into the pie plate? There's a link for that. Is trimming the edges a breeze but you'd like a little peek into blind baking? Link, link, link.
I am hoping that by sharing this tutorial and no-fail pie crust recipe now, it will instill in you a feverish desire to become a Great Pie Master (so I'm not alone in my obsession).
I'm a pie-making machine now that I've found this recipe. Seriously, I can't be stopped. In fact, I have an unbaked pie crust all pretty and crimped sitting in a pie plate in the refrigerator just waiting to be used even though I have no specific plans for it yet.
Never any harm in keeping a pie crust ready to be used in an instant, I always say. I make pie crusts now when I'm bored. Just because I can. With this pie crust recipe and tutorial under your belt, you'll be good to go for the holiday season. And now that I've shared it with you, my life is officially complete.
Update: a few extra notes: be careful not to measure the flour with a heavy hand (I use the spoon-and-sweep method, don't shake the cup to level!) and it's ok if you have to add more sour cream just do so gradually so you don't end up with too much as it will make a gummy/dense crust. Also, keep in mind that the real key to ending up with a light, flaky pie crust instead of a tough pie crust is minimal handling of the dough in every step – from mixing to rolling. The more the dough is handled, the more those butter pieces break down which means they won't create those lovely pockets of steam while baking which creates the flakiness. 
This recipe can be easily doubled for a double crust pie. As I mentioned in the blog post above, be careful not to overmeasure the flour. I use the spoon and sweep method (normally I use the dip and sweep method for cookies and other recipes but it's very important in this recipe to not overflour or you'll have a bit of trouble with the recipe). I'll make sure I weigh the flour the next time I make it and report back for a more accurate measure.
Ingredients
1 1/2 cups (7.5 ounces) unbleached all-purpose flour (see note above)
1/4 teaspoon salt
2 teaspoons granulated sugar
10 tablespoons (5 ounces) butter, frozen
1/2 cup sour cream (not lowfat or light), plus an additional tablespoon or three if needed
Directions
In a medium bowl, lightly whisk together the flour, salt and sugar.
Using the large holes of a box grater, grate the butter into the dry ingredients.
With a fork, toss the butter and flour mixture until the butter pieces are all evenly coated with flour. Don't break down the butter pieces in this step, just lightly toss until they are coated with flour.
Spoon the sour cream into the bowl. Using the same fork, mix the sour cream into the butter/flour mixture by pressing the fork down into the sour cream in order to mash the large clumps of sour cream into the flour and butter. A commenter suggested using a pastry blender which will help incorporate the sour cream a bit better. The sour cream won't mix in like a traditional pie crust with ice water. But take care not to overwork the dough trying to get the sour cream mixed in - if the butter pieces get too small and overprocessed, the crust will be tough.
After a few turns with the fork, it is easiest to use your hands to pull the dough together. It will look a bit shaggy but as you press it together (quickly and firmly so the the butter pieces don't melt), it should start to form a cohesive ball.
If it still seems overly dry, add a teaspoon or so of sour cream at a time until it comes together.
It's ok if there are still a few dry spots or cracks in the dough. The mixture should not be overly wet or sticky. At the same time, it shouldn't be falling apart either. It should hold together when pressed (see the pictures below). Many of you have had to add quite a bit more sour cream. That's ok as long as the crust isn't overly saturated (then it will be dense and gummy). Much of that depends on how you measure flour - if you pack the flour into your measuring cup, you'll obviously need more sour cream (try to measure the flour with a light hand).
At this point the dough can be rolled out on a lightly floured counter or it can also be pressed into a flat disc and wrapped in plastic to be refrigerated for 1-2 days or frozen for up to a month.
To roll out, lightly flour your countertop and using firm, even strokes, roll from the center outward, turning the dough a quarter turn every few strokes. The less you mess with the dough the better - even rolling - so try not to overwork it. Roll it out to a thin crust as quickly as possible.
Roll the dough over the rolling pin and unroll it onto the pie plate. Gently lift up the edges of the pie crust and settle it into the bottom of the pie plate without pressing or smushing.
Trim the edges to within 1/4-inch. Fold the short overhang underneath the top edge of the pie plate and crimp all the way around.
Cover with plastic wrap and refrigerate for 30 minutes before using. To blind bake (prebake the pie crust), line the refrigerated crust with foil and fill with dry beans or pie weights. Bake at 350 degrees for 20-25 minutes. Gently remove the foil and beans/weights and return to the oven to bake for another 10-12 minutes until nicely golden.
https://www.melskitchencafe.com/the-only-pie-crust-recipe-tutorial-youll-ever-need/
Printed from Mel\'s Kitchen Cafe (www.melskitchencafe.com)
Recipe Source: tested and perfected by me (Mel) after seeing the idea for it on

The Kitchn
Mixing the Pie Dough | Rolling Out the Pie Crust | Putting the Pie Crust in the Pie Plate | Trimming and Crimping the Edge of the Pie Crust | Baking and Blind Baking |
Mixing the Pie Dough

Mixing the Pie Dough | Rolling Out the Pie Crust | Putting the Pie Crust in the Pie Plate | Trimming and Crimping the Edge of the Pie Crust | Baking and Blind Baking |
Rolling Out the Pie Crust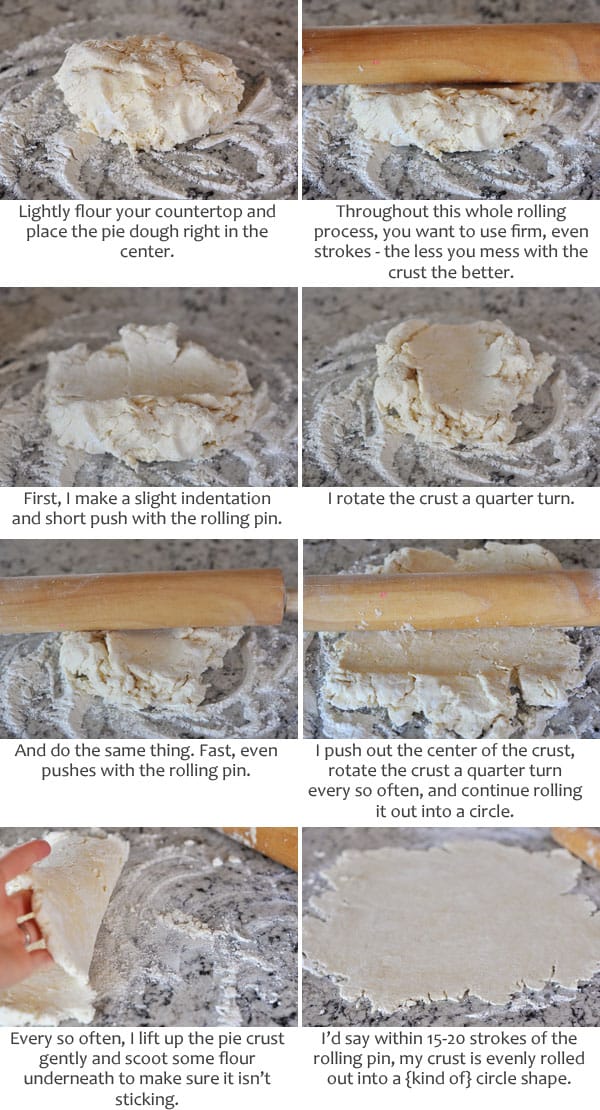 Mixing the Pie Dough | Rolling Out the Pie Crust | Putting the Pie Crust in the Pie Plate | Trimming and Crimping the Edge of the Pie Crust | Baking and Blind Baking |
Putting the Pie Crust in the Pie Plate

Mixing the Pie Dough | Rolling Out the Pie Crust | Putting the Pie Crust in the Pie Plate | Trimming and Crimping the Edge of the Pie Crust | Baking and Blind Baking |
Trimming and Crimping the Edge of the Pie Crust
Mixing the Pie Dough | Rolling Out the Pie Crust | Putting the Pie Crust in the Pie Plate | Trimming and Crimping the Edge of the Pie Crust | Baking and Blind Baking |
Baking and Blind Baking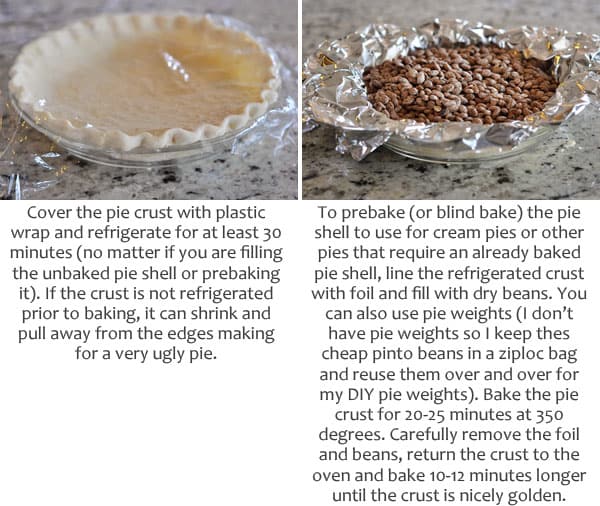 Mixing the Pie Dough | Rolling Out the Pie Crust | Putting the Pie Crust in the Pie Plate | Trimming and Crimping the Edge of the Pie Crust | Baking and Blind Baking |