Apple Crumb Pie
This apple crumb pie is a unique take on classic apple pie. It is homey and comforting and really dreamy.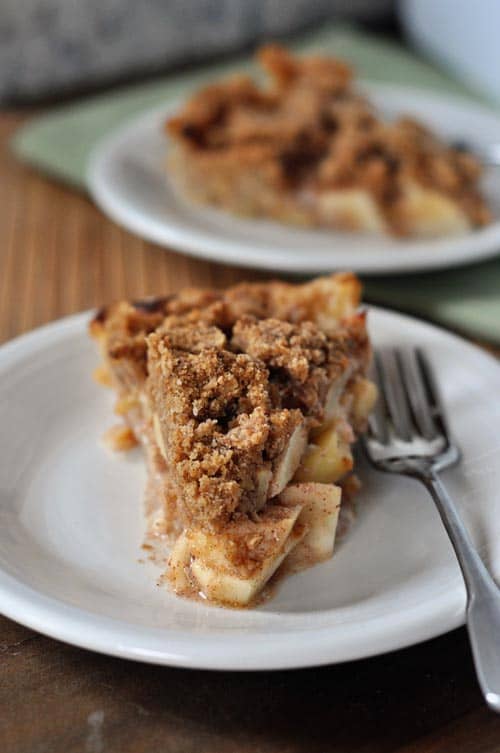 Well, I couldn't give you a stellar, no-fail pie crust and leave you without an actual pie to try it out with could I?
I would never leave you in that type of conundrum. So I present you today with a fabulous apple crumb pie. Here's why you should make this pie:
1) It only requires one pie crust which eliminates having to roll out a second pie crust common to those apple-pies-that-everyone-else-is-making (rolling out another crust is no biggie, I know, thanks to the new tutorial, but still, you can use that 2nd pie crust for another delicious pie or just paint your toenails or stare at the wall with the time you saved).
2) The buttery, streusel-y topping makes this a really great apple crisp/apple pie combo and is a unique take on classic apple pie (especially with that little dab of sour cream in the filling).
3) It's really, super, delectably yummy which should be the reason that trumps all others.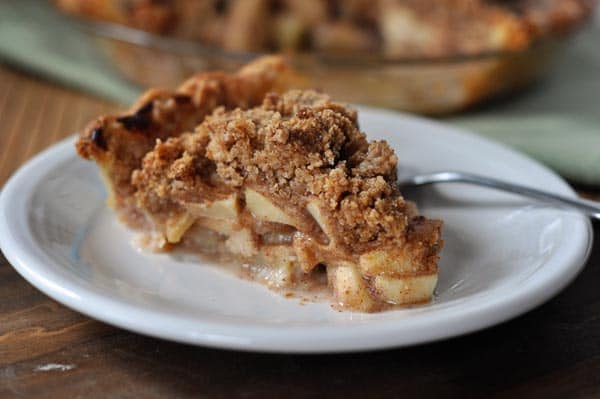 I've made this dreamy pie a couple of times now and it's one of those desserts that is instantly loved.
It's homey and comforting. And the smell of baked apple pie alone is enough to satisfy my need to actually taste it. Almost.
I'm in the middle of planning our Thanksgiving meal and this apple crumb pie will definitely have a presence.
No matter that I have zero idea where we'll be for the big day or who we'll be with (the curse of living away from family and not wanting to drive through potential blizzards to get "home").
Even if it's just my little family, we have been known to put away a lot of turkey, potatoes and pie and I'm sure this year will be no different.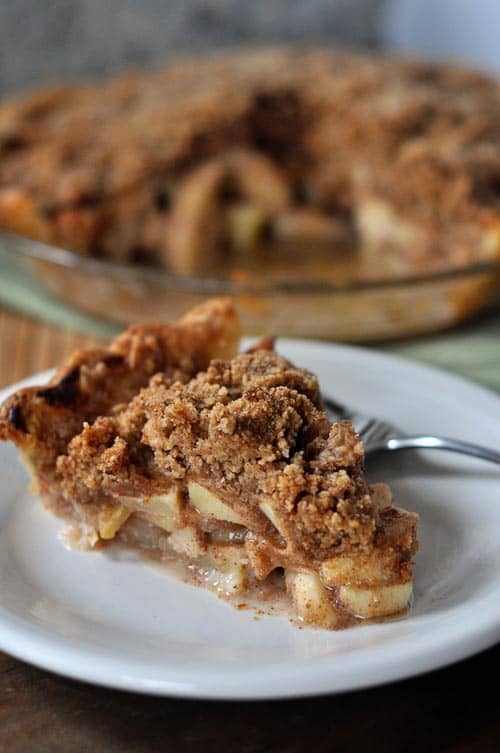 Also, if you are wanting an extra boost in pie making confidence, check out my Pie Boot Camp Series HERE! The series includes:
All About Pie Making Equipment Essentials
How to Make Pie Crust (Foolproof Recipe, Rolling Out, Crimping + Video Tutorial)
All About Blind Baking + How to Do It and Why (Bonus: Chocolate Ganache Cream Pie Recipe)
Double Crust Pies and How to Make an Easy Lattice Crust (Bonus: Printable for Easy Reference to Sum Up Pie Boot Camp)
One Year Ago: Sweet Potato Casserole
Two Years Ago: Lasagna Soup
Three Years Ago: Baked Brown Spanish Rice
Yield: 8 servings

Prep Time: 20 minutes

Cook Time: 1 hour 30 minutes

Total Time: 1 hour 50 minutes
Ingredients
Pie Crust:
Apple Filling:
3 pounds apples (see note)
1/4 cup freshly squeezed lemon juice (from about 2 lemons)
1/4 cup granulated sugar
2 1/2 teaspoons ground cinnamon
1/2 cup sour cream (optional)
Crumb Topping:
1 cup all-purpose flour
1/4 cup packed light or dark brown sugar
1 teaspoon ground cinnamon
8 tablespoons (1 stick) cold butter, cut into small pieces
Instructions
Make the pie crust according to directions, roll it out into a 9-inch pie plate and refrigerate for at least 30 minutes before filling with the apples.
Preheat the oven to 375 degrees F. Peel, core and slice all the apples to about 1/4-inch thick. It doesn't have to be exact - just try to get them all about the same thickness so the apples cook evenly.
Toss the apples in a bowl with the lemon juice, sugar, and cinnamon, then stir in the sour cream, if using. Scoop the apple mixture into the chilled crust.
In a medium bowl, whisk together the flour, sugar, and cinnamon. Add the butter pieces and cut in with a fork, your fingers or a pastry blender until the mixture is coarsely combined and makes a streusel-like consistency.
Lightly press the crumb mixture on top of the apples. Place the pie on a foil-lined baking sheet and bake for 60-90 minutes until the apples are tender and the crust is golden brown. If the crust edges are getting too dark during the last 30 minutes of baking, you can cover them with foil for the remainder of baking.
Serve warm or at room temperature. This pie is divine with a bit of whipped cream or vanilla ice cream.
Notes
Apples: I've spent long hours debating and testing which apples work best in apple pies. It's a serious conundrum. Really. My favorite combination is McIntosh apples with a firm, sweet apple (like Fuji, Gala or Honeycrisp). Some people love using Granny Smith apples in pies - just taste for sweetness and add more sugar, if needed, to compensate for tartness. Basically, you just want 1-2 varieties of apples that hold their shape well. Granted, the McIntosh apples are more of a soft apple but I love them dearly in apple pie.

Sour Cream: also, the sour cream is totally optional but adds a delicious creaminess to the pie. I've made this pie with and without - wonderful either way.
Recommended Products
As an Amazon Associate and member of other affiliate programs, I earn from qualifying purchases.

Recipe Source: adapted from a 2007 Real Simple magazine (used a completely different pie crust, omitted walnuts and raisins, used salted butter in the topping and a different variety of apples)
Disclaimer: I am a participant in the Amazon Services LLC Associates Program, an affiliate advertising program designed to provide a means for me to earn fees by linking to Amazon.com and affiliated sites. As an Amazon Associate I earn from qualifying purchases.