Tomato Bisque Soup
Simple and light and full of good things, this tomato bisque soup is the quintessential perfect soup to serve with grilled cheese sandwiches.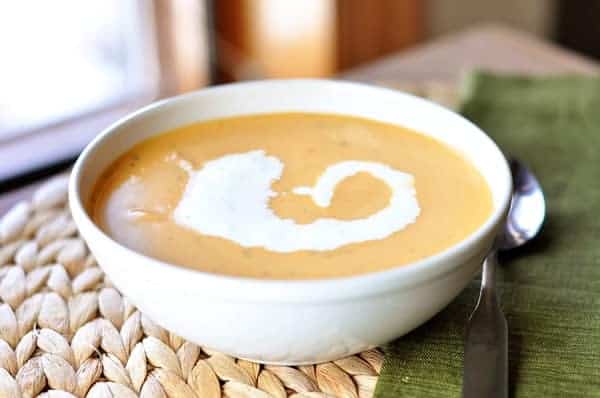 Simple and light and full of good things, this soup is the quintessential perfect soup to serve with grilled cheese sandwiches and would be perfect any time of the year since it isn't heavy with cumbersome, filling ingredients.
Ashley, a reader of this here blog, sent me the recipe. The first glance-through of the ingredients and I knew I couldn't live with myself until I tried it, mostly, because this soup is so different from any other soup in my repertoire.
And I don't know about you, but I like to have a well-rounded soup repertoire.
So try it I did and it was fantastic. I mean, really, really delicious! This unusual soup is made of tender, pureed butternut squash that is combined with flavorful stewed tomatoes, garlic, cream (or half-and-half, if you please) and a handful of other simple ingredients.
Here's the best part – because the soup has a smooth, silky texture, my kids were none the wiser that it was indeed squash traveling down their little gullets.
I served this with grilled cheese sandwiches and a large green salad and it was extremely satisfying. Even my husband, who can be a bit, shall we say, snobby when it comes to "girlie soups" loved it. Thanks, Ashley!
FAQs for Tomato Bisque Soup
Does this recipe freeze well?
Yes, I freeze it all the time and it works great!
What did you swirl into your soup in the photo?
I drizzled a little heavy cream in a swirl on top of the soup to give it that look.

Grilled Cheese Sandwiches
Homemade Croutons
White Bean and Tuna Salad with Crackers
Fresh, seasonal fruit
Cook Time:
1 hour
15 minutes
Total Time:
1 hour
30 minutes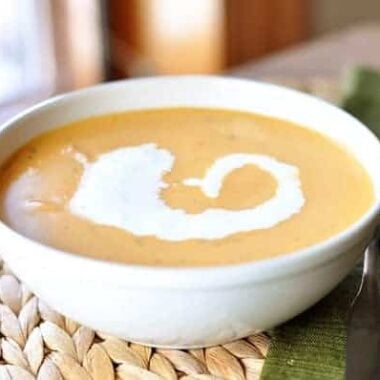 Ingredients
1 medium butternut squash (for about 1 1/2 cups cooked squash)
1 tablespoon butter
¼ cup finely diced onion
3 cloves garlic, finely minced
1 can (14.5 ounces) Italian-style stewed tomatoes (or 1 can stewed tomatoes with 1 ½ teaspoons Italian seasoning)
1 cup chicken stock
1 teaspoon salt
1 tablespoon sugar (add more or less to taste)
1 teaspoon dried basil
1 cup nonfat half-and-half
Tapatio or other hot sauce to taste
Instructions
Prepare the butternut squash by preheating the oven to 350 degrees. Cut the squash in half, lengthwise, so you have two long pieces. Scoop out the seeds and pulp from each half. Place both sides cut-side down in a 9X13-inch pan. Add enough water to come about 1/4-inch up the sides of the squash. Cover with foil and bake for about an hour. Test with a fork to make sure the squash is very tender when pierced with the fork in several places. If the flesh doesn't easily give to the pressure of the fork, continue cooking in ten minute increments, and testing again, until the squash is tender. Remove the pan from the oven and transfer the squash to a large cutting board or plate. Let it cool about 15 minutes before scooping out the flesh. If preparing the day before, scoop out the flesh and place in a tupperware. Let cool completely. Cover and refrigerate until using it in the soup. If using the squash immediately, scoop the squash into the blender.
While the squash is cooking, in a medium saucepan, melt the butter and saute the onion until soft and translucent. Add the minced garlic and cook, stirring constantly, until fragrant, about 30 seconds. Scoop the onion/garlic mixture into the blender with the squash.
Add the canned tomatoes (undrained) to the blender. Process until the mixture is smooth – if the mixture is too thick to blend well, you can add the chicken broth/stock into the blender to help it along. Pour the blended mixture back into the saucepan and add the chicken broth (if you didn't already add it to the blender), salt, sugar, basil and cream (or half-and-half). Stir to combine well. Heat over medium-low heat until the soup is warm (but don't let it boil or simmer to avoid the cream curdling). Serve immediately and add hot sauce to taste, if desired.
Notes
Butternut Squash: the butternut squash can be cooked a day in advance and stored in the refrigerator.
Serving: also, this soup definitely tastes best served warm.
Recommended Products
As an Amazon Associate and member of other affiliate programs, I earn from qualifying purchases.
Recipe Source: adapted from Ashley W., a reader
Disclaimer: I am a participant in the Amazon Services LLC Associates Program, an affiliate advertising program designed to provide a means for me to earn fees by linking to Amazon.com and affiliated sites. As an Amazon Associate I earn from qualifying purchases.