Creamy Tomato-Potato Basil Soup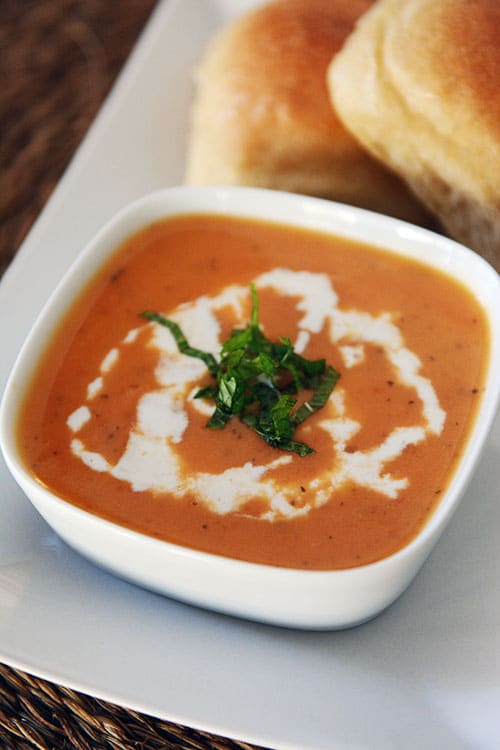 If you want dinner on the table in 30-minutes and you happen to want it nutritious and hearty and scrumptious, you may want to consider whipping up a steaming batch of this creamy tomato potato basil soup.
A very simple combination of ingredients simmers and then blends (ok, you have to blend it; it won't magically do that on its own) resulting in a thick, delicious soup that is a unique spin on classic tomato soup.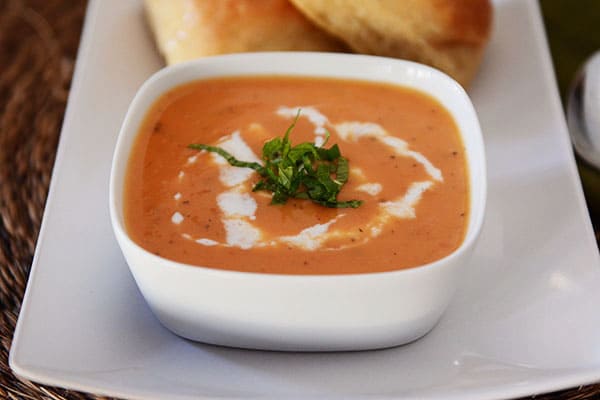 I switched out half the russet potatoes for sweet potatoes and loved the smooth texture and flavor it adds to the soup.
We served this soup the first time with these fluffy whole wheat dinner rolls and since there was enough for a second meal, I froze the leftover soup.
A few weeks later, the soup was reheated and accompanied by grilled cheese sandwiches and it was equally as glorious (even more so because it was nearly a hands-off dinner and I can't help but love those).
One Year Ago: Creamy Confetti Corn with Bacon
Two Years Ago: Cheesy Chicken Quesadilla Pie
Three Years Ago: Loaded Baked Potato Soup
Creamy Tomato-Potato Basil Soup
Yield: 8 servings

Prep Time: 20 minutes

Cook Time: 30 minutes

Total Time: 50 minutes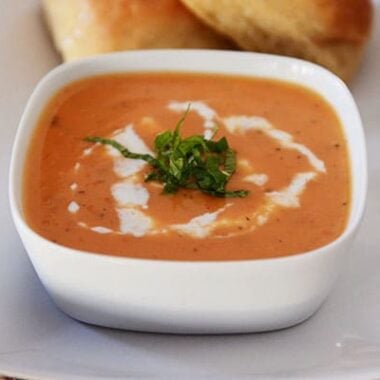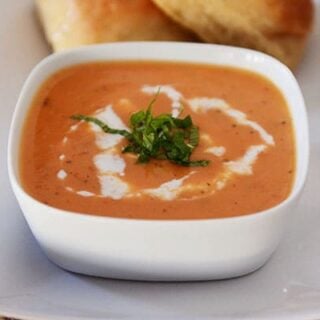 Ingredients
1 teaspoon olive oil
1/2 cup chopped onion
6 cups low-sodium chicken broth
2 cups water
28-ounces diced tomatoes
2 teaspoons dried basil
1 teaspoon salt
1/4 teaspoon pepper
1 1/2 pounds sweet potatoes (about 2 large), peeled and chopped
2 pounds russet potatoes (3-4 medium), peeled and chopped
1 cup cream
Instructions
In a 5-quart (or so) saucepan, heat the olive oil and add the onion. Cook, stirring often, until the onion has softened a bit, 4-5 minutes.
Add the broth, water, tomatoes, basil, salt, pepper and sweet potatoes. Bring the soup to a simmer and cook for 10 minutes.
Add the russet potatoes and cook 15 minutes more or until all the potatoes are tender.
Mash the potatoes into the soup or blend for a smoother consistency (with a handheld immersion blender or in batches, transfer the soup to a blender, filling it only halfway full with the hot soup).
Stir in the cream and season with additional salt and pepper to taste before ladling into bowls. Garnish with fresh basil and/or drizzle in a bit more cream, if desired.
Notes
Cream: you could definitely try using milk instead of cream; I haven't tried it so can't vouch for how it might affect the consistency.

Freezable: also, this soup freezes great!
Recommended Products
As an Amazon Associate and member of other affiliate programs, I earn from qualifying purchases.

Recipe Source: adapted a little from a recipe a reader, Annie W, sent me (used part sweet potatoes instead of all russet, increased the basil a bit, a few other changes)