Video Tip: How to Make Perfect Pie Crust
If you need an easy how-to on making the perfect pie crust, check out this post, complete with a video to help!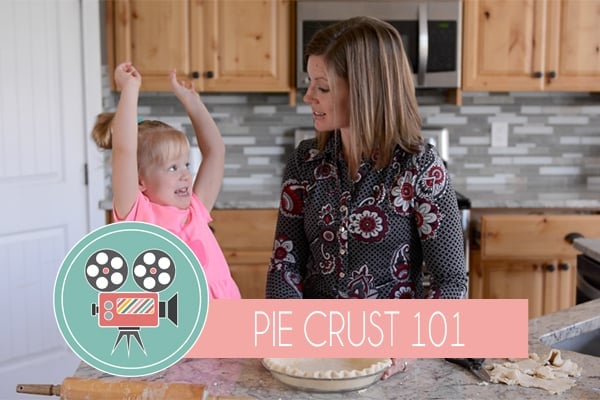 With pie season nearly upon us (or for those who live in a world where pie season never ends, best world ever), it was about time I added a video tutorial for my favorite pie crust in all the world.
Pie crust can seem intimidating and sometimes unnecessary, especially since in this very non-Pioneerish day and age, you can snag a premade pie crust from the freezer section of the grocery store. While there is absolutely no shame in doing that, I submit there's nothing that can make you feel like a rock star as quickly in the kitchen as making homemade pie crust.
Bonus: it's easy. And I'm not just saying that. This pie crust is simple and flaky and perfect. Many, many of you have wanted a video tutorial to accompany the step-by-step pictures in the pie crust post and Cam and I were more than happy to oblige (ok, I was happy to oblige…just disregard her nearly falling asleep whilst I rolled out the pie crust; apparently pie crust isn't quite as exciting to a 3-year old).
A few notes:
Yes, you can make this pie crust in a food processor. I'm demonstrating making it by hand because a) it's so easy, it's not worth cleaning the food processor and b) I'm guessing most people have access to a bowl and fork while not as many have a food processor. If you do use a food processor, I'd recommend cubing the butter and freezing and not grating it like demonstrated in the video (the food processor will obliterate the strands of butter and your pie crust won't be as flaky).
There are a few tools/kitchen items I'm using in the video that I forgot to mention while filming (I was hurrying through the video thanks to the cute little sous chef who needed a potty break, snack and a nap):
-my favorite classic no-frills rolling pin (<–link is to a newer version of the one I've had for years, love it, I also have a French-style rolling pin which I like pretty well but find I usually grab the classic style most of the time)
-the pastry cloth and board that actually makes me look forward to rolling out pie crust (and tortillas and flatbread and sugar cookies)
-trusty kitchen shears for trimming the pie crust
Remember all of the videos can be seen on my Video Tips page as well as on Mel's Kitchen Cafe You Tube channel where you can subscribe for immediate video updates.
{As always, this post is unsponsored and the few affiliate links above are to products I've bought myself and loved from Amazon.}