Quick and Easy Quinoa Enchilada Skillet Meal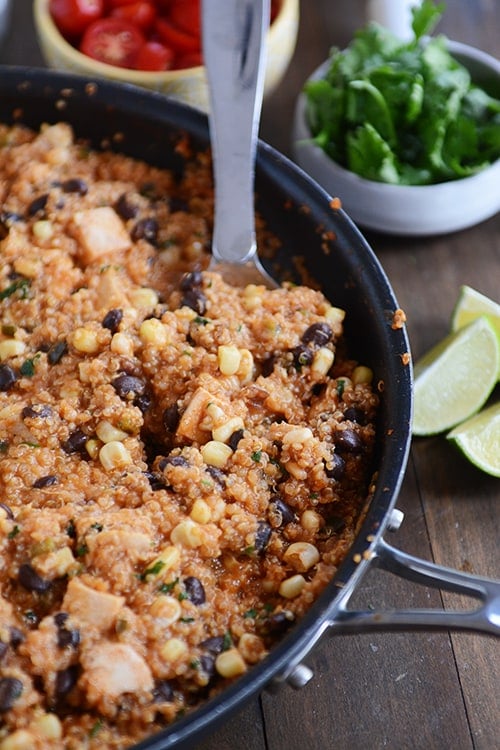 Before we get to this delectable, life-saving, one-skillet, healthy (ok, I'll stop now) quinoa meal, can we talk about you for a second? Yes, YOU! Well, some of you. Many of you.
I don't say it often enough but thank you to each of you who has ever taken the time to send me your family's favorite recipe(s) or something amazing you've recently made that you're sure I can't live without.
These recipes and ideas come pouring in every day and so many of them have become my own much-loved recipes.
There are millions of recipes online and while it's exciting and fun (nerd alert) to scour the internet for the next best thing to make, when I get recipes from you, I know you are sharing a little piece of your heart and soul along with that recipe. They fill up my menu plans and my dreams. Not kidding.
So, thank you. I wish I had time to make every single one! If you've sent me a recipe and I haven't made it, blogged it, talked about it – it's not you, it's me. I need more hours and arms and ovens.
But I do squeal when a new one pops up in my inbox. Thank you from the bottom of my recipe-loving heart.
Now, on to this dish.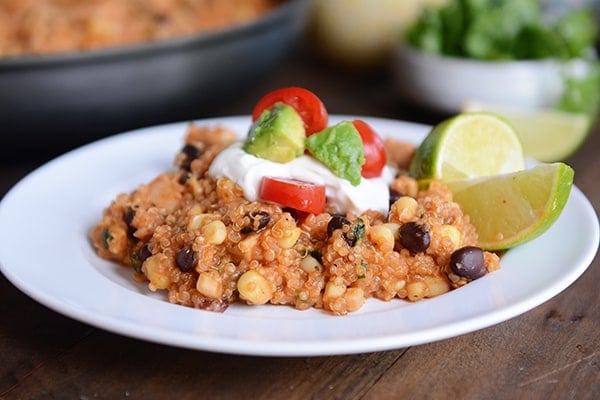 If a fast, easy, healthy dinner has your name all over it, consider yourself a lucky winner today.
A faithful reader, Sheriece, emailed me saying a version of this enchilada quinoa meal has quickly become one of her family's faves and her best take-in meal.
Just based on the ingredients, I knew I would love it, but even more so if it was a 30-minute, one-skillet meal. Because you know that I love me a fabulous one-skillet/one-pot meal, right?
It is flavorful and hearty and super yummy. Tasty on its own, throw a few toppings on there and it's insanely delicious.
And I know it kind of cancels out the low-carbness of the dish, but I found out through a happy experiment the next day that this warm, cheesy, Mexican-inspired filling is out of this world when rolled up in a tortilla and smashed onto a griddle (à la these crispy southwest chicken wraps).
Since we're still living in the land of soccer and football practices (and so gratefully still enjoying magical 80-degree weather which makes me feel guilty for abandoning all my pals in the wilds of Minnesota and Wisconsin last year), easy, healthy, extra-delicious meals are just what this wanting-to-to-stay-sane momma ordered, and this enchilada quinoa totally delivered.
Sanity crisis averted. For now.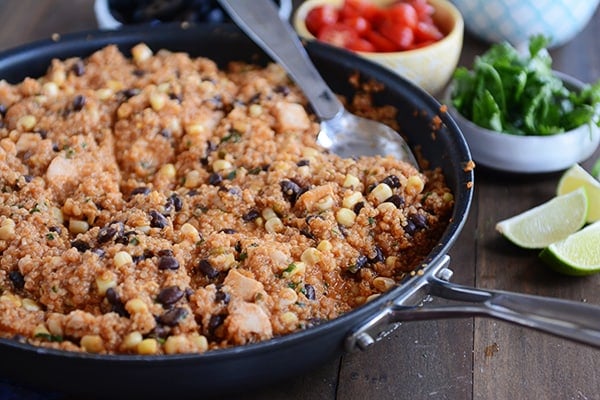 This is a pretty complete meal in and of itself but if you want a few sides to go with it consider:
Fresh fruit or a simple green salad
Roasted broccoli, steamed peas or our favorite skillet green beans
One Year Ago: Classic Slow Cooker Chili
Two Years Ago: White Texas Sheet Cake
Three Years Ago: Lemon Cupcakes
30-Minute Quinoa Enchilada Skillet Meal
Yield: 6 servings

Prep Time: 20 minutes

Cook Time: 25 minutes

Total Time: 45 minutes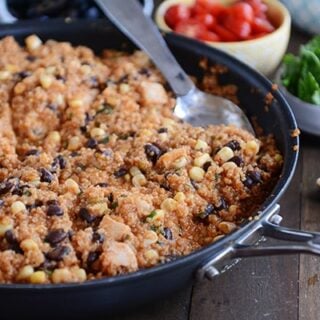 Ingredients
1 tablespoon olive oil
2 cloves garlic, finely minced
1 poblano chile, seeded and finely diced (about 1/3 - 1/2 cup) (see note for substitutions)
2 cups quinoa, well-rinsed and drained
2 1/2 cups low-sodium chicken broth
16 ounces tomato sauce
1 (15-ounce) can black beans, rinsed and drained
1 teaspoon salt
1 teaspoon chili powder
1/2 teaspoon dried oregano
1 teaspoon ground cumin
2 cups frozen corn kernels
1-2 tablespoons fresh lime juice (from about 1 medium lime)
1/2 cup chopped cilantro
2 cups cooked, diced chicken or turkey
1/2-1 cup shredded Monterey Jack or sharp cheddar cheese (or a combination)
Optional toppings: avocados, sour cream, chopped tomatoes, olives, etc.
Instructions
In a 12-inch nonstick skillet with a lid, heat the olive oil over medium heat and add the garlic and poblano chile. Cook for a minute or two, stirring constantly. Add the drained quinoa, broth, tomato sauce, beans, salt, chili powder, oregano and cumin and stir to combine.
Bring the mixture to a simmer over medium-high heat, reduce the temperature, cover the skillet, and continue simmering for 20 minutes until most of the liquid has been absorbed and the quinoa has popped open and is tender. Regulate the heat during cooking if the mixture is sticking to the bottom of the skillet.
Uncover and stir in the corn, lime juice, cilantro, and chicken. Cook for about 5 minutes or until heated through. Add additional salt and pepper to taste if needed.
Sprinkle the top with cheese and cover the skillet to let the cheese melt (or broil - if the skillet is oven-safe - for a more bubbly topping).
Serve with optional garnishes if you'd like: avocados, sour cream, chopped tomatoes, olives, etc.
Notes
Chiles: I haven't tried this but am assuming you could sub in a can of diced green chiles for the poblano chile (keep in mind this will up the saltiness of the mixture so you might cut down the salt called for a bit later in the recipe).

Chicken: if you don't have cooked chicken on hand, you could use uncooked boneless, skinless chicken breasts that have been cut into bite-size pieces; season them well with salt and pepper and sauté in the first step with the oil (before adding the garlic and chile). Remove them to a plate to use later in the recipe (they'll overcook if left in the skillet to simmer with the quinoa) and add a bit more oil and proceed with sautéing the garlic and chile.

Meatless: and speaking of chicken, you could very easily leave it out for a meatless dish.
Recommended Products
As an Amazon Associate and member of other affiliate programs, I earn from qualifying purchases.

Recipe Source: from Mel's Kitchen Cafe (inspired after a reader, Sheriece, sent me an oven-baked version from Skinny Taste and immediately I knew a one-skillet version was in my future – thanks, Sheriece!)