Whole Wheat Oatmeal Chocolate Chip Cookies
Whole wheat oatmeal chocolate chip cookies that are buttery, chewy, and full of sturdy oats and texture, yes please!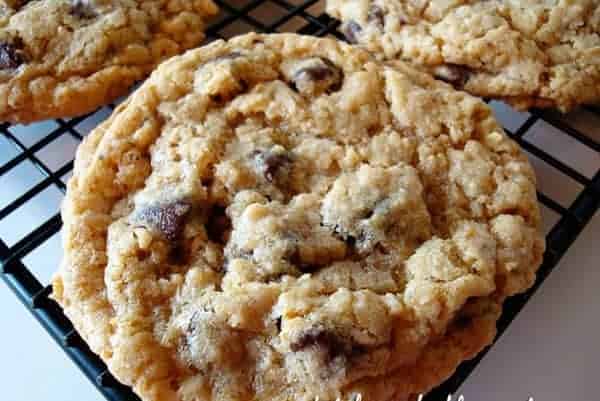 If you know my track record, you know I can only go so long without giving you another chocolate chip cookie recipe to try.
I am utterly shocked and dismayed I haven't posted about these cookies. They've been part of my life for a couple of years now and I'm racking my brain trying to figure out how they have been preempted by so many others.
Not that I don't absolutely adore all of the other cookies on here (if I didn't, I wouldn't have posted about them), but these cookies are so delicious. So, so, so…(a million times so)…delicious.
Here's the deal, even though they are made with 100% white whole wheat flour and oats, that's not why I make them. I make them because they may quite possibly be some of the most delicious chocolate chip oatmeal cookies ever (next to these and these of course).
Buttery, chewy, full of sturdy oats and texture, these cookies are absolutely dreamy. Plus they come from one of the most talented home cooks I know (Lesli, don't you dare roll your eyes!).
They are definitely one of my favorite go-to cookie recipes.
Oh, and as if you needed another reason to run to your kitchen and make these: they freeze (already baked) amazingly well and pull out of the freezer still slightly soft, which makes them the perfect two sides to a creamy, dreamy ice cream sandwich.
Please, please don't tell me if and when you make them. I just may show up at your door begging for one (or six).
Whole Wheat Oatmeal Chocolate Chip Cookies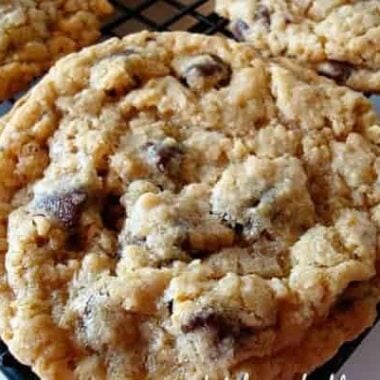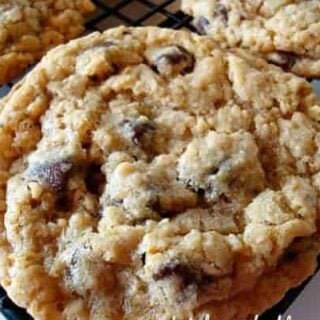 Ingredients
1 ¼ cups brown sugar
1 ¼ cups sugar
1 ¼ cups butter
3 eggs
1 ¼ teaspoon baking soda
1 ¼ teaspoon baking powder
1 teaspoon vanilla
1 ¼ teaspoon salt
2 ½ cups white wheat flour
2 ½ cups oats (you can use either rolled oats or quick oats – I prefer the texture of quick oats in this recipe)
2 ½ cups semisweet chocolate chips
Instructions
Preheat oven to 350 degrees.
Cream butter and sugars together. Beat in eggs and vanilla extract. Stir in dry ingredients and mix well, then stir in chocolate chips. Scoop rounded tablespoonfuls of cookie dough onto greased (or lined) baking sheets. Bake at 350 for 10 minutes.
Recommended Products
As an Amazon Associate and member of other affiliate programs, I earn from qualifying purchases.
Recipe Source: from Lesli D.
Disclaimer: I am a participant in the Amazon Services LLC Associates Program, an affiliate advertising program designed to provide a means for me to earn fees by linking to Amazon.com and affiliated sites. As an Amazon Associate I earn from qualifying purchases.