Salsa Verde Tostadas
Your kids will go nuts over their own crunchy, cheesy circle of goodness that make up these fresh, flavorful, salsa verde tostadas.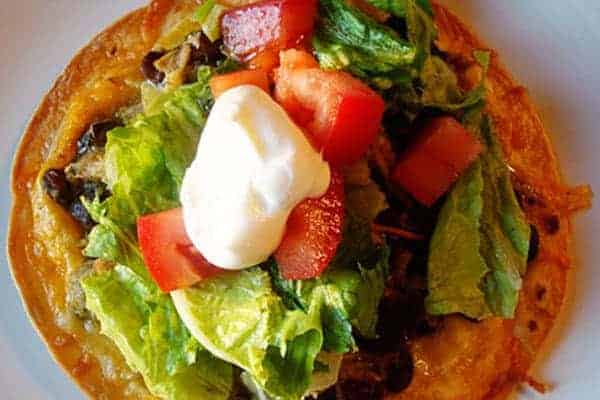 I love my family. I especially love it when they send me fast, easy and delicious dinners like this one.
My brother and his wife (the same ones that brought us the famous cornbread and honey butter, to name a few) sent this to me a few weeks ago and it turned out to be a fantastic meal, perfect for a weeknight when you need to throw ingredients together quickly.
I happen to love the flavors of salsa verde and loved the freshness of this meal. Plus, my kids went ga-ga over their own crunchy, cheesy circle of goodness.

The crispy tortilla is topped with cheese and after being melted, it serves as a sturdy base to a delicious topping of salsa verde marinated chicken or pork, beans, and other fresh toppings of your choice.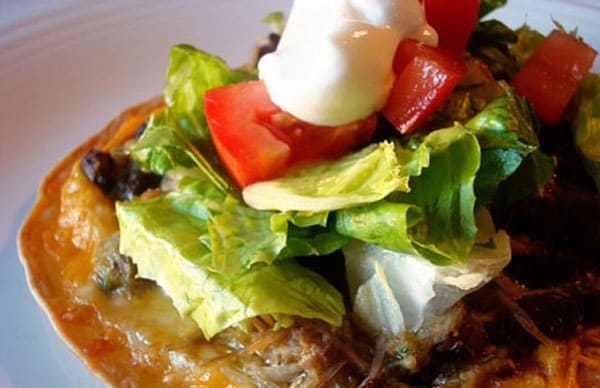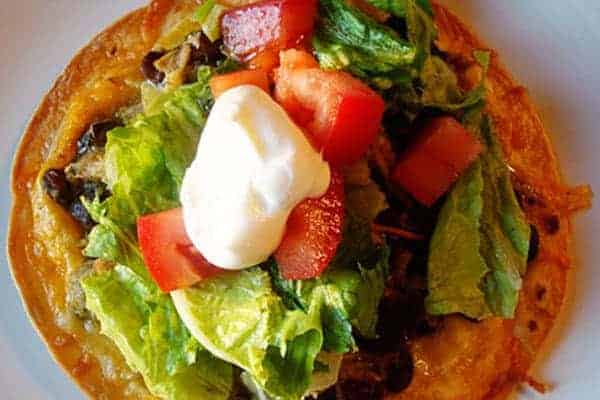 Ingredients
4 flour tortillas
1/2 cup shredded monterey jack cheese
1/2 cup shredded sharp cheddar cheese
2 1/2 cups cooked, shredded chicken or pork
1 cup green salsa (salsa verde) plus more for serving
1/4 cup plus 2 tablespoons chopped cilantro
1 can black beans, rinsed and drained
1/4 teaspoon ground cumin
Toppings: lettuce, tomatoes, sour cream, avocado, etc.
Instructions
Preheat oven to 400 degrees. Arrange the tortillas on a rimmed baking sheet. Sprinkle the cheese evenly over the tortillas, bake until golden brown, about 8-10 minutes.
Meanwhile, in a medium bowl, toss together the chicken (or pork), salsa verde, 1/4 cup cilantro, beans, and cumin (this can marinate all day if you like). Spoon mixture evenly over the tortillas and bake until heated through about 8 minutes.
Top warm tostadas with lettuce, tomato, and sour cream and other toppings as desired. Sprinkle with remaining cilantro. Serve immediately with additional green salsa if desired.
Notes
Plan Ahead: the recipe calls for cooked chicken.
Flavor: also, the flavor of the chicken or pork intensifies as it marinates so you may want to plan an additional 2-3 hours for that (but it isn't absolutely necessary).
Recommended Products
As an Amazon Associate and member of other affiliate programs, I earn from qualifying purchases.
Recipe Source: adapted slightly from Nate and Kylie
Disclaimer: I am a participant in the Amazon Services LLC Associates Program, an affiliate advertising program designed to provide a means for me to earn fees by linking to Amazon.com and affiliated sites. As an Amazon Associate I earn from qualifying purchases.