Zucchini Mozzarella Medley
This easy, 15 minute (max!) zucchini mozzarella medley is a delicious combination of fresh, sauteed veggies and cheese.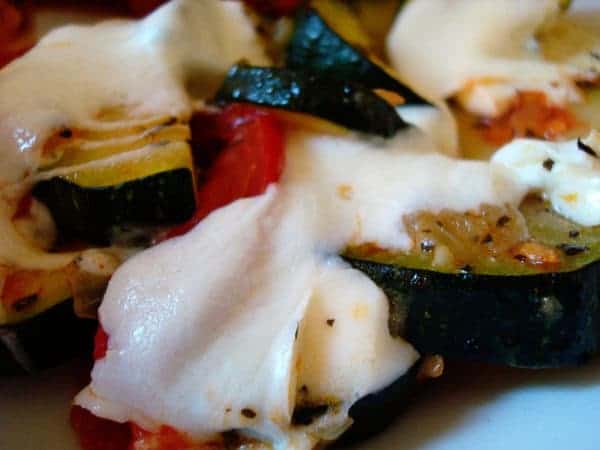 Do you have any end of the year zucchini (or other summer squash) and tomatoes that need used up? Then look no further!
This recipe is so amazing, I wish I had known about it to make it all summer long.
It is a simple combination of sauted zucchini, onions, garlic and seasonings that are combined with fresh garden tomatoes and smothered in cheese.
The beauty is that it comes together in about fifteen minutes max. How can you go wrong with that?
I made this last night as a side dish and it was easily the best part of the meal.
Here's to hoping I remember it next year when my zucchini and tomatoes are at their peak!!
Zucchini Mozzarella Medley
Yield: 4 servings

Prep Time: 10 minutes

Cook Time: 5 minutes

Total Time: 15 minutes
Ingredients
3 cups sliced zucchini or other summer squash
1 cup sliced onion
1 garlic clove, minced
1/2 t. dried basil
1/4 t. dried oregano
1/4 t. salt
1 tablespoon olive oil
1 tomato, cut into 12 wedges
4 oz. shredded mozzarella cheese
Instructions
In a large skillet, saute the zucchini, onion, garlic and seasonings in olive oil until crisp-tender (about five minutes). Gently stir in the tomato; sprinkle with cheese.
Remove from the heat and let stand until cheese is melted. Serve immediately.
Recommended Products
As an Amazon Associate and member of other affiliate programs, I earn from qualifying purchases.

Recipe Source: from Lesli (my fabulous cook of a neighbor!)
Disclaimer: I am a participant in the Amazon Services LLC Associates Program, an affiliate advertising program designed to provide a means for me to earn fees by linking to Amazon.com and affiliated sites. As an Amazon Associate I earn from qualifying purchases.