Piled High Zucchini and Cheese Topped Pizza
Foolproof pizza dough piled high with a zucchini and tangy cheese mixture and baked to golden perfection? It should be a summer staple!
Can we talk about my newest, favorite recipe? I kind of owe you a rockstar recipe after all your support this week, and this is definitely it.
Pizza. And not just any pizza. Pizza piled with tender, shredded zucchini and cheese and baked until golden.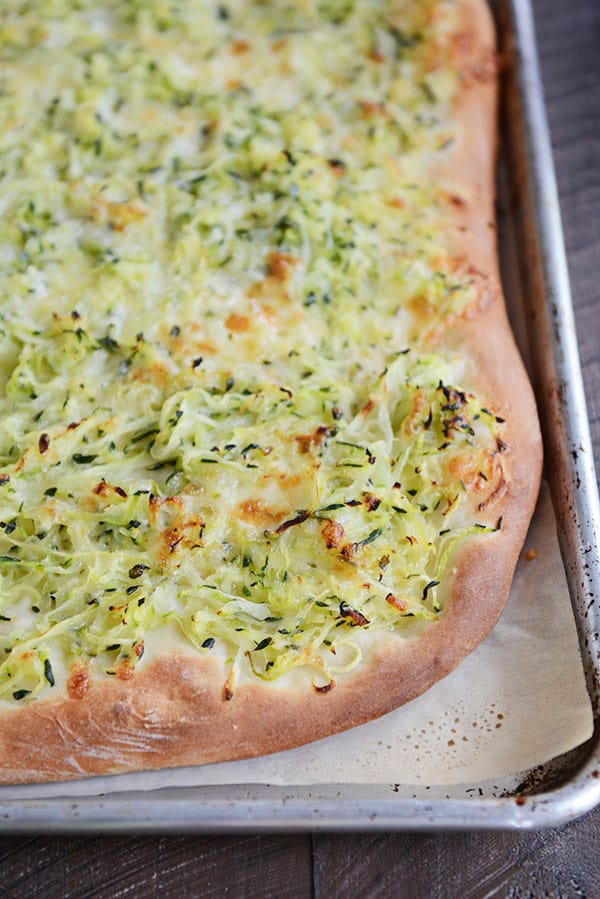 Cheesy zucchini pizza. It's amazing.
I've made it three times in the last couple of weeks, and I think the recipe is pretty darn easy, even for a weeknight, especially if you opt to use my beloved Quick and Easy Foolproof Pizza Dough and get started draining the zucchini before you start the pizza dough.
Multi-task! It's fun (and sanity-saving).
Mostly, I'm just so thrilled to have another zucchini recipe to love.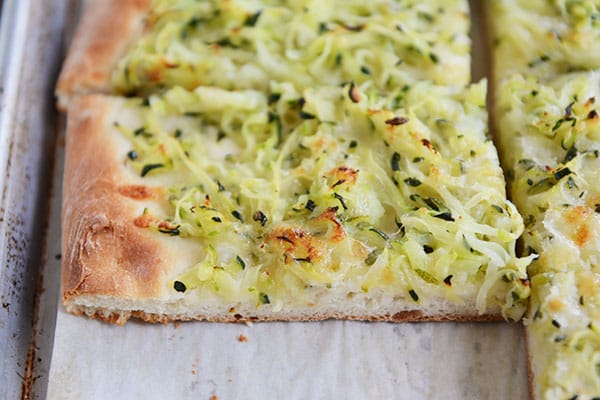 I happen to be hanging on with desperation to the last vestiges of zucchini season (and yes, summer, too).
Maybe it's because I only have one zucchini plant, but even nearing the end of the growing season, I'm still ecstatic when I go to look under the mighty, leafy wonder and spy a zucchini.
Our beloved plant is so ridiculously ginormous that even after all five kids + myself have looked into it's murky depths, we've been known to leave a zucchini behind, only to find it a few days later because it's morphed into the size of my 4-year old.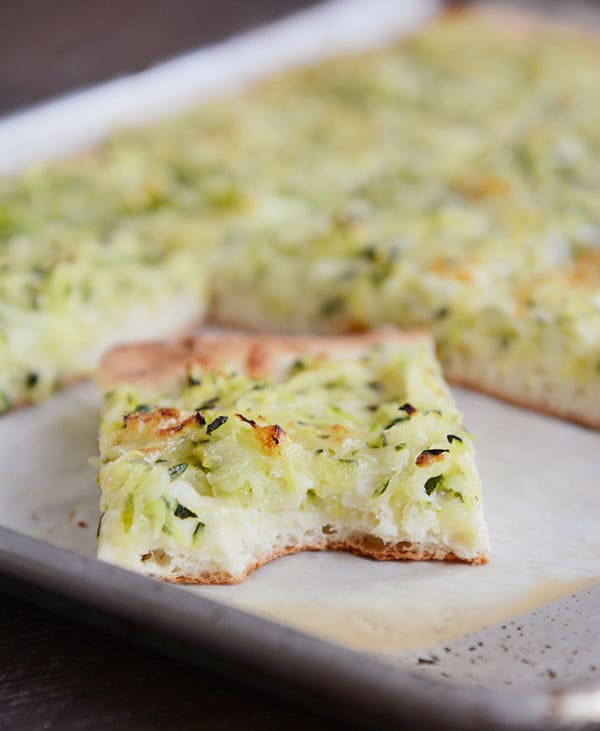 Speaking of gardening, I think I've mentioned my humble square foot garden plan before; it's my first time using this method and coincidentally, it's my first time having a really successful garden.
I think it's because it's small and manageable and kind of pretty.
I have four 4X8-foot garden boxes and I can't believe how prolific the vegetables have been this year! I've always claimed I hate gardening, but I've been proven wrong this year.
I have butternut squash growing on vines and basil coming out of my ears and cherry tomatoes, enough to feed a small army (or in other words, me, since I eat those things like candy).
Of course, it helps that there are no weeds (yet) and that it's compact enough so I don't have to traipse across three rivers and through a forest of vegetables to get a harvest.
Either way, I'm already planning next year's garden, and I think I've officially become one of those garden nerds. Even worse (or better?): a square foot gardening nerd.
I guess what I'm trying to say is, if you have zucchini from your garden or even the grocery store to use up, this piled high zucchini topped pizza should be next on your list. (And if you don't, come find me, I have a lot to share.)
This cheesy zucchini pizza is unique and delicious and a new zucchini favorite, for sure. Plus, I love how it's fairly adaptable – I mean, use whatever cheese you prefer and see how it turns out! I don't think you have to be held to fussy, rigid requirements.
Experiment a little. Do what feels right. Use up the cheese in your cheese drawer. Be happy.
As a sidenote, since squeezing water out of zucchini ranks right up there with my least favorite things to do in the history of ever, it's worth noting that my preferred method (if I have to do the dang job anyway) is using a nut milk bag or a potato ricer. It almost makes it bearable.
And for this recipe, you really want to get every last bit of water out of the zucchini for the best possible result.
Because, ew, say no to soggy pizza. I'm here for you if you need to unload and vent about the whole wringing out the zucchini job. We can get through this.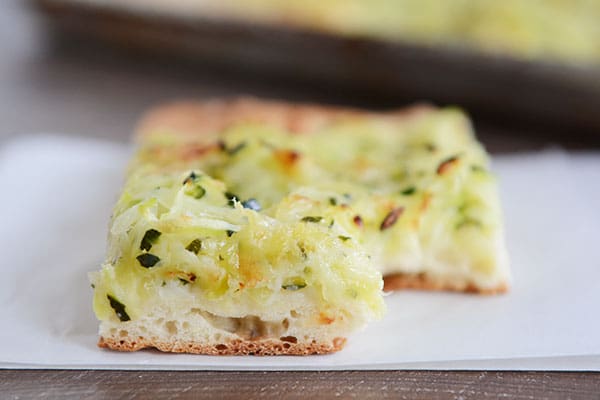 Piled High Zucchini and Cheese Topped Pizza
Ingredients
2 to 2 ½

pounds

zucchini (about 7 to 8 cups shredded zucchini)

1 to 1 ½

teaspoons

coarse kosher salt (see note)

2

cups

(

227

g

)

freshly grated cheese (see note)

¼ to ½

cup

freshly grated Parmesan cheese
Instructions
Place a baking stone or an overturned baking sheet on a center rack in the oven. Preheat the oven to 450 degrees F.

Lightly grease a large, rimmed baking sheet (about 12X18-inches) with nonstick cooking spray or line with parchment paper and then lightly grease the parchment paper.

Grate the zucchini on the large holes of a box grater or with a food processor and place in a colander set over the sink or a large bowl.

Sprinkle the salt over the zucchini and toss. Let the zucchini sit for 20-30 minutes (or upwards of a couple hours); it will wilt slightly and give off quite a bit of liquid.

In batches, using a thin kitchen towel, potato ricer, nut milk bag (my preferred way) or other method (even your hands can work, although I find I can't get it quite dry enough), wring the zucchini of excess water until it is very, very dry and clumps together. You'll probably end up with 4 cups or so after wringing out (don't stress if it's more or less than this as long as the zucchini is dry).

Place the zucchini in a bowl, breaking up the clumps with your fingers. Add the shredded cheese (except for the Parmesan) and toss to combine.

Press the dough onto the prepared pan, forming a rectangle of dough that more or less fills the pan. It doesn't have to be exact or even overly pretty. Just do your best. Try to get it to an even thickness so there aren't super thin and super thick parts.

Spread the zucchini and cheese mixture evenly on top of the pizza, leaving a thin border around the edges. Sprinkle with the Parmesan cheese.

Bake the pizza in the pan on top of the preheated baking stone or overturned baking sheet for 20-25 minutes until the pizza dough is golden and the topping is bubbly and lightly golden on top. For a crispier topping, preheat the broiler and broil for just a few minutes until the zucchini topping sizzles, if desired.

Remove from oven, sprinkle with a bit of salt and pepper, if desired, and serve warm.
Notes
Zucchini: if you are using a behemoth zucchini, slice it in half lengthwise and scoop out the seedy, spongy center before weighing (or shredding). Salt + Cheese: the exact amount of salt will depend on what type of cheese you are using. I've made this with a Monterey Jack and sharp cheddar blend and I needed to add more salt, probably about 1 1/2 teaspoons total. When I made it with a Gruyere and Cheddar blend, I only used 1 teaspoon and it was perfect. So balance the salt needed with the type of cheese you are using (taste the cheese and if it has a salty bite, add the lesser amount, if it's creamy and a little more bland, add more salt). You can always compensate at the end by sprinkling the top with a little salt and pepper (delicious!). The type of cheese is really adaptable, but I definitely like it with a sharper-tasting cheese for at least half the cheese. Salting the Zucchini: I know the step of salting the zucchini seems a little fussy but it really does make a difference in getting the zucchini extra dry. I made the pizza without doing this step and it was hard, if not impossible, to squeeze enough water out of the zucchini (and I kind of pride myself on being able to wring the heck out of it). Salting it beforehand helps with this and makes the squeezing a little easier and more effective. Having said that, feel free to pass by this step if you want to speed up the process – just remember to add salt to the zucchini and cheese mixture or it will be too bland. Doubling the Recipe: I usually double this recipe. The leftovers are fantastic.
Serving:
1
Serving
,
Calories:
144
kcal
,
Carbohydrates:
15
g
,
Protein:
7
g
,
Fat:
6
g
,
Saturated Fat:
4
g
,
Cholesterol:
17
mg
,
Sodium:
547
mg
,
Fiber:
1
g
,
Sugar:
4
g
Follow @MelsKitchenCafe on Instagram and show me the recipes you are making from my blog using the hashtag #melskitchencafe. I love seeing all the goodness you are whipping up in your kitchens!
Recipe Source: cheesy zucchini pizza adapted from Deb at Smitten Kitchen by way of Jim Lahey after Liz, a loyal reader and frequent commenter, emailed me and told me I must make this (used my quick and easy pizza dough for a thicker crust, lowered the heat b/c 500 degrees created too much burnage for my precious pizzas, and made a few other minor changes and suggestions)
Disclaimer: I am a participant in the Amazon Services LLC Associates Program, an affiliate advertising program designed to provide a means for me to earn fees by linking to Amazon.com and affiliated sites. As an Amazon Associate I earn from qualifying purchases.