Zucchini & Yellow Squash Spaghetti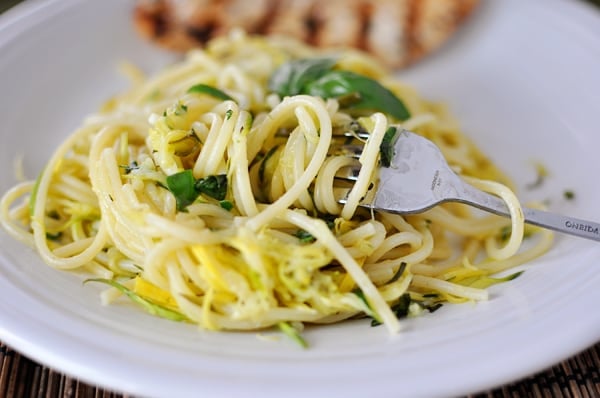 It's that time of year again: time to find delicious, inventive ways to use the zucchini and yellow squash coming forth from our garden (many thanks to my husband for even planting a garden this year since I've been a little busy with, you know…kids and life).
My favorite way to use zucchini is in this ravishingly good zucchini bread recipe (and this simple skillet dinner isn't bad either!).
With that being said, this simple zucchini and yellow squash pasta dish just might be the new favorite for the slim and sassy green vegetables.
The zucchini and yellow squash are julienned (fancy term for cut into thin strands) and thus meld into the spaghetti as if one (read: my kids couldn't pick out the zucchini and squash because it was all one delicious mess of pasta and veggies). Very simple in flavor and preparation.
There's no doubt this weeknight-friendly recipe will be making it's way to our table all summer around here, especially since my kids ate the zucchini and squash like nobody's business.
Apparently, it tastes a lot better when it looks like pasta.

I served this unobtrusive dish with a more flavor-popping protein: Grilled Island Chicken, and the combination was superb thanks to the slight lemon kick in the pasta.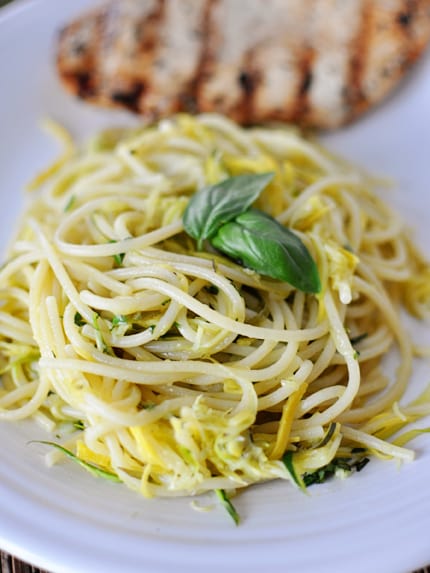 One Year Ago: Skillet Summer Vegetable Lasagna
Two Years Ago: Black Bean and Sweet Corn Quinoa Salad
Three Years Ago: Simple and Meaty Skillet Lasagna
Zucchini & Yellow Squash Spaghetti
Yield: 4 servings

Prep Time: 15 minutes

Cook Time: 14 minutes

Total Time: 29 minutes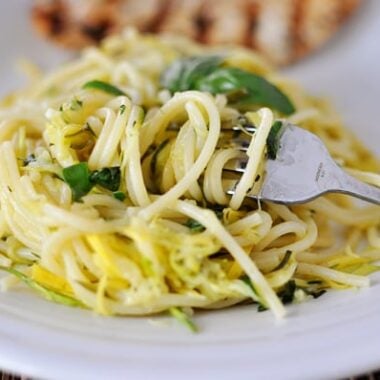 Ingredients
8 ounces spaghetti noodles
4 cloves garlic, minced
2 tablespoons olive oil
4 zucchini, julienned, about 7 cups (see note)
2 yellow squash, julienned, about 3 1/2 cups (see note)
Salt and black pepper to taste
2 tablespoons fresh lemon juice (from about 1 large lemon)
1/2 cup grated Parmesan cheese
1/2 cup thinly sliced fresh basil
1 tablespoon minced lemon zest
Instructions
In a large pot of salted, boiling water, cook the spaghetti according to package directions. Drain (but do not rinse!).
While the spaghetti is boiling, saute the garlic in the olive oil in a large nonstick skillet over medium heat until the garlic is fragrant, about 30 seconds. Stir in the julienned zucchini and squash. Season with salt and pepper to taste (about 1/2 teaspoon of each to start). Cook the zucchini and squash until slightly wilted, 1 minute, then add the lemon juice. Cook for 1-2 minutes more, until the squash and zucchini are just for tender.
Off the heat, stir in the cooked spaghetti, Parmesan cheese, basil and lemon zest. Top with additional Parmesan cheese, if desired. Serve immediately.
Notes
The recipe says to julienne the squash and zucchini. This simply means to cut them into thin strands (for this recipe, you want them to approximate the size of the cooked spaghetti strands). You can use a mandolin or the large holes of a box grater.

I like to use zucchini that are on the smaller side so you don't have a bunch of seeds to deal with. Look for zucchini that are around two or so inches in diameter - the freshest zucchini have little tiny prickly hairs along the green skin.

Also, zest the lemon before juicing so you don't have to use an extra lemon just for the zest.

Recipe Source: adapted from Cuisine at Home, June 2012