Light Lemon and Spinach Spaghetti
This simple lemon and spinach spaghetti is incredibly tasty with the bright lemon flavor, hearty spinach and pinch of fresh Parmesan cheese.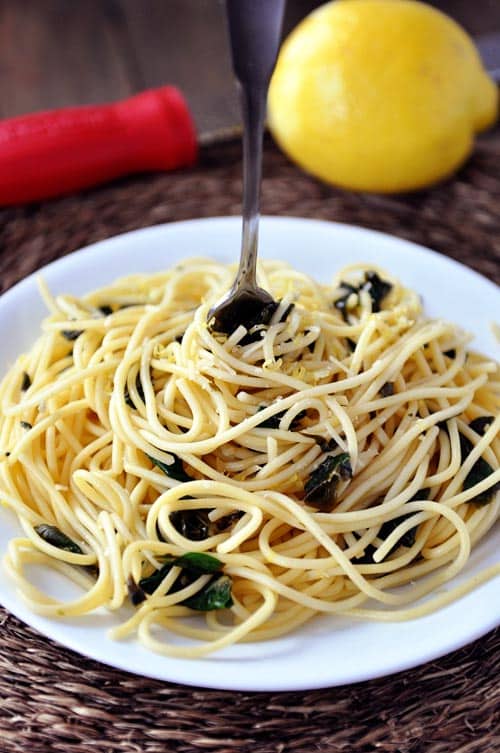 This lemon spaghetti makes me joyful.
While not overly saucy (which is why I love it), this simple and quick lemon spaghetti is incredibly tasty with the bright lemon flavor, hearty spinach and perfect little pinch of fresh Parmesan cheese.
I've been making a variation of it for years and finally wrote down the amounts so I could share it with you.
It totally epitomizes what I love about food – how everyday ingredients come together to create something so delicious. And in a weird way, I think it's like the dish that characterizes my food personality. This and caramel brownies, of course.
This is my favorite go-to dish to make when:
a) what I had planned for dinner does not sound as good as it did whilst menu planning,
b) Brian has taken all the boys on a blessed Father and Sons campout and it's just me and Cam hanging out (insert angels singing),
c) I want something a bit more elevated than PB&J for lunch (don't worry, PB&J, I'll always love you, but sometimes, you and I, we need a break)
d) a simple pasta dish is the one thing that will please the entire fam. And this does. Majorly.

You could make it more of a substantial meal by adding in a little grilled chicken or the like, but I usually don't and instead serve it with lots of fresh fruit and vegetables, sometimes a little cottage cheese for extra protein, many times with steamed broccoli or roasted cauliflower, or often just by itself.
Super simple. Super fantastic.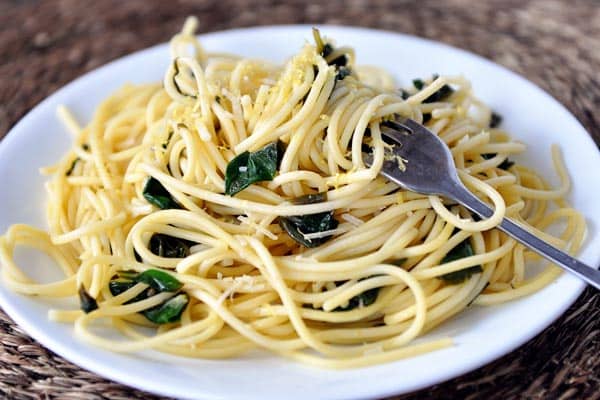 One Year Ago: Cinnamon Roll Sugar Cookies
Two Years Ago: The Best Chicken Enchilada Soup
Three Years Ago: Creamy 5-Cup Fruit Salad
Light Lemon Spaghetti with Spinach
Yield: 4-6 servings

Prep Time: 10 minutes

Cook Time: 14 minutes

Total Time: 24 minutes
Ingredients
12 ounces spaghetti or angel hair pasta
2 tablespoons butter
4 cloves garlic, finely minced or pressed
6-9 cups coarsely chopped fresh baby spinach
1/4 cup low-sodium chicken broth
Zest of 1 lemon (about 1 teaspoon or so)
6 tablespoons freshly squeezed lemon juice (from about 2 lemons)
1/4 cup freshly grated Parmesan cheese
Instructions
Bring a large pot of lightly salted water to a boil and cook the noodles until al dente, according to package directions. Drain and rinse briefly with cool water and set aside.
While the noodles are boiling, in a large 12-inch nonstick skillet, heat the butter over medium heat until melted. Add the garlic and cook, stirring constantly, for 1-2 minutes, careful not to let the garlic burn.
Toss in the chopped spinach and pour in the chicken broth. Simmer the mixture 2-3 minutes until the spinach is wilted. Toss in the cooked noodles, using tongs or two forks to lift the noodles up and over to distribute the spinach mixture.
Add the lemon zest and juice. Toss the noodle mixture and heat through, 1-2 more minutes.
Serve immediately with a sprinkle of fresh Parmesan cheese.
Notes
Rinsing the Noodles: I know generally it's looked down on to rinse noodles but after making this dish over and over and over, I hated how the noodles were sticky and gummy and found that a quick rinse (not a soak, just a rinse) in cool water after draining gives them the perfect texture for the dish.

Oil/Butter: I've used olive oil and coconut oil in place of the butter at times but usually come back to the bit of butter because of the flavor; however, you could definitely use what you prefer for the oil.
Recommended Products
As an Amazon Associate and member of other affiliate programs, I earn from qualifying purchases.

Recipe Source: from Mel's Kitchen Cafe
Disclaimer: I am a participant in the Amazon Services LLC Associates Program, an affiliate advertising program designed to provide a means for me to earn fees by linking to Amazon.com and affiliated sites. As an Amazon Associate I earn from qualifying purchases.