What is it about ranch dressing that has such kid appeal (or adult-appeal for that matter!)?
In our house, ranch dressing is used at least once a day, sometimes more…for dipping. My kids like vegetables. But they love them when they can dip them in ranch. And I'm totally ok with that, especially when it is homemade ranch they are dipping into (read: no preservatives or unpronounceable ingredients).
Quick and easy to make, you basically toss all the ingredients into a blender and give it a whirl (thinning as needed with additional buttermilk if you want more of a dressing versus a dip).
Simple flavors sure to please any ranch-loving palette. I keep this on hand at all times, usually doubling the batch and storing it covered in the refrigerator in mason jars.
It's fantastic and I've even managed to fool my husband who claims he can only eat a certain brand-name ranch dressing (may or may not rhyme with Vidden Halley).
Adjust the ingredients to your taste buds and you will have a home run ranch dressing in your own fridge in no time.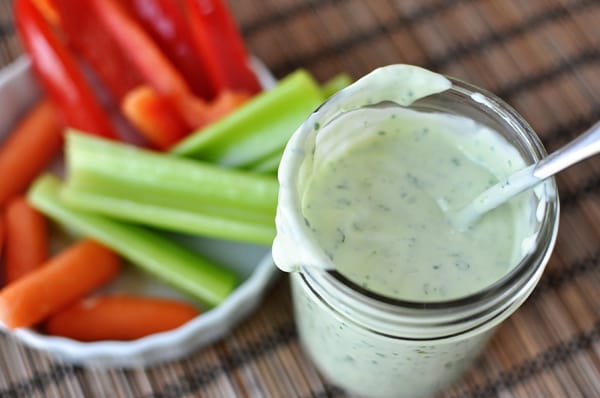 One Year Ago: Chocolate Chip Hazelnut Cookies
Two Years Ago: Peach Brown Betty
Three Years Ago: Baked Oatmeal
Yield: 2 cups

Prep Time: 15 minutes

Total Time: 15 minutes
Ingredients
3/4 cup light mayonnaise
3/4 cup light sour cream
1 tablespoon olive oil
1 tablespoon lemon juice
1/4 -1 cup buttermilk (here is a guide for making your own buttermilk)
4 green onions (use just the green parts) or 1 small bunch chives
3 tablespoons chopped fresh parsley
3 tablespoons chopped fresh cilantro
1 clove garlic, minced
1/2 teaspoon salt
Freshly ground black pepper to taste
Instructions
Combine all of the ingredients in a blender or food processor. Start with 1/4 cup of the buttermilk and blend for 10 seconds. Check the consistency and taste and blend in additional buttermilk as desired. Add more buttermilk for dressing and less for dipping vegetables.
Store in an airtight container in the refrigerator.
Notes
This recipe is very adaptable to your tastes. I add cilantro with the parsley because I like the flavor but if you aren't a fan of cilantro, simply leave it out or up the parsley.

You might be tempted to leave out the olive oil, and that's ok, but in my experience of making this over the last few months, when I've omitted the olive oil, the dressing gets watery in the fridge over the course of a few days or a week. If I add the olive oil, the dressing stays emulsified and thick.

Recipe Source: adapted from Annie's Eats, via Confections of a Foodie Bride, originally from The Gourmet Cookbook