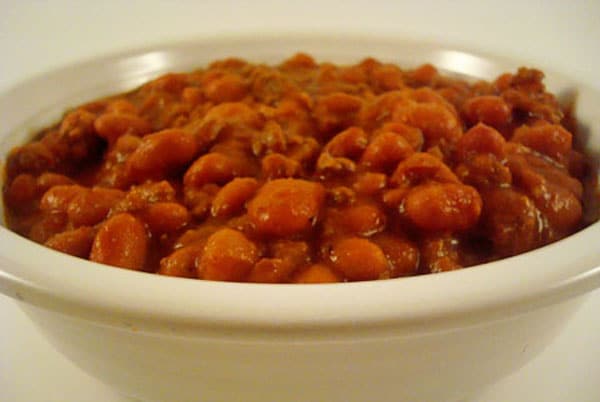 My mom will insist until she is blue in the face that she doesn't like to cook. While that may be true, it is unfortunate, because some of my favorite recipes (like this lasagna) come from her. Growing up my mom always had dinner on the table for our family – a homemade dinner. This chili was one that graced the table all through the chilly winter months.
The flavors of this chili are classic. Perfectly warm without being too spicy and loaded with beef and beans. I've made a few changes over the years to suit our tastes and ingredient preferences but it's still pretty darn close to the original. This is hands-down my favorite chili. It speaks of home and good memories. Of course, I'd rather that my mom was here to make it for me, but since she isn't, I guess I'll have to keep making it myself.
Our preferred way to eat it is smothered with corn chips and cheese.
P.S. Stay tuned for Thanksgiving Dinner 101 starting Monday!!
Ingredients
2 medium onions, diced
2 teaspoons salt
2 to 2 1/2 pounds ground beef or lean ground turkey
3 large cans (29 ounces each) pinto beans, drained
46 oz. (one large can) tomato juice
1 (8 oz.) can tomato sauce
1 cup ketchup
2 bay leaves
1/2 cup water
3/4 teaspoon garlic salt
1/2 teaspoon pepper
1 tablespoon chili powder
1/4 teaspoon cayenne pepper
2 teaspoons cumin
1 1/2 tablespoons brown sugar
Directions
Brown the hamburger and onion in a large skillet with the salt. Drain grease. In a small bowl combine the 1/2 cup water with the garlic salt, pepper, chili powder, cayenne pepper, cumin and brown sugar.
In a large pot, combine tomato juice, beans, tomato sauce, and ketchup. Stir in hamburger and onions and seasoning/water mixture. Mix well. Stir in bay leaves.
Bring to a boil over medium-high heat, then reduce heat and simmer over medium-low heat for an hour, stirring occasionally (this can simmer for as long as 4-5 hours).
http://www.melskitchencafe.com/my-moms-classic-chili/
Printed from Mel\'s Kitchen Cafe (www.melskitchencafe.com)
Recipe Source: adapted from Michel W.