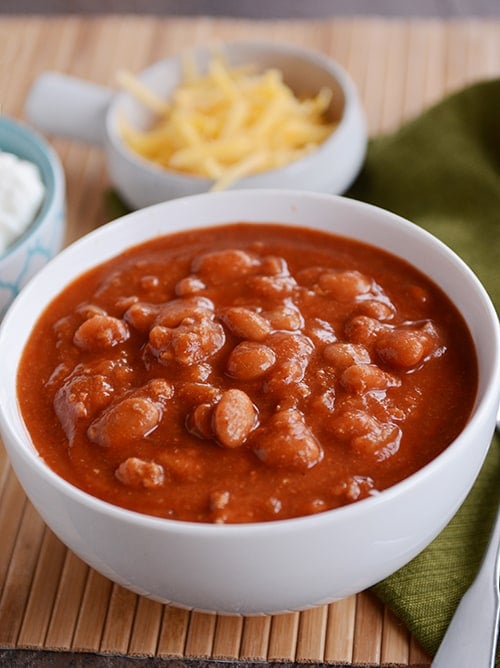 Updated from the archives (from waaaay back in 2009), this chili recipe is a classic. Simple, comforting, perfect, it's my mom's tried-and-true recipe and it's the only chili I ate from birth to age 18 (plus, it's been known to win a chili cook-off or two).
My mom will insist until she is blue in the face that she doesn't like to cook and she is undoubtedly rolling her eyes right now if she knows I'm talking about this and her and cooking and all the facts. Some of my favorite recipes (like this lasagna) come from my momma. Growing up she always had dinner on the table for our family – a homemade dinner – and even though I took those dinners completely for granted (ah, childhood), now I am even more grateful for all those home cooked meals knowing that cooking is probably her least favorite thing to do ever.
Perfectly warm without being too spicy (although you can up the heat to your heart's content), the flavors of this chili are delicious. I've made a few changes over the years to suit our tastes and ingredient preferences but it's still pretty darn close to my mom's original. This is one of my favorite chili recipes. It speaks of home and good memories, and I can't help but love how simple and uncomplicated it is.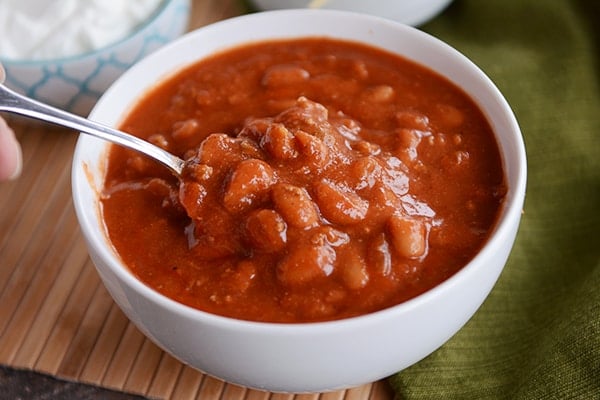 P.S. Thank you so much for your sweetness and sincerity on last week's post. Thank you, thank you; you have no idea how much it means to me! I hope the last remaining days of 2015 are treating you very, very well.
For a slow cooker version, brown the meat and onions in the first step but instead of a pot, combine the rest of the ingredients in a large slow cooker. Stir in the meat and cook on low for 5-7 hours. I've also subbed in stew meat for the ground beef and it is delicious also (I don't precook it, I throw in the meat cubes and onions with the other ingredients and cook it on low for about 8 hours).
This recipe can be easily scaled down.
Ingredients
2 medium (or 1 large) yellow onions, diced
2 teaspoons salt
2 to 2 1/2 pounds ground beef or lean ground turkey
3 large cans (29 ounces each) pinto beans, rinsed and drained
46 ounces tomato juice
1 can (8 ounces) tomato sauce
1 cup (8 ounces) ketchup
2 bay leaves
1/2 cup water
3/4 teaspoon garlic salt
1/2 teaspoon pepper
1 tablespoon chili powder
1/4 teaspoon cayenne pepper (plus more if you want the chili spicier)
2 teaspoons ground cumin
1 tablespoon brown sugar
Directions
In a large 12-inch nonstick skillet, brown the ground beef (or turkey) with the onion and salt until the meat is cooked through. Drain excess grease, if needed.
In a large pot, combine the pinto beans, tomato juice, tomato sauce, and ketchup. Stir in the bay leaves, water, garlic salt, pepper, chili powder, cayenne, cumin and brown sugar.
Add the cooked meat/onion mixture.
Bring to a boil over medium-high heat, stirring, then reduce the heat and simmer, partially covered, over medium-low heat for an hour (or up to 4-5 hours), stirring occasionally. Add additional salt and pepper to taste, if needed, before serving.
https://www.melskitchencafe.com/my-moms-classic-chili/
Printed from Mel\'s Kitchen Cafe (www.melskitchencafe.com)
Recipe Source:

adapted slightly from my mom, Michel W.