Very simple to prepare, this red chicken chili is not only packed with flavor, but it is also extremely hearty and delicious.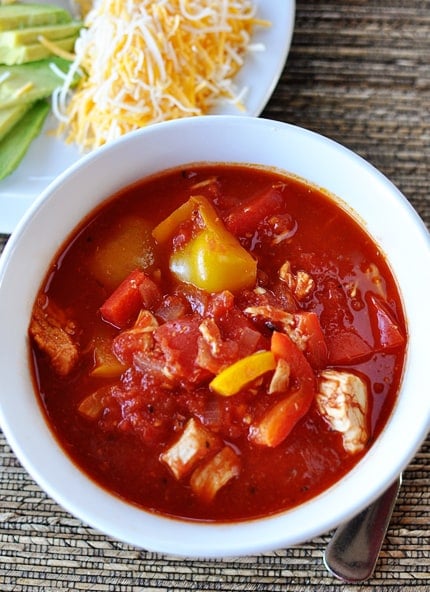 Do you love this White Chicken Chili as much as I do? Mmmm, pretty much some of the best white chili ever.
But to be honest, I've been feeling a little bad for it because in my culinary opinion, it needs a red chicken chili companion to exist side-by-side with in the Recipe Index forever. Don't you think?
Huh? There are deeper issues in the world? More pressing than chili? Darn. And here I thought I was solving a great world dilemma.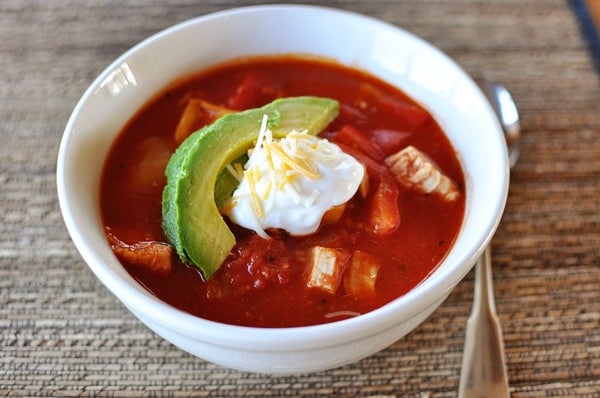 Regardless, this red chicken chili is a must-make.
I've been making the general recipe for many years now and my kids far prefer it over any other chili for the lack of beans (apparently, I need to go on another Great Bean Crusade to get them hip about beans again). Very simple to prepare, this chili is packed with flavor and extremely hearty and delicious.
I feel happy to finally post it for you. And despite the fact that it doesn't mean anything to anyone, I'm glad our friend, White Chicken Chili, has a buddy now.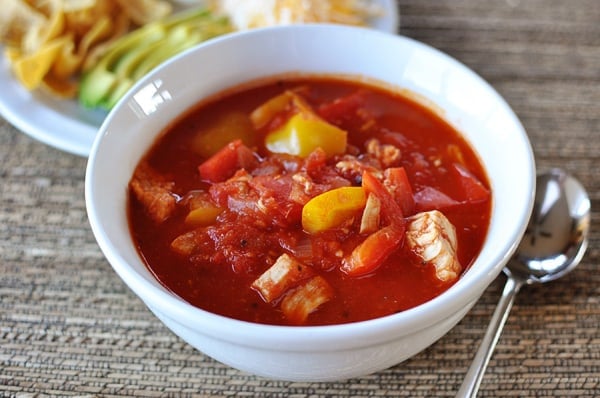 Cook Time:
1 hour
5 minutes
Total Time:
1 hour
25 minutes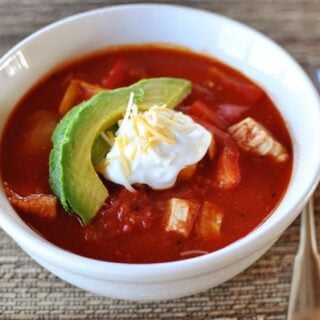 Ingredients
1 tablespoon extra virgin olive oil
1 medium yellow onion, chopped
3 cloves garlic, finely minced
2 red bell peppers, cored, seeded, and large-diced
2 yellow bell peppers, cored, seeded, and large-diced
1 teaspoon chili powder
1 teaspoon ground cumin
1/4 teaspoon dried red pepper flakes, or to taste
1/8 teaspoon cayenne pepper, or to taste
1 1/2 teaspoons salt
1/4 cup minced fresh basil leaves or 1 1/2 teaspoons dried
2 (28-ounce) cans whole peeled plum tomatoes in puree, undrained
2-3 cups cooked, shredded chicken (I used this awesome method)
Chopped onions, corn chips, grated cheddar, sour cream, avocado (for garnish)
Instructions
In a 4- or 5-quart pot, heat the olive oil over medium heat until hot and rippling. Add the onions and reduce the heat to medium-low, cooking for 10-12 minutes until the onions are very soft. Add the garlic and cook for one minute, stirring constantly. Add the bell peppers, chili powder, cumin, red pepper flakes, cayenne, salt, and dried basil (if using fresh, you'll add it later). Cook for 1-2 minutes.
Crush the tomatoes by hand or in a blender or food processor. They don't need to be creamed to a pulp - just six or so pulses to get them blended a bit. Add to the pot with the fresh basil, if using.
Bring to a boil, then reduce the heat and simmer, uncovered, for 30 minutes, stirring occasionally. Add the cooked chicken and stir. Simmer, uncovered, for another 20 minutes. The chili will thicken and the liquid will reduce slightly. Serve with any additional toppings (chopped onions, corn chips, grated cheddar, sour cream, avocado, etc.).
Notes
Spiciness: adjust the dried red pepper flakes and the cayenne pepper according to your desire for spiciness. The amount in the recipe is perfect for us, enough heat to make it interesting but not so much that my kids are dying.
Tomatoes: I've made this recipe with diced tomatoes and crushed tomatoes and let me tell you, blending up the whole plum tomatoes is the way to go. More tomato flavor, baby.
Recommended Products
As an Amazon Associate and member of other affiliate programs, I earn from qualifying purchases.
Recipe Source: adapted slightly from Ina Garten