Amazing Crustless Pumpkin Pie Cupcakes
These adorable, delicious, little crustless pumpkin pie cupcakes are exactly what pumpkin pie should taste like.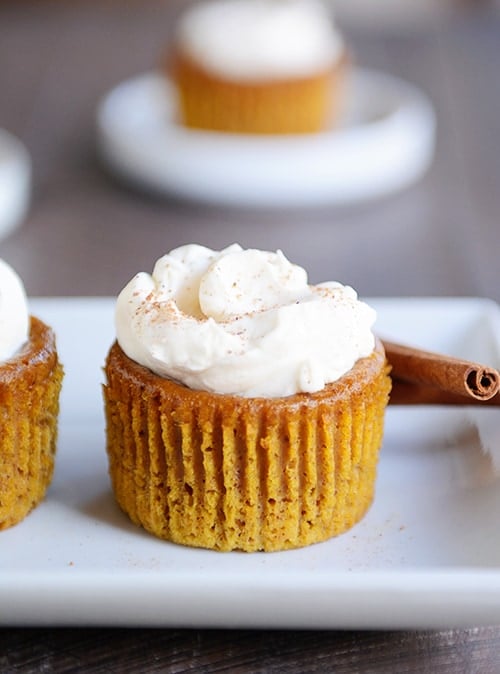 These. These adorable, delicious, little crustless pumpkin pie cupcake-thingies are exactly what I've always wanted pumpkin pie to taste like…but it never really does.
I'm not a pumpkin pie hater, necessarily, it's just not at the top of the list of things I'd want to eat for the rest of forever and eating a piece of it at Thanksgiving always leaves me feeling a bit disappointed.
Like, I should have opted for the double chocolate stuffed cheesecake or whatever else was offered (although I should stop complaining this very second since nothing has ever stopped me from indulging in more than one dessert at Thanksgiving).
But these pumpkin pie cupcakes have changed how I feel about pumpkin pie forever, even if they aren't really a pie. And not really a cupcake either. They are living between both worlds.
While, they are baked in a muffin tin and they kind of look like a cupcake, the texture isn't cakey and crumbly. No, it's more creamy and rich and silky and decadent. Pumpkin pie with a little bit more structure and oomph (and without the crust, which is just fine by me).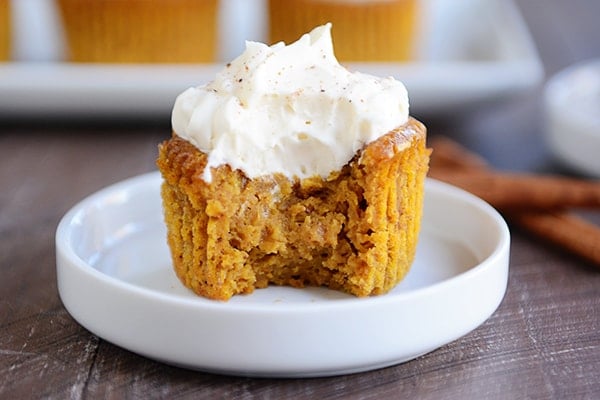 All other descriptors aside, they are completely irresistible. If there's been one recipe in the last while that I want to shout at you to make immediately, it would be these. PRETTY, PRETTY PLEASE MAKE THEM! Consider yourself nicely shouted at.
Move on over pumpkin pie, these mini pumpkin pie cupcakes are well-deserving of the Thanksgiving table (and quite honestly, probably all year round, especially if we all stock up on our canned pumpkin now that an official shortage has been declared – which coincidentally seems to happen every year around this time).
One Year Ago: Creamy Tomato-Potato Basil Soup
Two Years Ago: Creamy Confetti Corn with Bacon
Three Years Ago: Cheesy Chicken Quesadilla Pie
Individual Crustless Pumpkin Pie Cupcakes
Yield: 12 cupcakes

Prep Time: 20 minutes

Cook Time: 20 minutes

Additional Time: 1 hour

Total Time: 1 hour 40 minutes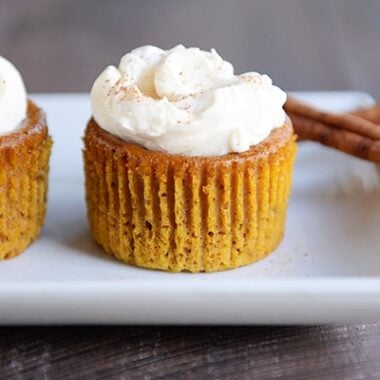 Ingredients
Cupcake Batter:
15-ounce can pumpkin puree (not pumpkin pie filling)
1/2 cup (3.75 ounces) granulated sugar
1/4 cup (1.75 ounces) lightly packed brown sugar
2 large eggs
1 large egg yolk
1 teaspoon pure vanilla extract
1/2 cup heavy whipping cream
1/4 cup milk (1% or above)
2/3 cup (3.5 ounces) all-purpose flour
2 teaspoons pumpkin pie spice (see note for substitution)
1/4 teaspoon salt
1/4 teaspoon baking soda
1/4 teaspoon baking powder
Sweetened Whipped Cream:
1 1/2 cups heavy whipping cream
2-3 tablespoons powdered sugar
1 tablespoon sour cream
1/4 teaspoon vanilla extract
Optional Garnish:
Sprinkle of freshly grated nutmeg
Instructions
Preheat the oven to 350 degrees F. Line a standard 12-cup muffin tin with paper liners and lightly grease the bottom and sides of the liners with nonstick cooking spray. Set aside.
In a large bowl, whisk together the pumpkin, granulated sugar, brown sugar, eggs and egg yolk, vanilla, cream, and milk until smooth.
In a separate bowl, whisk together the flour, pumpkin pie spice, salt, baking soda and baking powder.
Add the dry ingredients to the pumpkin mixture and whisk to blend until well-combined (don't overmix too vigorously with an electric mixer or the cupcakes will crack on top).
Fill the muffin liners evenly with the batter - the muffin cups will be fairly full. Bake for 20 minutes.
Let the cupcakes cool in the pan for about 20-30 minutes. They will fall a bit as they cool so don't panic.
Refrigerate the cupcakes for at least an hour before serving. For the sweetened whipped cream, combine all the ingredients in a blender (or in the bowl of an electric stand mixer or in a bowl using a handheld electric mixer) and whip until thick and creamy.
Dollop a bit of the whipped cream in the center of each cupcake. Dust with a light sprinkle of freshly grated nutmeg (optional). Serve chilled.
Notes
Pumpkin Pie Spice: if you don't have pumpkin pie spice on hand, sub the following (1 1/4 teaspoons ground cinnamon, 1/2 teaspoon ground nutmeg, 1/4 teaspoon ground ginger).

Dairy Options: also, you can substitute 3/4 half-and-half for the whipping cream + milk (I haven't tried subbing in evaporated milk but you could try). I've also subbed in eggnog for the 1/4 cup milk and it gives a subtle, yummy flavor.
Recommended Products
As an Amazon Associate and member of other affiliate programs, I earn from qualifying purchases.

Recipe Source: adapted from this recipe at Baking Bites after my sister Em highly recommended it several years ago
Disclaimer: I am a participant in the Amazon Services LLC Associates Program, an affiliate advertising program designed to provide a means for me to earn fees by linking to Amazon.com and affiliated sites. As an Amazon Associate I earn from qualifying purchases.