Easy Pumpkin Bars with Whipped Cream Cheese Frosting
Fluffy and moist and SO easy to make, these delicious pumpkin bars are the perfect fall treat, and that amazing whipped cream cheese frosting is quite literally the icing on the cake.
I'll be honest right now, I'm not sure when "pumpkin bars" really become "pumpkin cake" and vice versa.
Today, I'm going to be waxing poetic about pumpkin bars.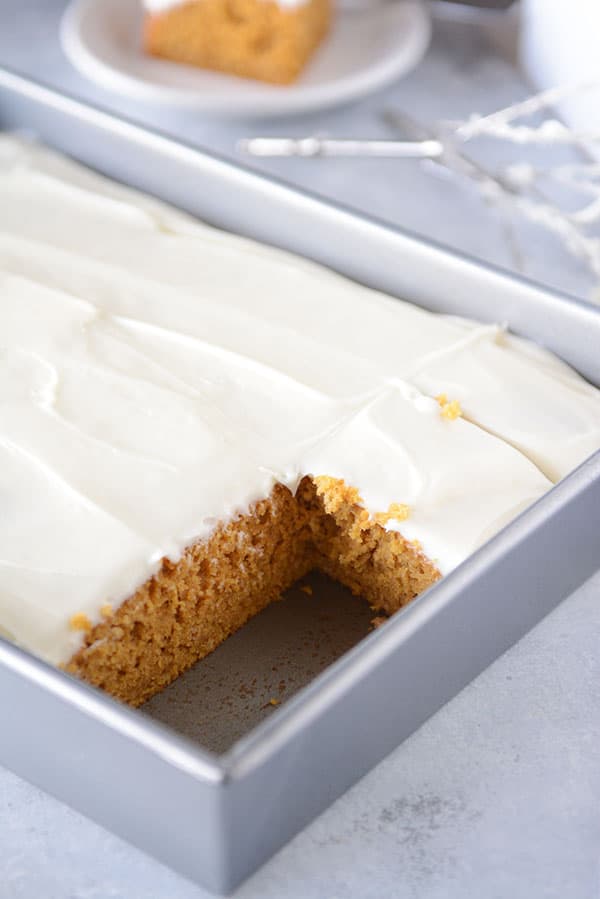 What are they? A deliciously soft and fluffy and moist (sorry, had to say it) pumpkin batter baked into…well…bar form!
And then topped with the most delicious whipped cream cheese frosting.
You can argue that this is basically just frosted pumpkin cake, and you may be right (we often eat the pieces with a fork, after all), but I think we can all agree that whatever we name this delectable treat, it's a keeper.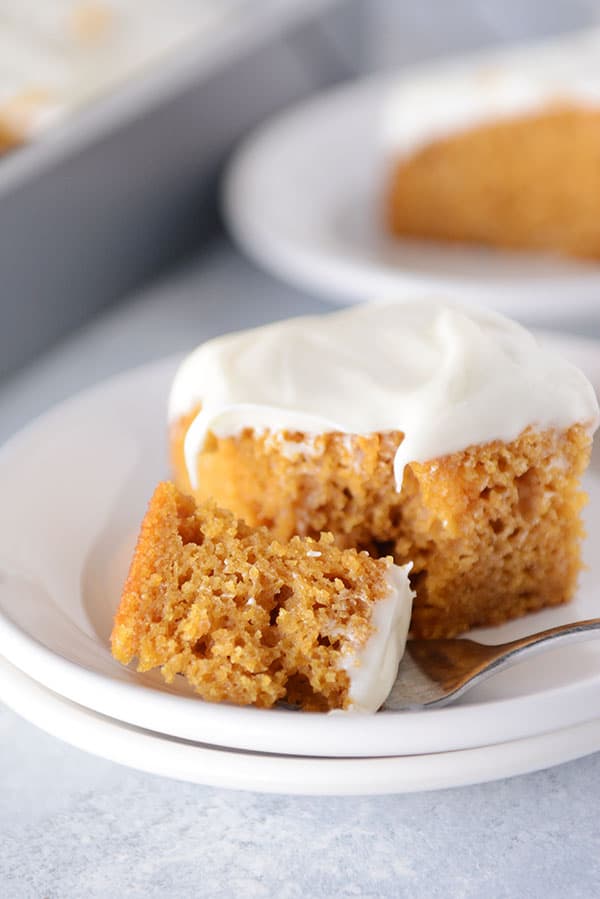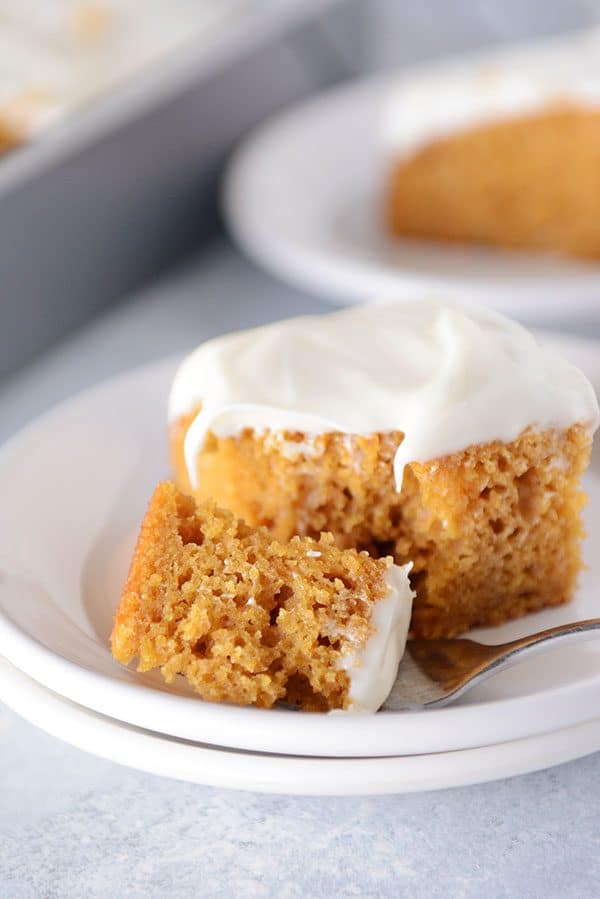 I have an old, old, OLD recipe for pumpkin bars on my site.
It was posted within the first six months of blogging. The pictures alone will confirm that frightening fact.
And also confirm that a decade of blogging can make a difference in one's picture taking ability (and very soul).
Those oldie-but-goodie pumpkin bars are great! And very similar to the many other pumpkin bar recipes out "there."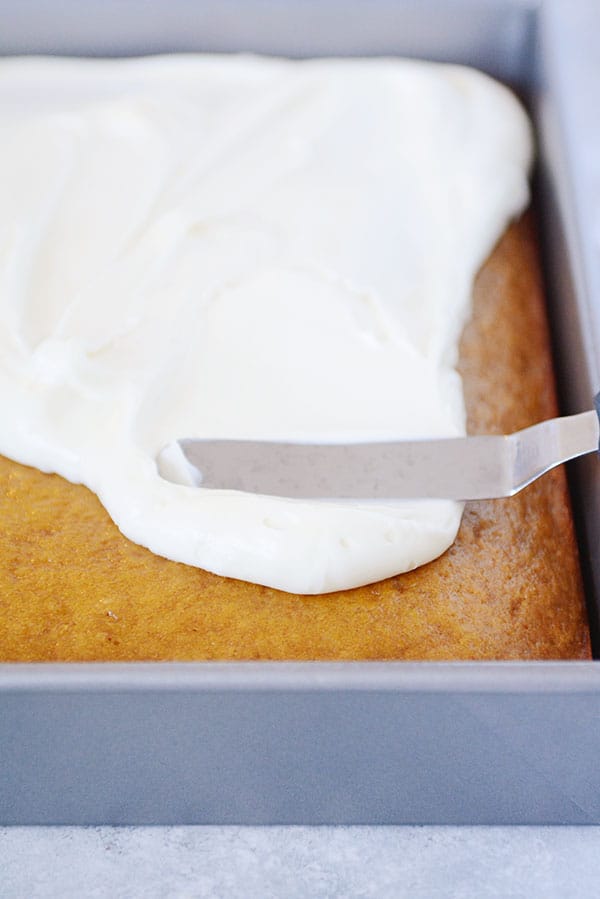 The main problem is that the recipe calls for a pan size that isn't very standard. A 10X13-inch pan, actually.
Because I've never owned that size of pan, I always make that recipe in a 9X13-inch pan. That works decently well, but the bars are taller/thicker than I want my pumpkin bar to be.
I've spent a lot of years longing for a pumpkin bar recipe that's made in a good, old-fashioned 9X13-inch pan and achieve the perfect pumpkin bar to frosting ratio.
Is this too much to ask?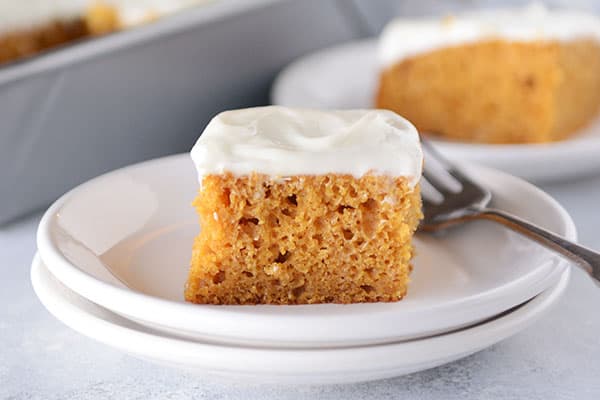 Apparently it is, because most all the top pumpkin bar recipes (courtesy of the almighty Google gods) call for a 10X15-inch pan (or other non-standard size).
This could spur a whole discussion about pans and their sizes and the ethical debate about how many pans is too many pans for a kitchen cupboard.
Or even a serious talk about what constitutes my personal definition of a standard size pan over a non-standard size pan.
But I'll just say, for the record, that if I can make something in a 9X13-inch pan (standard, in my book), that'll be my preference rather than buying a special pan size.
And then I'll also ask…do you own a 9X13-inch pan? A 10X15-inch pan? Both?
Really, I want to know. Talk to me.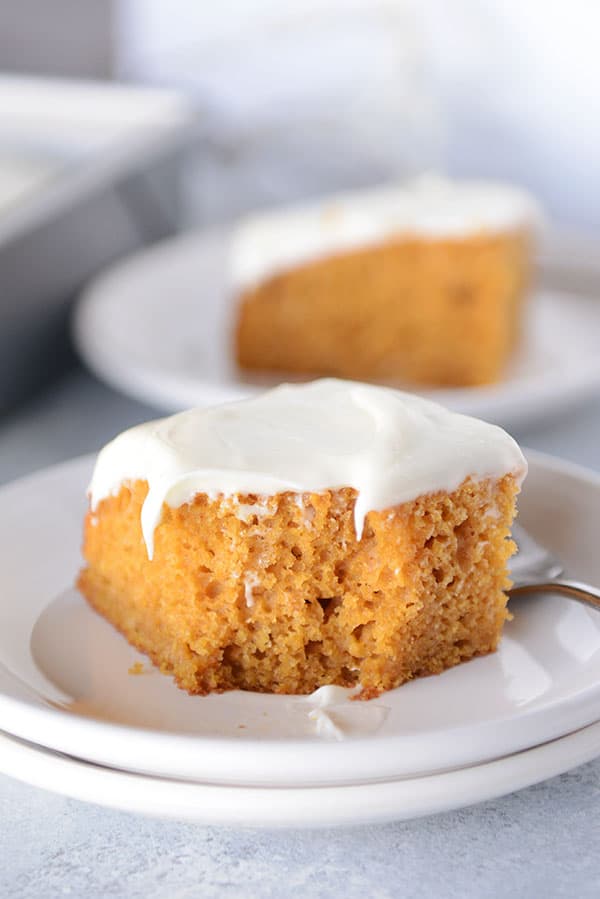 Because I'm obsessed with all things kitchen and can justify purchasing almost anything in the name of research (ok, so the bundt cake pan in the shape of a hummingbird was a bit of a stretch), I actually own both a 9X13-inch pan and 10X15-inch pan. (<– I linked to the ones I own; affiliate links to Amazon where I purchased)
I use that jelly roll pan almost exclusively for pumpkin rolls (love them so much).
So why am I spending an entire post grumping about pumpkin bar recipes using a non-standard pan that I actually own?
Because. I'm guessing many of you do NOT have that pan size.
And for the love of Pete, all I want in life is a perfect pumpkin bar recipe that can be made by all, kitchen pan hoarder or not.
Phew.
Are you even still here?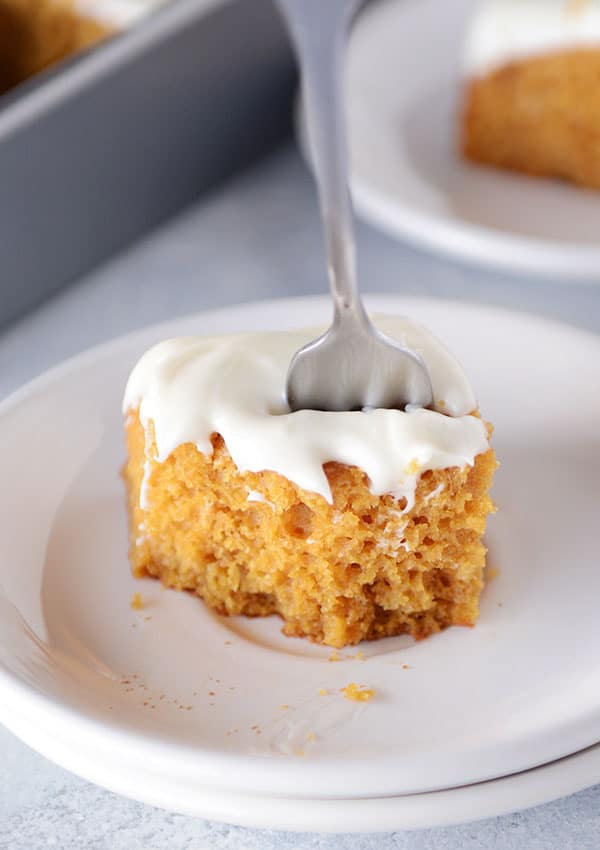 Basically, these pumpkin bars are amazing. They are easy. They are soft and super moist.
And they really might be the perfect fall treat, especially with that delectable whipped cream cheese frosting.
And now! Now, they can be made in a 9X13-inch pan, if that's what you have on hand.
Sturdy enough to be eaten out of hand (just make sure there are napkins nearby), they also transition very well to simply being devoured as "pumpkin cake."
I love a good versatile recipe.
Pumpkin Bars with Whipped Cream Cheese Frosting
Ingredients
Pumpkin Bars:
3

large eggs

1 ¼

cups

(

265

g

)

granulated sugar

¾

cup

neutral-flavored oil

,

like canola, vegetable, avocado, refined coconut (see note for applesauce sub)

1 (15-ounce)

can

(

425

g

)

pumpkin puree/canned pumpkin

,

not pumpkin pie filling

1

teaspoon

vanilla extract

1 ½

cups

(

213

g

)

all-purpose flour

1 ½

teaspoons

baking powder

1 ½

teaspoons

ground cinnamon

¾

teaspoon

salt

¾

teaspoon

baking soda

¼

teaspoon

ground nutmeg

,

optional, but I love the flavor
Cream Cheese Frosting:
8-

ounce

(

227

g

)

package cream cheese

,

softened

4

tablespoons

(

57

g

)

salted butter

,

softened

2

cups

(

228

g

)

powdered sugar

1

tablespoon

sour cream or plain yogurt (see note)

1

teaspoon

vanilla extract
Instructions
Preheat the oven to 350 degrees F. Lightly grease a 9X13-inch pan with cooking spray and set aside.

In a large bowl, whisk together the eggs, sugar, oil, pumpkin and vanilla until well-combined.

In a medium bowl, whisk together the flour, baking powder, cinnamon, salt, baking soda, and nutmeg (if using).

Add the dry ingredients to the wet ingredients and whisk until the batter is smooth (don't go crazy; just mix until there are no more lumps).

Spread the batter evenly in the prepared pan and bake for 25-35 minutes until a toothpick inserted in the center comes out clean and the top of the bars is set and springs back lightly to the touch.

Let the bars cool completely in the pan.

For the frosting, in the bowl of a stand mixer fitted with the paddle attachment or with a handheld electric mixer, mix together the cream cheese and butter until very smooth and light, 2-3 minutes.

Add the powdered sugar, sour cream, and vanilla. Mix (start on low speed so the sugar doesn't fly everywhere) until combined. Increase the speed to medium-high and whip the frosting for 2-3 minutes until very light and fluffy.

Spread the frosting on the cooled bars. Cut into squares and serve immediately or refrigerate for up to a day (maybe longer??).
Notes
Substitutions: these bars adapt really well to subbing in some applesauce for that oil! I've never subbed 100% of the oil for applesauce, but I often will use half applesauce, half oil (just filling the liquid measuring cup up with both until I get to 3/4 cup).  Frosting: the sour cream or yogurt is optional in the frosting, but if you haven't tried it, you must! It lends a delicious flavor boost that takes sickly sweet cream cheese frosting and makes it extra special. I don't make cream cheese frosting any other way.
Serving:
1
Serving
,
Calories:
376
kcal
,
Carbohydrates:
46
g
,
Protein:
4
g
,
Fat:
21
g
,
Saturated Fat:
6
g
,
Cholesterol:
58
mg
,
Sodium:
304
mg
,
Fiber:
1
g
,
Sugar:
34
g
Follow @MelsKitchenCafe on Instagram and show me the recipes you are making from my blog using the hashtag #melskitchencafe. I love seeing all the goodness you are whipping up in your kitchens!
Recipe Source: from Mel's Kitchen Cafe (adapted from this old favorite to fit in a more standard-sized pan)
Disclaimer: I am a participant in the Amazon Services LLC Associates Program, an affiliate advertising program designed to provide a means for me to earn fees by linking to Amazon.com and affiliated sites. As an Amazon Associate I earn from qualifying purchases.