BBQ Turkey Quesadillas
These BBQ turkey quesadillas are simple and fast- the barbecue sauce and green chiles go perfectly with the melted cheese and tender turkey.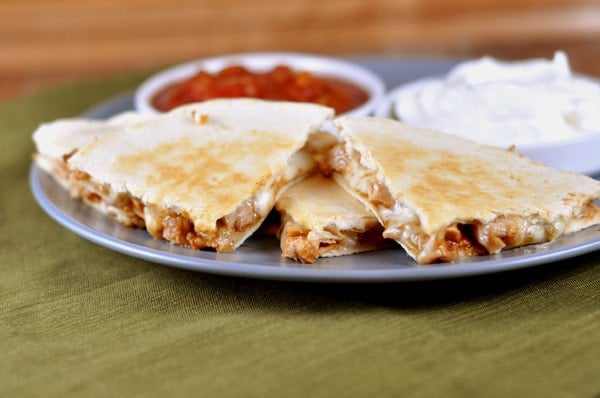 To be perfectly honest, 99% of the time, tender, juicy turkey leftovers in our home get stuffed in between fluffy leftover rolls, doused in mustard and devoured. Just like that. It is the sole reason I look forward to slaving over a turkey.
When we are finally sick of the aforementioned preference, I normally throw the leftover turkey into this cheesy broccoli and rice casserole or make these spiffy, quick quesadillas.
Not only are they simple and fast, but the barbecue sauce and green chiles pair beautifully with the creamy, melted cheese and tender turkey. These beauties sneak their way into our home all throughout the year since chicken makes a perfect substitute for the turkey.
Have fun with your own turkey leftovers. And in my honor, eat at least one turkey-roll-mustard sandwich. Ok? Thanks.
To take a look at all of the Thanksgiving recipes from last year and this year, click here. (Also check out the Recipe Index for other pies, sweets, and side dishes that might tickle your fancy.)

Divine One-Minute Salsa or Balsamic Black Bean Salsa
Black Bean Hummus and fresh veggies
Fresh fruit
One Year Ago: Slow Cooker Southwest Chicken Stacks
Two Years Ago: Cornbread Muffins
Yield:
4-5 large quesadillas
Ingredients
8 large burrito-size flour tortillas
2 cups shredded leftover cooked turkey
1/2 cup barbecue sauce, store-bought or this homemade version
2 green onions, thinly sliced
1 (3.5 ounce) can green chiles, drained
2 cups shredded cheese, my favorite combo is monterey jack and sharp cheddar
Sour cream, salsa, avocados for serving
Instructions
Preheat a griddle or skillet on the stovetop to medium heat.
In a medium bowl, toss together the turkey, barbecue sauce and green chiles. Spread an equal amount of this mixture on four of the tortillas (or five if you are spreading it thinner and making more quesadillas). Sprinkle the green onions over the top of the mixture and then top with the shredded cheese. Top with a tortilla and place the quesadillas on the griddle or stovetop, cooking for about 2-3 minutes each side until the tortillas are golden brown and crisp and the filling is hot and cheese is melted.
Recommended Products
As an Amazon Associate and member of other affiliate programs, I earn from qualifying purchases.
Recipe Source: My Kitchen Cafe
Disclaimer: I am a participant in the Amazon Services LLC Associates Program, an affiliate advertising program designed to provide a means for me to earn fees by linking to Amazon.com and affiliated sites. As an Amazon Associate I earn from qualifying purchases.