This post is sponsored by Whole Foods Market; all opinions are my own (as always!).
Recently, Whole Foods Market issued me a challenge: create 5 affordable weeknight dinners from just a couple bags of groceries and do it on a budget!
Since I'm always up for a challenge, I accepted, and then I got to work meal planning. It was important to me, while planning, to 1) let ingredients do double duty (i.e. use cilantro in more than one recipe so it doesn't go to waste!) and 2) use leftovers to their full potential (i.e. use extra cilantro lime rice from the BBQ chicken salad bowls to serve with the salmon). Not only does this save money but it makes my life easier.
I planned my weekly menu with the following meals (many of them you hopefully already know and love), and using the $125 gift card they sent, I took my little meal plan and went shopping.
• Greek Meatball Pitas with Tzatzki Sauce (recipe below!)
• Maple Pecan Crusted Salmon
• BBQ Chicken Salad Cilantro Lime Rice Bowls
• Curried Lentil and Sausage Soup
• Cheesy Spinach Stuffed Shells
Because the closest Whole Foods to me is a bit of a drive, shopping there feels like a vacation. A little special, a little indulgent, and a little fun (especially if I go without the kids, ahem).
I'm always in awe at how pretty and colorful the produce section is at Whole Foods. I kept getting sidetracked looking at fresh turmeric and dark purple pea pods and forgot I needed to be focused on everyday lemons. But hello! Purple peas. Fun. They certainly don't carry those in my neighborhood grocery store.
I love, love, love how Whole Foods sources and provides locally and responsibly grown produce in their markets. I don't consider myself an overboarder when it comes to always buying everything organic, but there's something about knowing where my food comes from and how it is grown that makes me feel like I'm doing right by my family.
Also. Let's talk about how wonderful the bulk bins are at Whole Foods. Bulk bins are my shopping language. Scoop out just what you need…or load up! As we all know, buying in bulk saves money. And I kind of like that.
My next stop was the meat counter. The chicken breasts were on sale. Sweet! And after I spent about 23 minutes gazing dreamily at all the different options for fresh meat (seriously, so.many.options), I walked away happily clutching my nicely wrapped chicken and wishing I had made a recipe that called for bison sausage. That will be in my future. I'm just saying.
If you don't know much about Whole Foods and their philosophy about the meat they provide – well, I've learned a lot the last few weeks, and rest assured that Whole Foods is committed to transparent farming and ranching practices. That means, in part, all the meat they offer is from animals raised without antibiotics and added growth hormones, and it's free from synthetic nitrates or nitrites. That's a lot of peace of mind right there.
All in all, I was surprised and happy that shopping for five meals on a budget was extremely doable at Whole Foods. In fact, I came in under budget. Oh yeah! High five. (No really, I was gushing about it to the team member helping me check out my groceries and he totally gave me a high five…and a weird look, but I'm focused on the high five part).
I have no doubt my success is in huge part to utilizing Whole Foods Market 365 Everyday Value line, which made up a large number of products in my shopping cart. They have an enormous selection of natural and organic products at great prices under this brand, and I love them (I've bought them in the past, totally unsponsored, too). All the team members I talked to commented how the 365 Everyday Value line offers high-quality foods that are affordable for everyone, and my receipt would agree with that.
Although I don't get to my Whole Foods Market very often, every experience I've had there has been amazing. Their team members are extremely helpful (even when I ask ridiculous questions, like "where would the large pasta shells be?" as I'm staring right at them), and it makes me wish the store was right around the corner so I could go there every day. But I'll tell you, the quality is definitely worth the drive.
I will neither confirm nor deny that this desire has anything to do with the loaded bakery case (also, have you ever had their artisan pizza? Seriously, get the white pizza – I die, it's so delicious).
Don't forget that Whole Foods Market has thousands of items on sale every day! If you want to be on top of the latest sales and have access to digital coupons, download the Whole Foods app and subscribe to the Whole Foods Market newsletter. I have the app on my phone; it's so easy to take a quick glance at what's on sale and see if I need to get on the road to Whole Foods ASAP.
You can also stay up on all the Whole Foods Market happenings by following them on Instagram and Facebook.
Now, let's talk about today's recipe. It was quick and painless finding all of these ingredients at Whole Foods, which is good, because you need to get your hands on the lineup for this Greek Meatball Stuffed Pita recipe and make it as soon as possible. Like, maybe now? Can you make that work? Because these stuffed pitas are insanely delicious.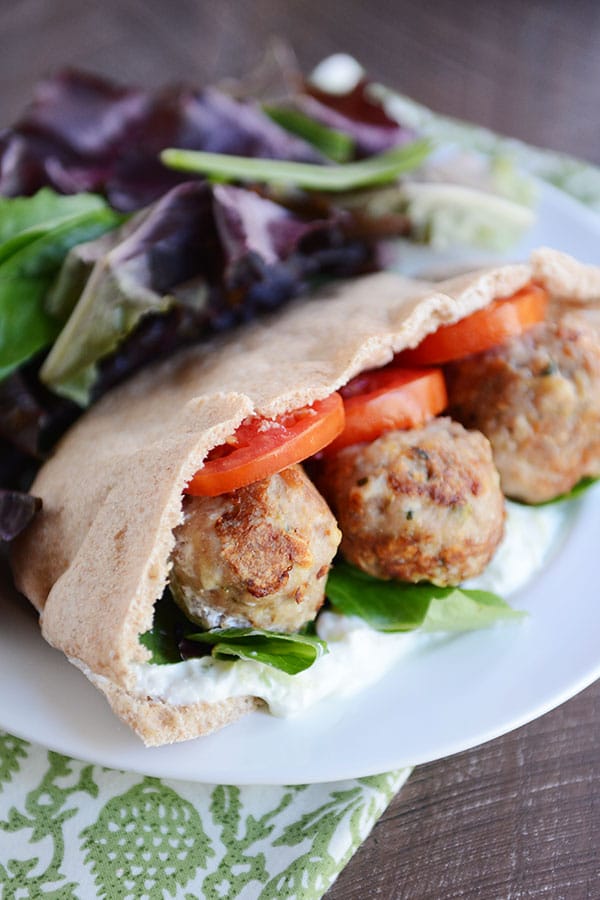 Whole grain pita bread is stuffed to the max with tender, flavorful Greek meatballs, simple tzatziki sauce (possibly my favorite sauce in the history of ever), and a layer of fresh tomatoes and greens.
Since the tzatziki can be made ahead of time and the tiny meatballs don't take very long to cook, you can have this meal on the table fast without a lot of stress.
There's a whole lot to love here! So get cooking!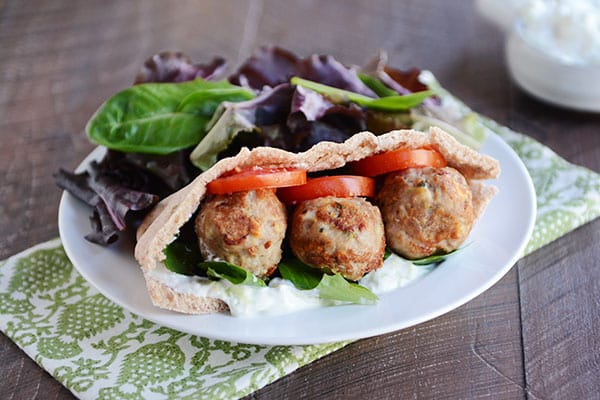 Greek Meatball Stuffed Pitas with Simple Tzatziki Sauce
Ingredients
1/2 cup grated seedless, English cucumber
1 cup plain Greek yogurt
1 clove garlic, finely minced
1/4 teaspoon salt
Pinch black pepper
1 to 2 teaspoons fresh lemon juice
1/2 cup bread crumbs
1/3 cup milk
1/4 cup chopped fresh parsley
1 egg, lightly beaten
1 tablespoon dried oregano
2 cloves garlic, finely minced
1 teaspoon salt
1/2 teaspoon black pepper
1 1/2 pounds ground turkey
4 whole wheat pita breads
2 large tomatoes, sliced
2 cups fresh spinach, arugula or a combination
Directions
For the tzatziki, place the grated cucumber in the center of a clean kitchen towel. Roll up the towel and squeeze out the excess water from the cucumber. Place the cucumber in a medium bowl. Add the yogurt, garlic, salt, pepper and lemon juice. Stir to combine. Cover and refrigerate until ready to serve. This can be made several days in advance.
For the meatballs, preheat the oven to 400°F. Line a baking sheet with foil and lightly grease the foil with cooking spray.
In a medium bowl, stir together the bread crumbs and milk and let the mixture sit for a few minutes to let the crumbs soften. Add the parsley, egg, oregano, garlic, salt, and pepper. Stir to combine. Add the turkey and mix until well combined.
Portion the meatballs into tablespoon-sized balls and place ½-inch apart on the prepared baking sheet.
Bake for 15 minutes until the meatballs are no longer pink in the center.
To serve, slice the pita breads in half. Dollop a spoonful of tzatziki sauce on the bottom of each pita. Add a layer of tomatoes and greens. Stuff meatballs inside and serve.
https://www.melskitchencafe.com/greek-meatball-stuffed-pitas-easy-tzatziki-sauce/
Printed from Mel\'s Kitchen Cafe (www.melskitchencafe.com)
Recipe Source: Mel's Kitchen Cafe