Greek Meatball Stuffed Pitas with Easy Tzatziki Sauce
A twist on Greek cuisine, these Greek meatball pitas are fast, flavorful and delicious! The simple, homemade tzatziki sauce makes the pitas incredible.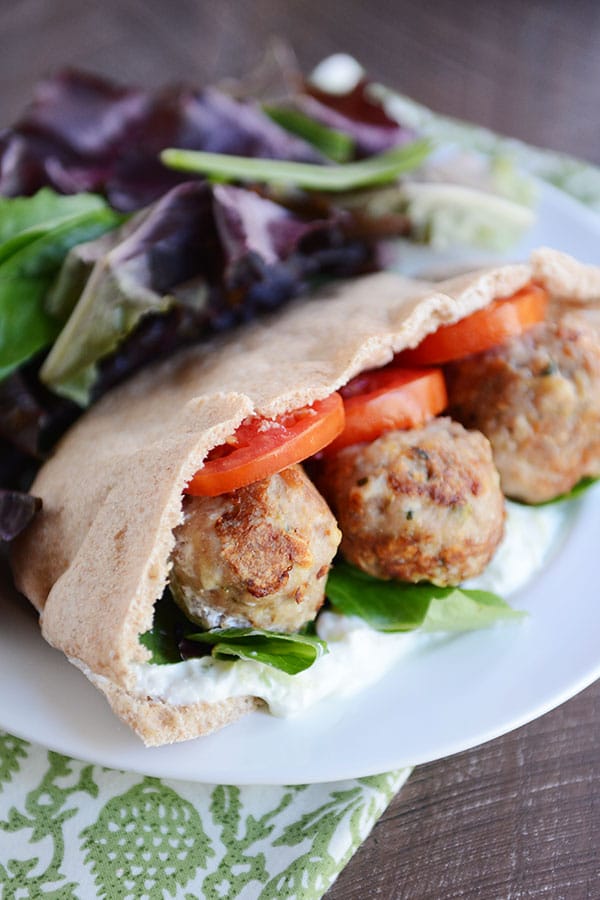 I'm a huge fan of Greek food:
Weeknight Greek Chicken Burritos
Amazing Greek Feta Dip Appetizer
Homemade Flatbread (Greek Pocketless Pitas)
Slow Cooker Greek Pita Pockets
Casserole-Style Greek Pastitsio
And that's just a start! Yum, I love the flavors of Greek food, and in most cases, I love how easy the recipes are to prepare.
Today's Greek meatball pitas are a worthy addition to the list. A little bit different than the other Greek recipes I have posted here, it was high time pita bread was stuffed with tender, tasty meatballs.
The stuffed pitas are insanely delicious.
You can use storebought or homemade pita bread. Either way, you're going to stuff it to the max with tender, flavorful Greek meatballs, simple tzatziki sauce (possibly my favorite sauce in the history of ever), and a layer of fresh tomatoes and greens.
Since the tzatziki can be made ahead of time and the tiny meatballs don't take very long to cook, you can have these Greek meatball pitas on the table fast and without a lot of stress.
This really is one of my favorite meals (and I'm so happy you guy are loving this recipe, too!).
There's a whole lot to love here! So stop reading and get cooking!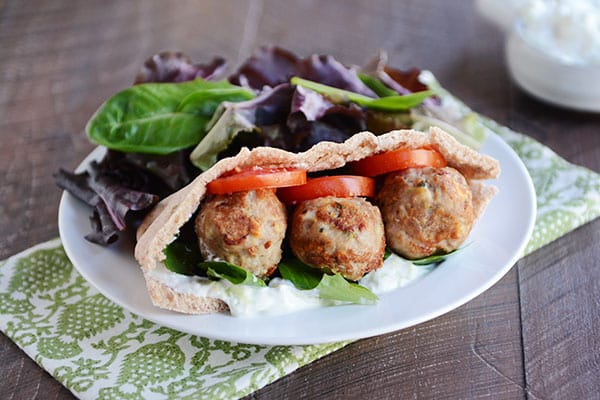 Greek Meatball Stuffed Pitas with Easy Tzatziki Sauce
Yield: Serves 4-6

Prep Time: 15 minutes

Cook Time: 15 minutes

Total Time: 30 minutes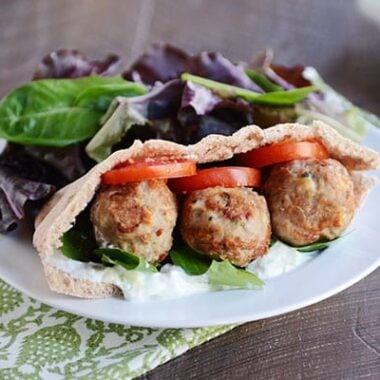 Ingredients
TZATZIKI SAUCE:
1/2 cup grated seedless, English cucumber
1 cup plain Greek yogurt
1 clove garlic, finely minced
1/4 teaspoon salt
Pinch black pepper
1 to 2 teaspoons fresh lemon juice
MEATBALLS:
1/2 cup bread crumbs
1/3 cup milk
1/4 cup chopped fresh parsley
1 egg, lightly beaten
1 tablespoon dried oregano
2 cloves garlic, finely minced
1 teaspoon salt
1/2 teaspoon black pepper
1 1/2 pounds ground turkey
PITAS + TOPPINGS:
4 whole wheat pita breads
2 large tomatoes, sliced
2 cups fresh spinach, arugula or a combination
Instructions
For the tzatziki, place the grated cucumber in the center of a clean kitchen towel. Roll up the towel and squeeze out the excess water from the cucumber. Place the cucumber in a medium bowl. Add the yogurt, garlic, salt, pepper and lemon juice. Stir to combine. Cover and refrigerate until ready to serve. This can be made several days in advance.
For the meatballs, preheat the oven to 400°F. Line a baking sheet with foil and lightly grease the foil with cooking spray.
In a medium bowl, stir together the bread crumbs and milk and let the mixture sit for a few minutes to let the crumbs soften. Add the parsley, egg, oregano, garlic, salt, and pepper. Stir to combine. Add the turkey and mix until well combined.
Portion the meatballs into tablespoon-sized balls and place ½-inch apart on the prepared baking sheet.
Bake for 15 minutes until the meatballs are no longer pink in the center.
To serve, slice the pita breads in half. Dollop a spoonful of tzatziki sauce on the bottom of each pita. Add a layer of tomatoes and greens. Stuff meatballs inside and serve.
Recommended Products
As an Amazon Associate and member of other affiliate programs, I earn from qualifying purchases.

Recipe Source: Mel's Kitchen Cafe
Disclaimer: I am a participant in the Amazon Services LLC Associates Program, an affiliate advertising program designed to provide a means for me to earn fees by linking to Amazon.com and affiliated sites. As an Amazon Associate I earn from qualifying purchases.