These brownie and fruit kebabs are a great change-up to the typical 4th of July dessert fare. They are also really fun to eat!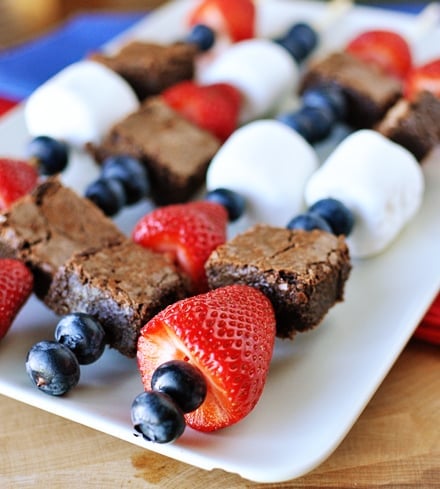 Because I love these kebabs and devour these by the kebab-ful and eat these babies because they are delicious and nutritious, I decided that I definitely needed to get a sweet kebab down my gullet immediately.
I mean, really, after all the savory kebabs available to make out there, don't you feel a little sorry for the poor, neglected dessert kebab?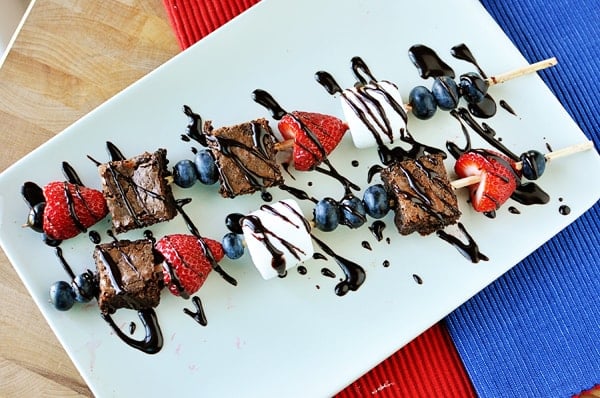 Enter the brownie kebab! Perfect for the upcoming 4th of July holiday and any other time you get the hankering to stick brownies and fruit on a skewer, drizzle with hot fudge sauce and eat yourself sick.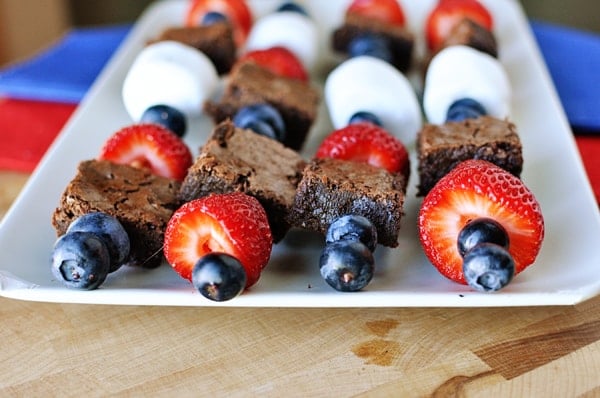 The concept is simple and can be tailored a myriad of ways:
1) start with a pan of baked and cooled brownies (preferably thrown in the refrigerator to chill and firm up to glorious decadent proportions),
2) choose a few other kebab-worthy items, such as fruit (strawberries and blueberries in this case), marshmallows, etc – the sky is the limit here,
3) thread the brownies and fruit onto the skewers, drizzle with chocolate sauce if desired (why not??) and eat.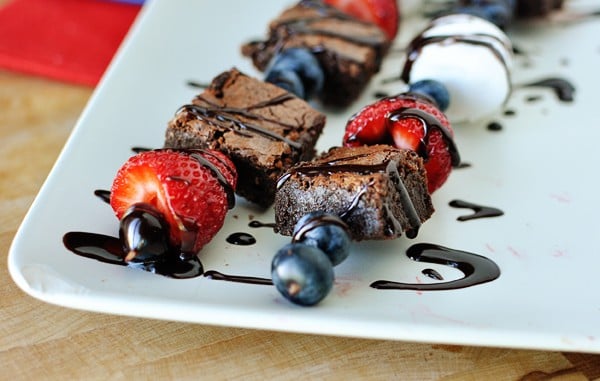 Brownies are heavenly in any form, if you ask me, but as kebabs? They've never tasted better. Trust me. (And they are a heck of a lot more fun to eat this way, too.)
Ingredients
9X13-inch pan of Brownies (chilled and cut into 1-inch cubes)
1 pint blueberries, washed
1 pint strawberries, washed and hulled
Large marshmallows
Hot Fudge Sauce for drizzling, if desired
Bamboo/wooden skewers
Instructions
Alternate threading brownies, fruit and marshmallows onto wooden skewers. Drizzle with hot fudge sauce, if desired. Refrigerate until ready to serve.
Notes
Brownies + Fruit: this recipe is extremely adaptable. Use the brownie recipe of your choice (I used this one), fruits that are in season and taste great with brownies and any other kebab-worthy ingredient you like.
Drizzle: I drizzled mine with hot fudge sauce but you could just as easily melt chocolate chips for drizzling, drizzle with caramel sauce - the options are endless!
Recommended Products
As an Amazon Associate and member of other affiliate programs, I earn from qualifying purchases.
Recipe Source: inspired by this recipe