Buttermilk Banana Bread
Looking for the perfect banana bread recipe? You've found it! This buttermilk banana bread is delicious with its a wonderful buttery crust!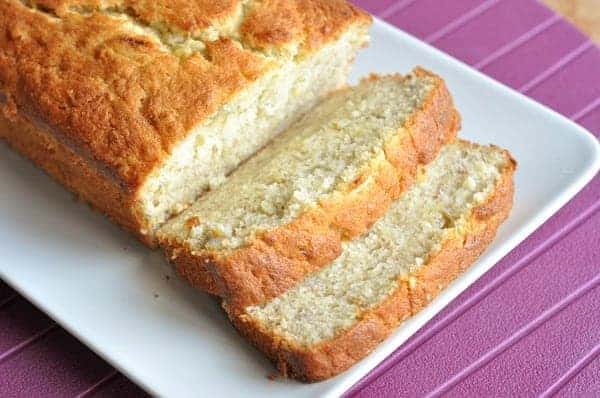 This banana bread is my all-time favorite of it's kind.
In fact, it is the only banana bread recipe I've made in years.
Unlike the dark-flecked variety of banana bread (which is delicious in it's own right), this bread is light, both in color and texture, and it has a wonderful buttery crust that is my favorite part.
I've played around with the recipe, messing with the amount of sugar/bananas, so check out the notes in the recipe to see what works!
Yield: 1 large loaf pan

Prep Time: 20 minutes

Cook Time: 50 minutes

Total Time: 1 hour 10 minutes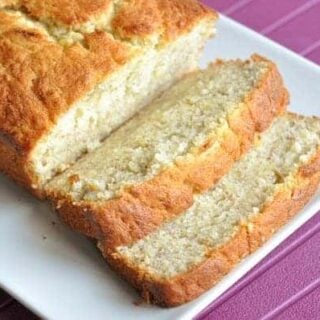 Ingredients
1/2 cup butter, softened
1 1/2 cups sugar
2 eggs
1 cup mashed bananas (I use about 3 average sized bananas)
4 tablespoons buttermilk (here is a guide for making your own buttermilk)
1/2 teaspoon vanilla
1 3/4 cups flour
1 teaspoon baking powder
1/4 teaspoon salt
1/8 teaspoon baking soda
Instructions
Grease and flour 1 large loaf pan (9 1/4 X 5 1/4-inch) or whatever combination of pans you'd like (several commenters have said this recipe works great made into muffins or smaller loaf pans).
In a large bowl, cream butter and sugar together. Add eggs, bananas, buttermilk and vanilla until the batter is well mixed. Add in the flour, baking powder, salt and soda. Mix until well combined. Pour batter into prepared pan and bake at 350 degrees for 50-55 minutes or until a toothpick comes out clean.
Notes
Sugar: oftentimes, I'll decrease the sugar to 1 cup, increase the bananas to 1 1/2 cups and the bread still turns out extremely moist and delicious!
Recommended Products
As an Amazon Associate and member of other affiliate programs, I earn from qualifying purchases.

Recipe Source: from Aunt Marilyn
Disclaimer: I am a participant in the Amazon Services LLC Associates Program, an affiliate advertising program designed to provide a means for me to earn fees by linking to Amazon.com and affiliated sites. As an Amazon Associate I earn from qualifying purchases.